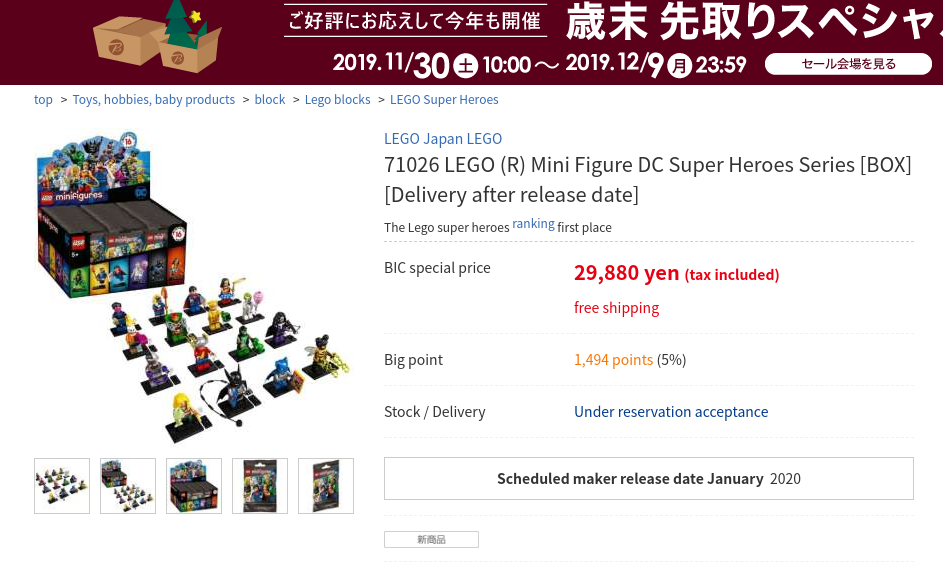 For a while now, there have been rumors for the next LEGO minifigure series. A few days ago, some photos were leaked on a Japanese site showing the box and bag images. There is a group photo as well of all the 16 minifigures in the new DC Series, but no individual shots yet. Since these aren't officially released LEGO images, I don't want to share them yet. When they do release more info I'll update this post with them.
For now all we know is that there are 16 LEGO DC Minifigures. These are superheroes and villains. I've got a list of the names below. Some of them are more popular characters, while others I had to look up because I wasn't as familiar with them as I could be.
At this time I don't know if this going to be it's own separate minifigures series or if it will be minifigure series 20. Some sites are saying there will be sealed cases of 30 and others are saying that there will be 60 sealed bags in a case. Either way, as soon as we have more information I'll let you know the box distribution and more details for each one
It appears that several of the characters have 1×2 jumper plates and a trans clear piece which can be put under their foot to allow for some posing in jumping or flying action shots.
LEGO 75270 Pre-Order
You can pre order the individual minifigures so you know exactly which ones you will get. Just click on the links for each character below to go to the pre-order page.
I do offer a refund policy – we offer a complete refund if you ask before they have shipped to you. Once the minifigures are released, we will open each bag to confirm the contents, transfer the unassembled minifigure to a new ziploc style bag and send them to you. Shipping is $4 for any number of minifigs in the US. International rates start at $11. All orders come with tracking.
LEGO 75270 16 different Minifigures
As always, there will be 16 different minifigures in sealed blind bags.
LEGO 75270 Price
I expect this set to be priced at $4.99 US and will be on sale starting in January 2020. You can pre-order them at this price for now, but as soon as they come out prices may change based on availability and if some minifigures are more rare than others.
LEGO 75270 Review
Right now as of the time of writing this blog post, this set is not yet released. When it is, I'll buy it and write my thoughts here, as well on each individual Minifigure product page.
If you want to see when I open the set and build it in real time, follow me on Instagram where I frequently do live feeds and Lego Instagram Stories of new sets. This year my goal is to buy and review every single LEGO set made in 2020.