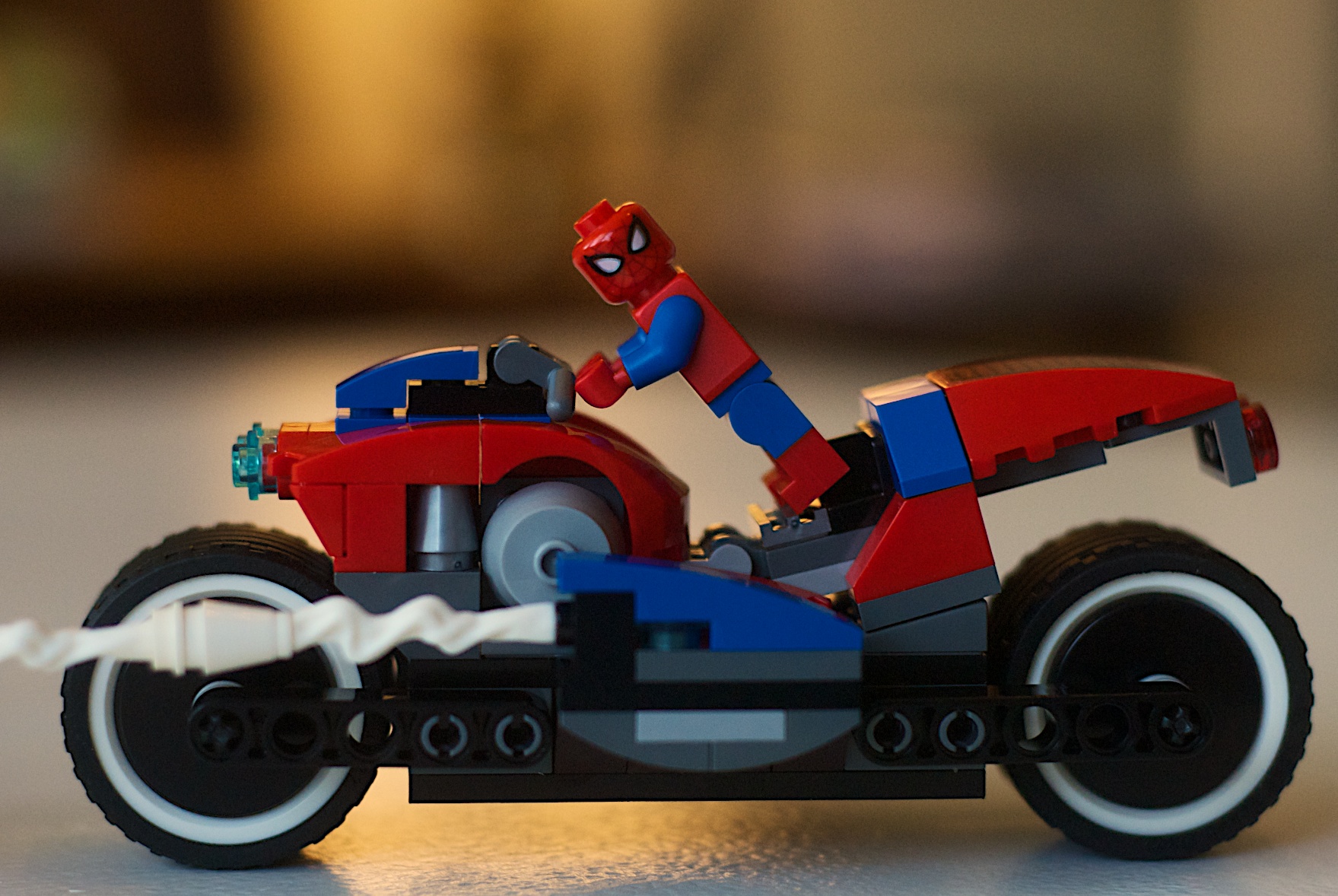 Lego 76113 Spider Man Bike Rescue is a new 2019 set that was released in December of 2018.  It has 235 pieces and is labeled for ages 6 and up.
I ordered this set from Target, and picked it up on the day it was released.  Once I opened the box, inside were 2 labeled bags, one sticker sheet, one packet of lego web material  and 2 instruction books.
Lego 76113 Pieces
There are 235 pieces in this set, including 3 minifigures.  You get a fantastic Spider Man Minifig, a Carnage Minifigure, and a Miles Morales minifigure.  You also get to build a motorcycle, and a little laboratory build with some canisters that can be launched by pressing a button.  Plus there are lots of web attachments for all the different Spideys.
This set has some new Lego web elements.
Lego 76133 Review
This is a pretty easy set but isn't my first choice for beginners.  If you are looking for a good LEGO set for a beginner then check out the Spider Man Car Chase from the same series.
In this set, you get 2 instruction books.  The steps are not too complicated and easy to follow for someone who is just getting started collecting LEGO.
I began to put the set together starting with book one.  This bag had the Spider-Man Minifigure in, so that was the first thing I built.
The rest of the pieces in the bag were used to build Spidey's rescue bike.  It's an over sized motorcycle with extra wide wheels so it doesn't fall over.  Instead of sitting on the motorcycle, Spider-Man stands on it.  On one side is a point of attachment for the LEGO web material, and on the other is a stud shooter that is modified to shoot little silver Lego Spiders.
The bag took me about 10 minutes to assemble, but someone else might spend 30 minutes on it.
Bag number 2 went with book 2.
There were 2 minifigures in this bag, Mile Morales and Carnage.
You an have all the extra arms on Carnage, or leave him more like a traditional minifig.  You can see which direction I chose.
The rest of bag 2 has the parts needed to make the  power generator (with exploding feature). DON'T worry, the exploding part is a simple lever with two small LEGO brick canisters on it.  I was able to launch them like 1 foot in the air at most.
The rest of the console has some stickers, and other detail functions, but the main play feature is the motorbike and the minifigs.
Sometimes you get a few extra pieces with some sets.  This set had an assortment of smaller pieces left over.
If you want to see when I open the set and build it in real time,  follow me on Instagram where I frequently do live feeds and Lego Instagram Stories of new sets: https://www.instagram.com/thebrickland/
Lego 76113 Release Date
This set was released  in December of 2018, although it is labeled as a 2019 Lego Marvel set.  I paid for this set with my own money.