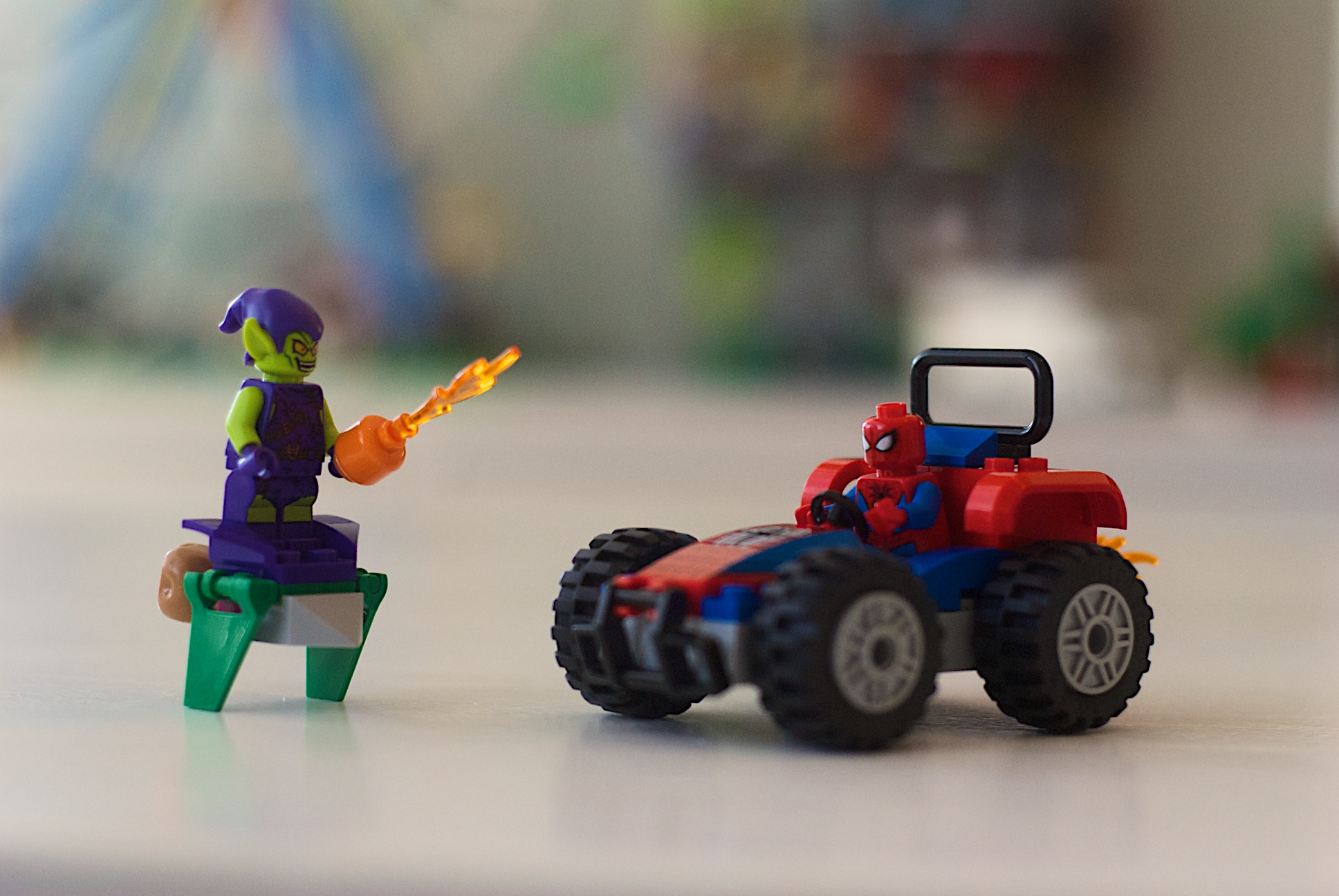 Lego 76133 Spider Man Car Chase is a new 2019 set that was released in December of 2018.  It has 52 pieces and is labeled for ages 4 and up.
I ordered this set from Target, and picked it up on the day it was released.  Once I opened the box, inside were 2 labeled bags, one car chasis plate  an instruction book.  This set had no stickers.  All the pieces are printed (Yay)!
Lego 76133 Pieces
There are 52 pieces in this set, including 2 minifigures.  You get a fantastic Spider Man Minifig and a Green Goblin Minifig.  You also get to build a car, a flying platform for Green Goblin, a flaming pumpkin for throwing, a 100 Lego Bill, and some web to play shoot from Spidey's hands.
Lego 76133 Review
This is a real beginner set.  The instructions are simple and clear, and usually have one element per page.  Also most of the pieces are larger, although some are smaller.
First I built the two minifigs.  They go together in the traditional way, with a torso, head, and legs.  Spider Man doesn't have any hat (or hair), but the Green Goblin does.  The GG also has two faces, and spidey only has one.
Next I built Spider Man's car.  It was an easy build, with simple instructions and no unique building techniques.  It was fun, and would be a great set for a first time builder.
Next I put together the flying platform for the Green Goblin.  Coming in with less than 10 pieces it is small but looks like the real Green Goblin Glider.  It even has a clip in the back to hold his bag (which would be full of pumpkin bombs.
As for accessories, you get a web and a net for Spidey, and a 100 bill which the goblin has most likely stolen.  You only get one flaming pumpkin, and I would have liked to see one or two extra.
Sometimes you get a few extra pieces with some sets.  This set didn't have any extra pieces.
If you want to see when I open the set and build it in real time,  follow me on Instagram where I frequently do live feeds and Lego Instagram Stories of new sets: https://www.instagram.com/thebrickland/
Lego 76133 Release Date
This set was released  in December of 2018, although it is labeled as a 2019 Lego Marvel set.  I paid for this set with my own money.