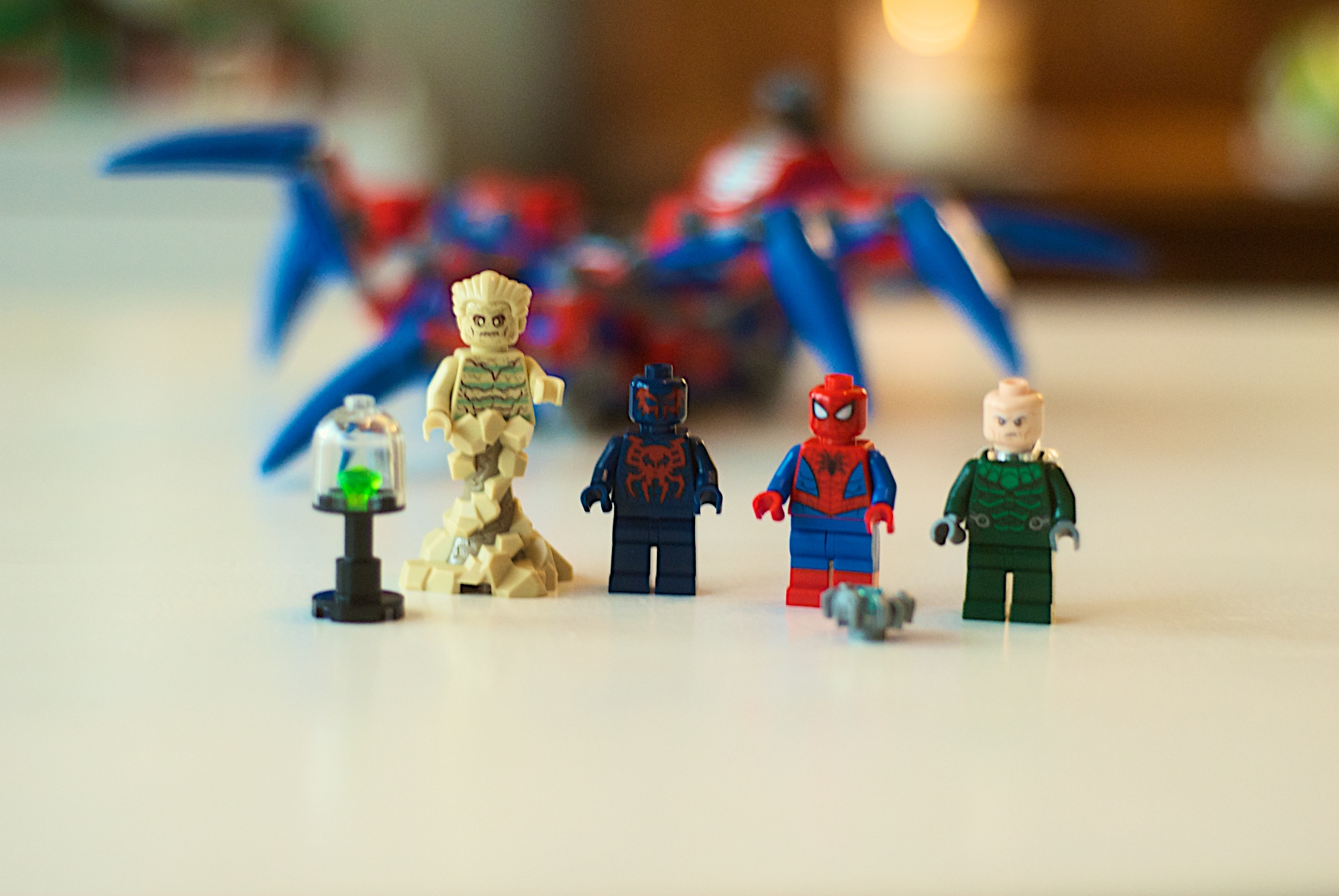 Lego 76114 Spider-Man's Spider Crawler is a new 2019 set that was released in December of 2018.  It has 418 pieces and is labeled for ages 6 and up.
I ordered this set from Target, and picked it up on the day it was released.  Once I opened the box, inside were 3 labeled bags, one sticker sheet, one packet of LEGO web material  and 1 instruction book.
LEGO 76114 Pieces
There are 418 pieces in this set, including 4 minifigures.  You get a Spider-Man, Spider-Man 2099, Vulture and Sandman minifigures.  You get to build a base with a secret compartment for Sandman, plus his gigantic club, a backpack with moveable wings for Vulture, and of course the Spider Crawler with 8 moving legs that move when you roll it.  Plus there are 3 stud shooters on the Spider Crawler.
This set has some new Lego web elements.
LEGO 76134 Review
This is a pretty easy set but isn't my first choice for beginners.  It is however a great beginner set if you want to get into Lego Technics.
In this set, you get 1 instruction books.  The steps are not too complicated and easy to follow for someone who is just getting started collecting LEGO.
There are 3 bags, and the first bag had me building Sandman and Vulure, as well as the accessories that go with them.  Sandman has a base with a secret compartment to store some colored gems.  Plus you get a really big brick built hammer for him.  Vulture has a backpack with articulated wings.
Moving to Bag 2, this contained many of the parts for the Spider Crawler.  Like I mentioned this is a beginner to intermediate set, but it is really a good beginners set if you are familiar with LEGO but want to get into Technic.  
Although this set is not motorized, and there is no easy way to make a motor in it, it does have a cool moving feature   where there is a wheel inside the Spider Crawler that rolls when you push it.  It has a little axle with off-set connectors that cause the feet to move up and down.  It's a cool little trick and build.  Great for starting out with Technics if you haven't had experience with them before.
Bag 3 is mostly the legs and feet of the Spider Crawler, plus a few other little details of the set.  It's just as important as the first two bags.  Since there are 8 legs that are pretty much the same, it get a little repetitive building the same thing over and over, but it's not too bad.
If you want to see when I open the set and build it in real time,  follow me on Instagram where I frequently do live feeds and Lego Instagram Stories of new sets: https://www.instagram.com/thebrickland/
LEGO 76113 Release Date
This set was released  in December of 2018, although it is labeled as a 2019 Lego Marvel set.  I paid for this set with my own money.