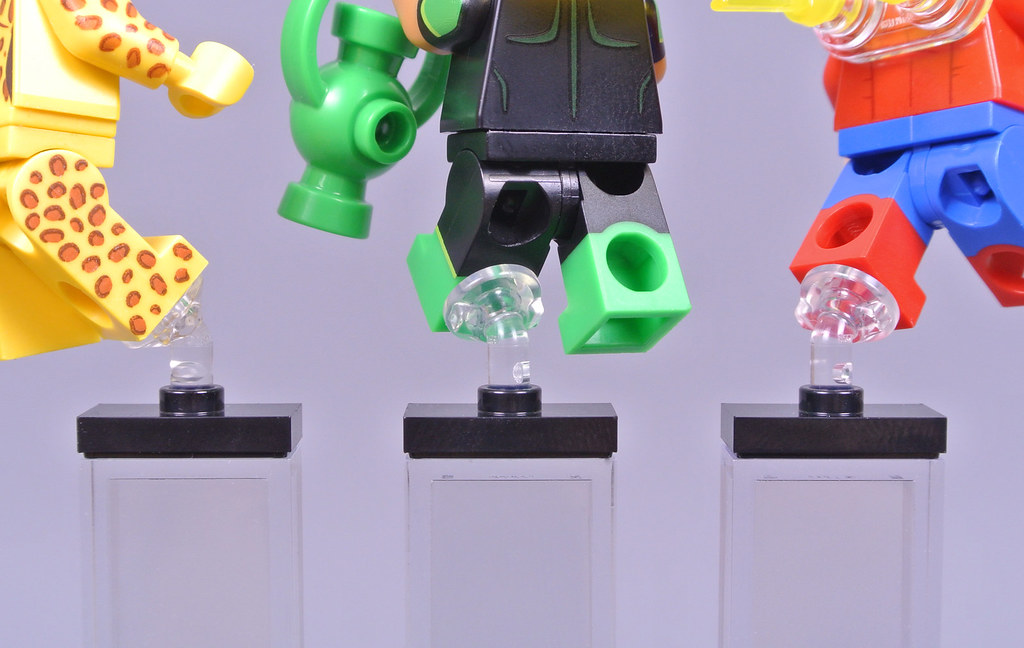 Have you seen these new trans clear minifigure stands? They are included in the new LEGO DC Minifigure CMF packs, but I expect to be seeing them in lots of new sets coming out in 2020. These tiny, clear pieces have a 45-degree angle and have a inverted LEGO stud at one end with a hole and the other is the perfect size to fit in the claw hand.
The first thing I noticed about these is that they have one end which is round and is the perfect size to fit into a minifigure's claw hand. Of course this is a standard LEGO size for an element, but it opens up so many possibilities, because there are tons of other pieces that accept this size. Pieces like clips, ehrling bricks, 1×1 round plates with holes, and so forth. Super useful.
The next thing I noticed is that at the other end of this new Trans Clear Minifigure stand piece, there is a hole that fits the element I described above. The above photo shows exactly what I'm talking about. You can put 8 of these together to make an octogon (circle). This means each piece is also angled 45-degrees.
This gives us the ability to create so many new poses for our minifigures. From running to jumping to flying. And depending on how many pieces you put together you can angle them in pretty much any direction to show movement. You know, this sort of reminds me of the same kinds of joints plumbers have when connecting pipes together.
I don't yet know the part number of the official description for this new trans clear Minifigure stand piece, but as soon as I learn it, I'll put it here.
These images are taken from Brickset, but as soon as I get one of these I'll take my own photos and share them here with some unique ways to use the piece.