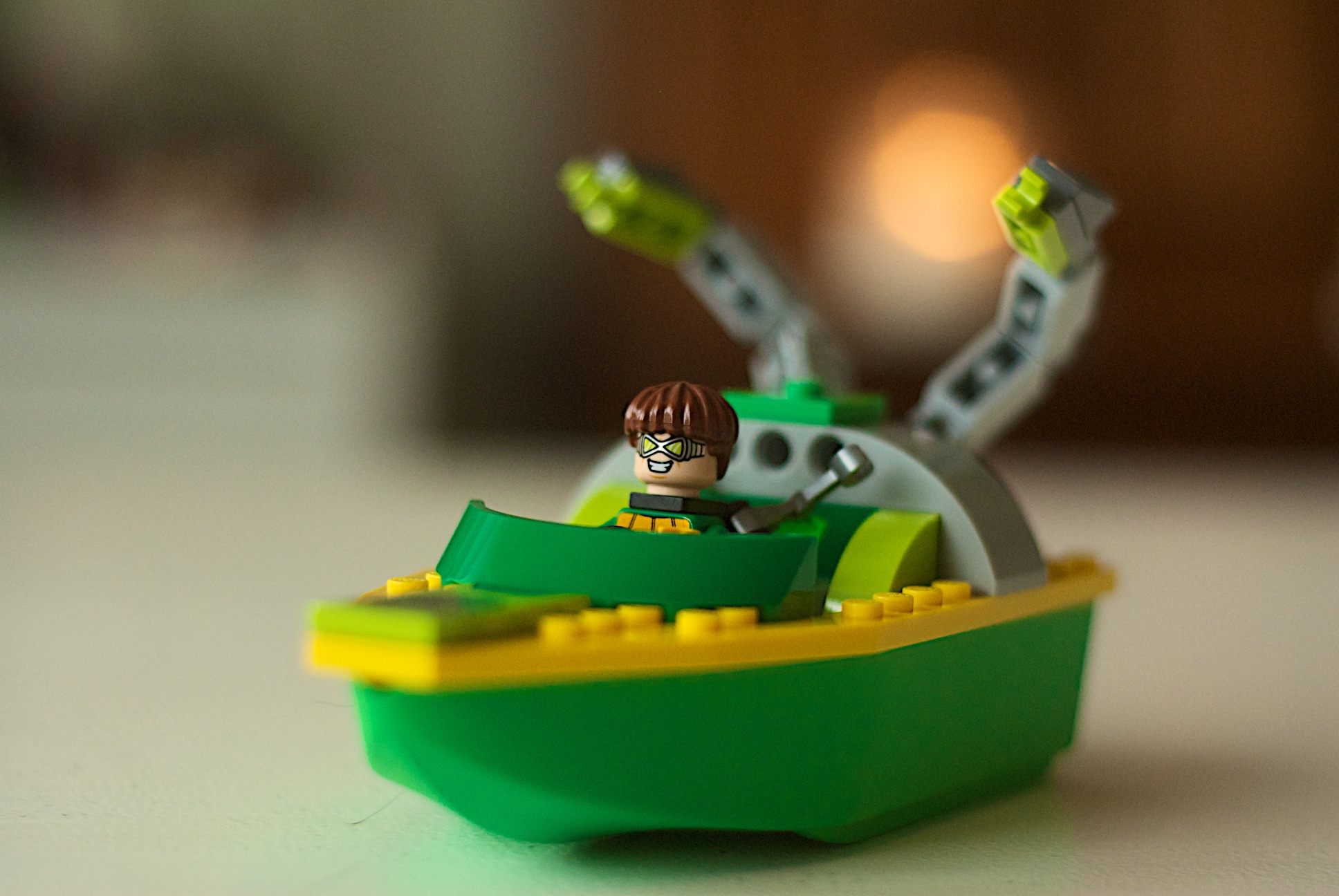 Will Doc Ock steal the diamonds from the crane?  Can anyone stop him and his octopus arms this time?  Of course Spiderman can!  And he is about to fly in in his flyer and save the day!
Lego 76134 Spider-Man: Doc Ock Diamond Heist is a new 2019 set that was released in December of 2018. It has 150 pieces and is labeled for ages 4 and up. This means it is a LEGO Juniors set and is suitable for beginner builders just starting out with LEGO. Even though this is an easy set to build, it still has a few pretty small parts and you need to be careful around little kids.
LEGO 76134 Pieces & Minifigures
Lego Spider-Man Minifigure
(with blue legs)

Lego Doc Ock Minifigure

Lego Dock Worker Minifigure
There are 150 pieces in this set, including 3 minifigures. You get a Spider-Man, Doc Ock and a dock worker. In addition each minifigure gets his own "thing" Spider-Man gets his red and blue flyer (an easy to build jet plane), Doc Ock has a green and yellow boat, and the dock worker sits atop a crane that spins and can lift the box of diamonds.
In this set, you get 3 instruction books, and 3 bags (plus one extra bag with large parts).  The steps are not too complicated and easy to follow for someone who is just getting started collecting LEGO.  Each book is specific to each minifigure, so book one goes with Bag one which is Spider Man.  Book two goes with bag two  which is Doc Ock, and bag three goes with book three which builds the docs, and the dock worker.
LEGO 76134 Review
If you are looking for a good beginner set, one where your kid can do it alone, or with minimal help from an adult, this is a good starting place.  
The spidey flyer is based on a large blue airplane piece and has two disc shooters, a cockpit that opens and has room for a minifigure, and a spider web that attaches to any stud on the plane.
The Doc Ock Boat uses a large pre-molded green and yellow boat, which has room spaces for holding some colored gems, as well as 2 articulated arms.  The most difficult thing to build in this set are the articulated arms, but once you fingure them out it's a very simple process.
The last bag has a large pre-molded base for the dock, and crane assembly.  Large yellow girders make assembling the crane quick and easy, and there is a simple turntable at the top which allows the entire crane to spin around.    You also get to build a little diamond box with opening doors and an attachment point on top for the crane to hold the box above the rest of the dock.
If you want to see when I open the set and build it in real time, follow me on Instagram where I frequently do live feeds and Lego Instagram Stories of new sets: https://www.instagram.com/thebrickland/
LEGO 76134 Release Date
This set was released  in December of 2018, although it is labeled as a 2019 Lego Marvel set.  I paid for this set with my own money.