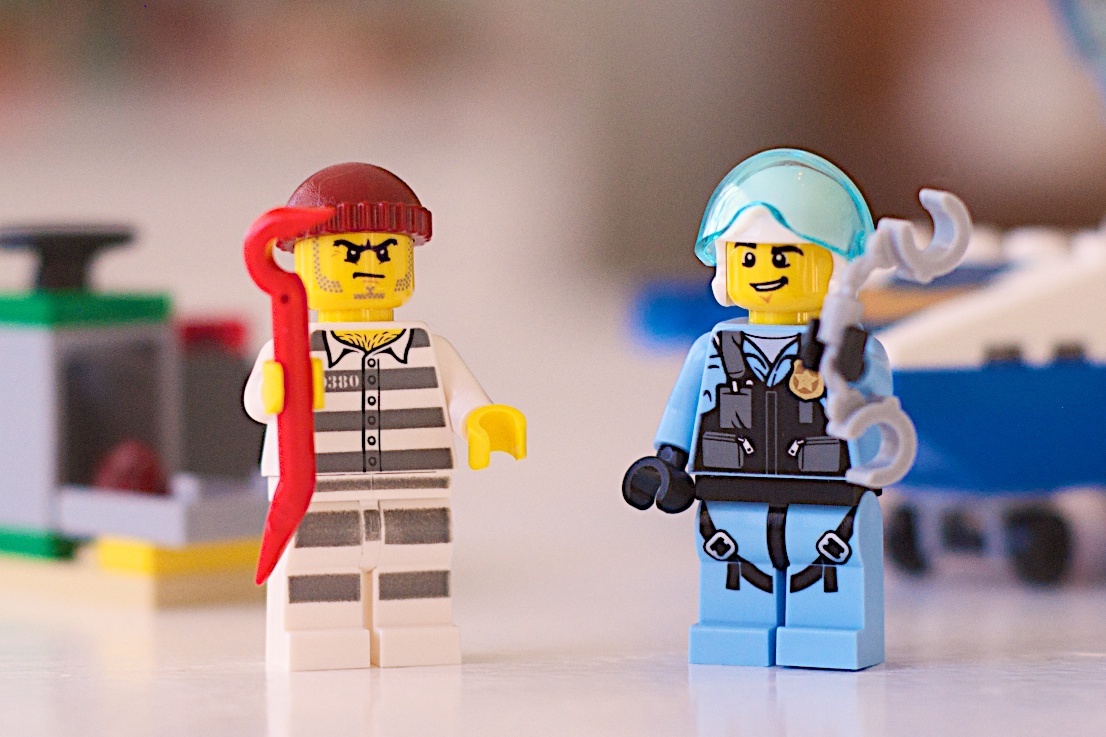 If you are looking for an easy to build, beginner LEGO airplane set for your kiddo, the Sky Police Jet Patrol is a fantastic starter into the world of LEGO, or as a gift for a 4 year old.
Lego 60206 Sky Police Jet Patrol is a new 2019 set that was released in January of 2019. It has 54 pieces and is labeled for ages 4 and up.
LEGO 60206 Pieces & Minifigures
LEGO Crook Minifigure

LEGO Sky Police pilot Minifigure
There are 54 pieces in this set, including 2 minifigures (Sky Police pilot and a crook). The airplane is built using a large blue airframe element so it goes together very quickly. It's the same one that's in this LEGO Spider man set.
In this set there are 2 numbered bags, and one instruction book. There are no stickers, and several pieces are printed (which I love).
One of the printed pieces I really like is the control panel in the Jet. So much different than the LEGO bricks I grew up with.
LEGO 60206 Review
If you are looking for an easy beginner set, one where your child can do it alone, or with minimal help from an adult, this is a GREAT starting place. The Airplane is built on a single chassis, and the other pieces snap easily onto it.
There are some tiny pieces to this set, like the crowbar, or the handcuffs, but for me the most difficult piece is the clear blue (LEGO folks call it Trans-blue) face shield on the Pilot's helmet. It is challenging to put on, and easily snaps off and gets lost. Some sets include 2 of these, but my set didn't come with any extras.
The minifigures also connect easily together. They come as 4 pieces, and are partially assembled. The bottom leg half snaps into the top torso piece. Then the head goes on, then the hat (or hair). They can easily be disassembled and the pieces are interchangeable. Also, the legs are pre-assembled, as is the torso. What I mean is that the hands are already in the arms, which are already in the torso. But if you want to take these apart, you can if you want to.
This is a great starter set, or as a birthday present for a 4-5 year old who loves airplanes. Designed for ages 4+ it is an easy build and a great way to introduce kids to the LEGO world.
If you want to see when I open the set and build it in real time, follow me on Instagram where I frequently do live feeds and Lego Instagram Stories of new sets.
LEGO 60206 Release Date
This set was released in January of 2019 on the New Year's Day. I bought this set with at my local LEGO store, on the day it came out.