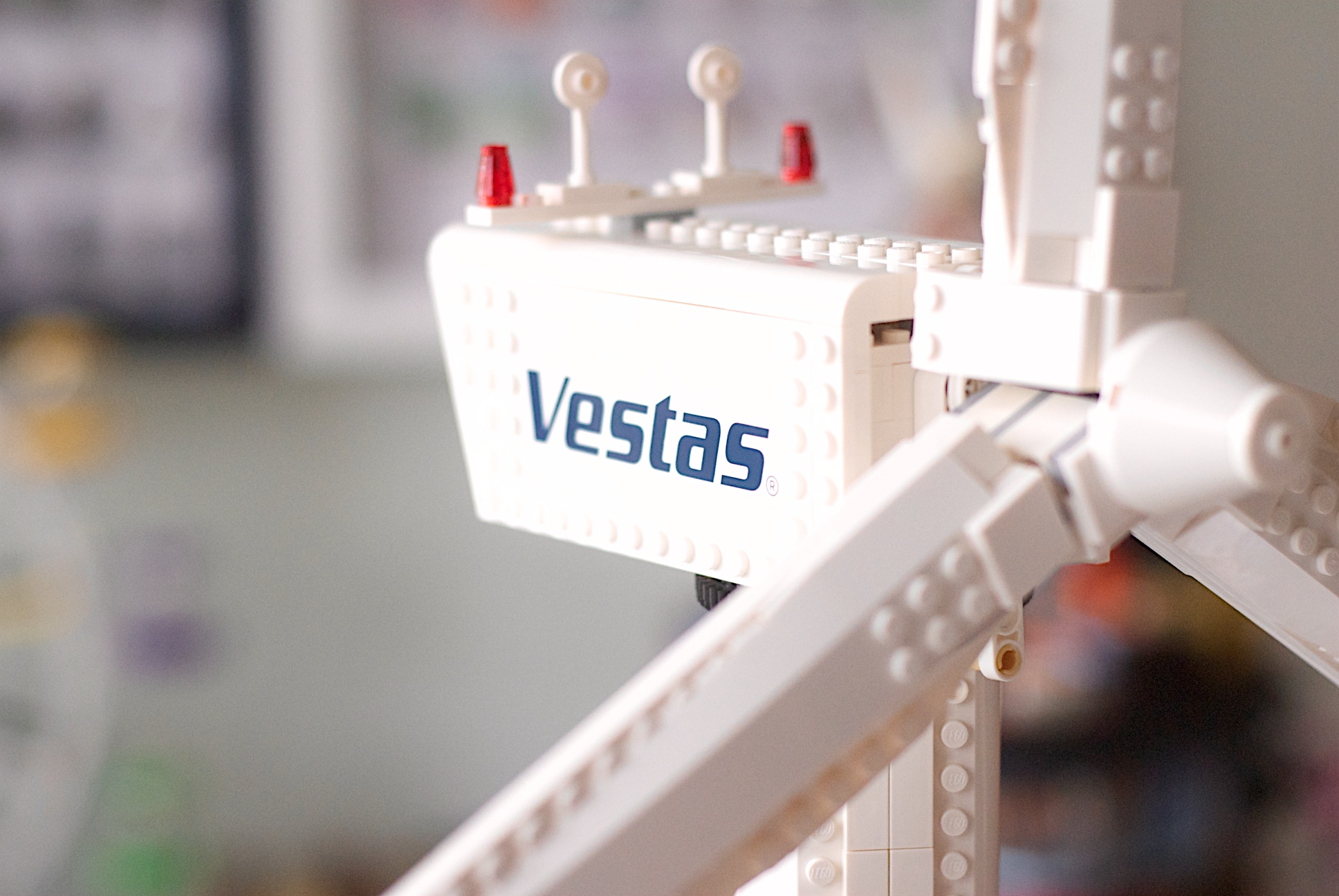 LEGO Vestas Wind Turbine
The new LEGO 10268 Vestas Wind Turbine is a REALLY TALL set.  Taller than Ninjago City.  Taller than the Ferris Wheel.  It dominates above my LEGO city.    This is the tallest set I have ever built, by far.  
LEGO 10268 Pieces & Minifigures
There are 826 pieces in this set, including 3 minifigures, and a Power Functions Motor set. There are 2 Vestas technician minifigures, and a woman. Plus you get a LEGO German Shepard Dog. There is also a large LEGO Power Functions Battery Box, some LEGO LED lights, a power functions extension cord, and a Power Functions motor that goes in the very tippy-top of the wind turbine to make the whole thing spin around.
In addition to the minifigure and power functions there is also a new spruce tree element made from plants. Recently LEGO announced they wanted to discontinue the use of petroleum products in the manufacturing of LEGO bricks by 2030, and they have been shifting to alternative manufacturing materials. The first change has been with plants from plants.
Building LEGO 10268
In Box:
Green Base Plate
Instruction Book
5 big bags
5 medium bags
2 small bags
This was a fun set to build. Overall there were 12 bags, all unnumbered, a large green base plate, an instruction book, and ZERO stickers. I love it when LEGO uses printed tiles instead of stickers.
The build was done in several different groups. First was the 3 minifigures, and the Vestas Truck. Then was the house, which has powered lights and cleverly hidden wires. Next I got to build the mountain behind the house which holds the support for the wind turbine, as well as the large Power Functions Block.
Then I got to build the tower. So simple and elegant. Finally there was the generator at the top and the turbine blades.
All in all there were lots of long white bricks and plates in this set. It never got too repetitive, and overall was a fun build, especially the little modern house, and hiding the wires.
LEGO 10268 Review
I cannot say how tall this set really is. It's long and skinny and spindly (but not too fragile), and goes really high. The design is such that it is completely supported and not wobbly which is great.
When you turn the power functions on the 3 blades spin slowly. It doesn't go fast enough to be a fan in a room, Also, the blades are not dangerous, securely attached, but easy to break off in case you bump into them without damaging anything.
I also want to talk about the little truck that comes with the set. There is room as usual for one minifig in the front, and then in the back there is a cool little slider system that colds a second component inside, securely. Part of building the set is making a little welder's system on a handtruck. There are some unique attachment methods I didn't know about before, and when it is all put together it slides neatly and securely inside the back of the truck.
The little modern red LEGO house is nothing special, a pretty standard build, but there are some clever techniques used to hide the power function wires that illuminate the lights at the front of the building.
Finally, I should end with the plants from plants that are used in this set. There aren't as many as came in the initial plants from plants release set, but there are some cool elements for the LEGO collector.