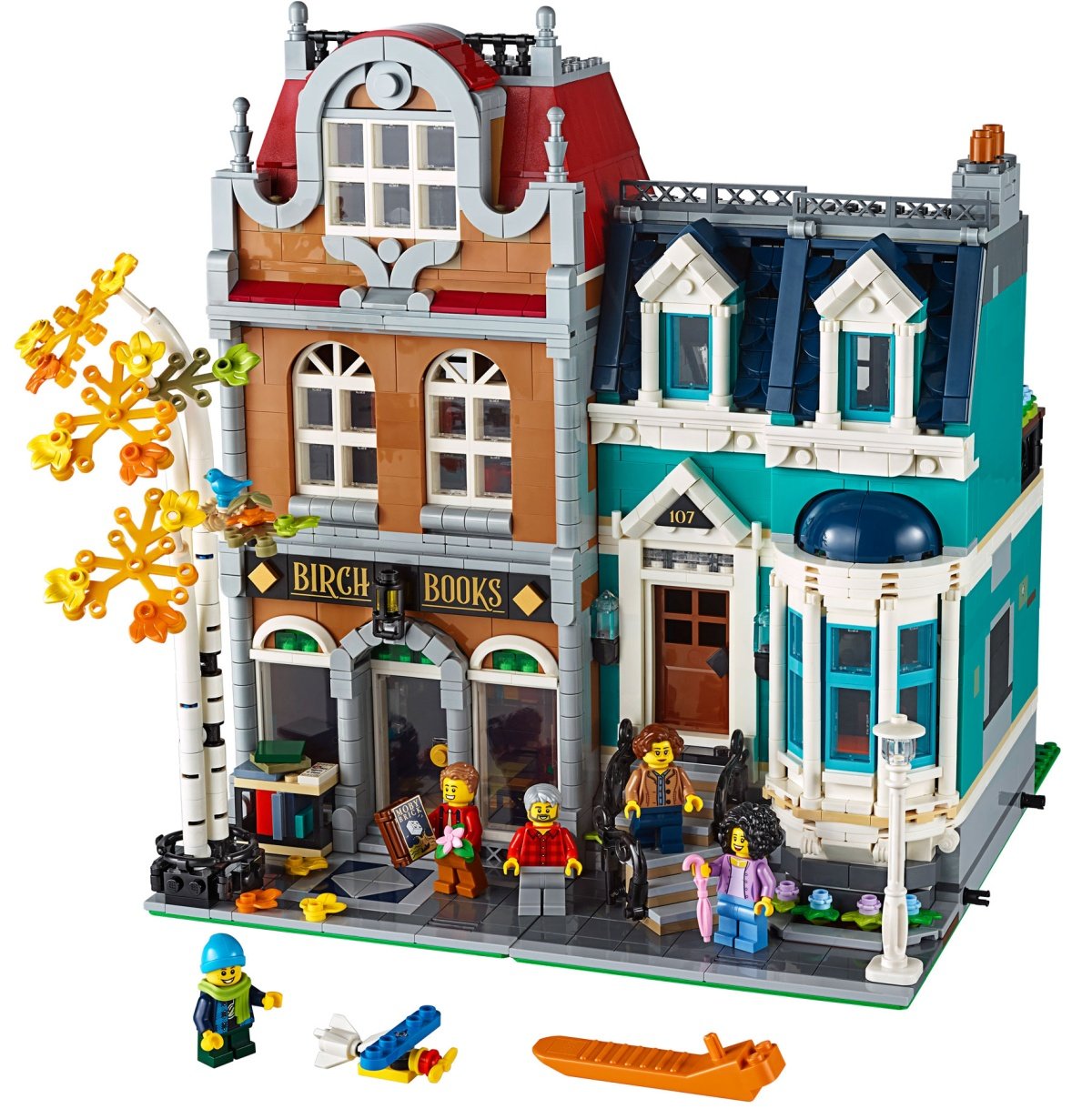 I was late to the game in collecting the LEGO Creator Modular Buildings. Did you start collecting them from the beginning? I didn't. Now, 15 years later there are a total of 19 sets, that all connect together to make a fabulous LEGO City.
This post has been updated to include the just announced 2023 LEGO Natural History Museum
The Modular Buildings series is the backbone of my LEGO world. I've got them all connected in the middle of my table, and surrounded by multiple LEGO trains. If you follow my LEGO Instagram, you can see exactly how I do it.
Be sure to see how I store my modular buildings when they aren't on display.
If you are looking for another Roundup of Holiday LEGO sets, I've got that, too!
Looking for a fun and unique way to expand your LEGO town or city? Check out the LEGO 10190 Market Street set! Designed by a LEGO fan, this realistic Factory exclusive features interesting colors and details like spiral staircases, awnings, removable balconies and a terrace roof. The modular construction allows you to put it together in different ways and to enlarge your LEGO town or city as your collection grows! Combine with set 10182 Café Corner to expand your LEGO neighborhood!
This set is minifigure scale and includes 3 townspeople. You can build each floor separately and put them together to complete the building. The top three stories lift off to reveal inner rooms and staircases. The street base measures 10″ x 10″ (25.4 cm x 25.4 cm) and the building stands 13″" (33 cm) high.
Realistic features include opening doors and windows, a gate, a street light, a striped awning, fruit to sell at the market and more!
Check out the Green Grocer! This modular building is designed in a colorful and lively style, and features a grocery store and classic apartments that can be built, rebuilt, and rearranged to suit your own LEGO town.
The detailed architecture includes realistic interior details, courtyard access, a roof terrace and fire escape, lots of windows and doors, and much more. The top three floors of the building lift off to reveal inner rooms. The grocery store features a blue and white awning, cash register, bins for bread, vegetables and fruit, refrigerator, and tiled floor. The apartments have lots of details like bay windows, fireplace with tools, grandfather clock, and windows that open to the fire escape.
When there's a fire in town, the LEGO 10197 Fire Brigade will be there to save the day! This realistic and detailed 1930's fire station is perfect for any LEGO city. With its modular design, it can be combined with other LEGO buildings like the 10211 Grand Emporium and 10185 Green Grocer. The Fire Brigade features rare LEGO pieces and innovative construction techniques. It includes a '30s-style fire truck, 4 minifigures, a fire-dog, an opening station garage door on the ground floor, and a removable building roof for interior access. Plus, there are 2 fully-furnished floors with fire-fighting tools, racks for the firemen's helmets, fire-pole, ping-pong table, kitchen with fully-stocked fridge, couch, bookshelf and a roof with a water tower and bell. Measuring 14″ (35cm) high and 10″ (25cm), the LEGO 10197 Fire Brigade is a must-have for any LEGO city collection!
What better way to shop than at the grandest store in town – the LEGO Grand Emporium! This beautifully designed and detailed 3-story department store is the perfect place to find everything you need, from clothes and accessories to toys and housewares.
The ground floor clothing department is complete with a cash register, fitting room, hats, jewelry, perfume, and even a selection of spare trousers – perfect for those last-minute wardrobe changes. Take the escalator up to the second-floor housewares department where you'll find glassware and golden plates for special occasions. And don't forget to check out the top floor toy department (complete with toy house and push-scooter) before you leave. Then, on the very top there is a rooftop billboard and a cool skylight.
Looking for a fun and unique addition to your LEGO town? Look no further than the LEGO 10218 Pet Shop! This beautifully detailed 3-story building is perfect for any animal lover, with a pet shop on the main level and a tastefully appointed townhouse next door.
The pet shop features a variety of animals for your customers to choose from, as well as all the toys and supplies they could need. The upper apartment is perfect for the shopkeeper, with a kitchenette and loft overlooking the main floor. spiral staircase leads up to the attic space, which is perfect for storage or an afternoon nap.
The townhouse next door is just as lovely, with a detailed ground floor and French doors leading out to a front balcony. The rooftop garden is a real treat, with fresh vegetables adding a splash of color to the back of the building.
Introducing the Town Hall! This highly detailed, 3-story model is packed with features and intricate details that will fascinate and delight.
The Town Hall features a large entranceway with columns, a coat of arms, and a tall bell tower with clock. Inside, you'll find a spacious ground-floor hall, tax office, and auditorium. Take the working elevator up to the second-floor secretary and mayor's offices, which are realistically furnished with desks, chairs, paintings, and even a frog sculpture. Address the town's citizens from the podium in the meeting room on the third floor.
This set includes 8 minifigures: mayor, secretary, bride and groom, press woman, janitor, and 2 children. With so much to explore and discover, the LEGO 10224 Town Hall is sure to provide hours of fun!
It's premiere night at the Palace Cinema! Illuminate the night sky with the spotlights as the child star arrives in a fancy black limousine! Gather the crowd on the star-studded sidewalk, then head into the detailed lobby with a concession stand and ticket area!
Take the grand staircase into the theater with a large screen, movie projector and reclining chairs for 6 minifigures. Enjoy the show in luxury!
This highly detailed, 2-story Palace Cinema is a corner building. This collectible model features a sidewalk of the stars, brick-built entrance doors, posters, sign frontage, a tower with spires and rooftop decorations. Includes 6 minifigures: child actress, chauffeur, female guest, male guest, photographer and cinema worker.
Add even more realism with LEGO light bricks (not included) to really bring this movie theater to life!
The LEGO 10243 Parisian Restaurant is a beautiful and detailed building that would make a great addition to any modular building series. The blue and white tiled kitchen is fully stocked with tableware, and the cozy apartment has a pull-down bed, kitchenette and fireplace. On the top floor is the artist's room with a studio that includes a cast iron heater, easel, paintbrush and two works of art by the aspiring artist. Outside, stairs lead down to the roof terrace lined with hanging lanterns and flowers where the diners can enjoy alfresco dining. This amazing Parisian Restaurant model even includes a facade with croissants, clams and feather details that recapture the feel of Paris. With so many features and details, the LEGO 10243 Parisian Restaurant is sure to provide hours of fun for all ages.
Welcome to the world of the LEGO 10246 Detective's Office! Step into a delightful world of classic 1950s charm, packed with amazing detail and hidden surprises. This beautifully crafted Modular Building is perfect for anyone who loves LEGO and wants to create their own stunning detectives office.
The ground floor barbershop is complete with pampering customers, a large wall mirror and a rotating ceiling fan. Next door, competitive pool and darts players add to the fun atmosphere. Upstairs, the Detective's Office is strewn with clues, has a safe for valuable evidence and even has a hidden wall compartment. You can also visit the adjoining bathroom with its classic pull-chain toilet.
The well-equipped kitchen on the top floor provides access to the roof terrace with its large water tower. I just love the façade and the way it blends into the rest of my city.
Introducing the LEGO 10251 Brick Bank, a magnificent building that houses one of the area's most established and respected financial institutions. This detailed, three-story bank features a sculptural façade with an arched entrance, elegantly tiled floor, large skylight, and ornate chandelier. Inside, there's a bank manager's office on the second floor, a self-service laundromat next door to the bank, and a secure vault where you can make deposits. But beware – the vault has a potential weakness that someone has already discovered! This fun set is perfect for anyone who loves architecture, banking, or simply building something amazing. With over 2,000 pieces, the possibilities are endless. This is another set where I just love the exterior and the color palette used by the designer on the Brick Bank.
Looking for a fun and interactive way to spend your free time? Look no further than the LEGO 10255 Assembly Square! This detailed and easy-to-assemble set provides hours of enjoyment, with three levels of action-packed fun with multipole structures in this 4000+ piece set.
Introduced in 2017, The ground level features a bakery, florist's shop and café – perfect for a quick snack or coffee break. The middle level includes a music store, photo studio and dental office – providing plenty of opportunities for creativity and imagination. And the upper-level dance studio and apartment offer access to a rooftop terrace with barbecue – the perfect spot to relax and take in the stunning views.
The exterior of the building is just as detailed as the interior, with a beautiful facade, three buildable shop signs, spired tower and decorative roofline. The sidewalk is complete with outdoor café furniture, fountain, streetlamps – adding an extra touch of realism.
Whether you're looking for a creative outlet or simply a way to have some fun, the LEGO 10255 Assembly Square is the perfect choice!
Welcome to the LEGO 10260 Downtown Diner, a ground-level 1950s-style diner with a large curved front window, red bar stools, jukebox, counter and open-plan kitchen. This incredible collectible toy has been designed to provide a challenging and rewarding building experience with a touch of nostalgia and charm.
The mid level has a gym with boxing ring, punching bag and weight training room, while on the upper-level you'll find a recording studio, complete with vocal booth, mixing desk and refreshments cabinet. The facade of the building features pink-and-teal Streamline Moderne styling with a large 'DINER' sign. Other external features include arched windows, balconies and a staircase, plus a pink convertible car and detailed sidewalk, complete with mailbox, parking meter, flowerpots and streetlamp.
Includes 6 minifigures: 2 female customers, 2 male customers, the waitress and the chef. Accessories include menus, cash register, microphone and more.
The LEGO 10260 Downtown Diner is the perfect addition to any LEGO collection. All of the Adult fans of lego I know just love the art deco styling of the buildings.
With three stories, there's plenty to explore in this detailed setting.
On the ground level, you'll find a 1950s-style gas station complete with fuel pump, kiosk, and vehicle workshop. The workshop features a roll-up door, vehicle lift, and tire mounter. At the mid-level animal clinic, you'll find an examination table, fish tank, and waiting area with sofa. And on the upper level is a well-equipped apartment with kitchen, TV, sofa, bed, and staircase leading to a rooftop terrace.
The exterior of the building features a classic 1950s facade with signage, detailed windows, and decorative roofline. Plus, there's a sidewalk area with tree and ornate streetlamp. With so much to see and do, the LEGO 10264 Corner Garage is sure to provide hours of fun!
The LEGO 10270 LEGO Bookshop is the perfect set for any budding builder or collector. This big 3-story set features so many details, including a display window, bookshelves, reading nook and living spaces in the town house. 5 minifigures also help to really bring this collectors' toy to life.
This set is part of the Modular Buildings series – an ever-growing collection of interconnecting model toy buildings that combine to create amazing street scenes that builders and collectors love to own and display. The building features a display window, bookshelves, reading nook and living spaces in the adjoining town house. Five minifigures are also included to really bring this toy to life.
Part of the Modular Buildings series, this set is perfect for anyone who loves to build and collect interconnecting model buildings. With 2,504 pieces, this set makes an inspirational birthday, Christmas or special-occasion gift.
Measuring over 14" high, 10" wide and 9" deep, this detailed bookshop is a must-have for any LEGO fan! Be sure to read my review of this modular set.
Looking for a detailed, fun-filled building kit that will keep you entertained for hours? Look no further than the LEGO 10278 Police Station! This expansive set comes with 2,923 pieces and 5 minifigures, all in intricate detail.
As you assemble the police station, you'll discover stylish features and crime-busting details like a case board with red lines connecting the clues, reel-to-reel recorder, jail cell, evidence locker, and more. The printed tiles throughout – like the billboard, telephone, and typewriter – bring the scene to life.
This is the perfect gift for any true-crime fan or LEGO lover in your life. They'll appreciate the novel pieces in this set, including 2 pieces in ultra-rare nougat colour, 4 blank animal-head pieces used for the cornice detail, and an inverted 2-colour arch. And when it's all put together, it measures over 14.5 inches (37 cm) high (including antennae) and 10 inches (25 cm) wide. So much to explore!
This fabulous model is a tribute to turn-of-the-century European architecture, and it's packed with stories and details for you to discover.
There are seven minifigures included in the set, so you can get started on your adventures right away. The hotel features five sections, each with its own unique design details. There's also a neighbouring art gallery and coffee cart for even more fun.
As you build the guest rooms, penthouse suite, lobby, terrace and staircase, you'll lose yourself in this hands-on project. And when you're done, you'll have a beautiful model to admire and explore.
So what are you waiting for? Get started on your LEGO 10297 Boutique Hotel today!
Are you prepared for a night of pizza, jazz dancing, and big band music? The best entertainment in town is yours to see with the LEGO® Icons Jazz Club (10312). This construction set for adults uses novel building methods, such a 45-degree doorway, and fans of modular buildings and music will relish creating their own jazz venue. When the club is finished, you can spend hours admiring its exquisitely adorned interior, which includes a jazz stage, a pizzeria, and the band's dressing area.
meet new people at the club
A concert that will have the audience on their feet the entire evening is set in motion by 8 intricate minifigures, including a jazz singer, bassist, and drummer.
---
How many Lego Creator modular sets are there?
As of 2022 there are 17 Different Creator Modular Buildings. One is released per year on average and the new sets are announced between Halloween and Christmas, with a release after the first of the year. But in 2023 there will be 18, as the new Jazz club modular has been announced/released.
What is the best LEGO creator modular set? Which was my First modular building?
I love each and every one of the buildings in my layout. However I do have some favorites:
The Grand Emporium was the first one I got.
I love the retro styling of the Diner.
The Bank has some cool hidden features.
The most fun to build is a tiel between the bookshop and assembly square.
Please share your favorites in the comments below.
Which LEGO Modular Buildings are retired?
Currently all the LEGO creator modular buildings before 2019 are retired – The Corner garage is no longer available and the Bookshop is now in "hard to find" status.
How often does LEGO release new modular sets?
New Creator Modulars are released every year. The release date are announced in the early winter Nov-Dec, and then are available to VIP members first in late January. Non-Vip members can get their sets about a week after VIPs.
I've both ordered my sets on the LEGO Website as well as waited in a cue at my local LEGO store to get a first release.
Do LEGO Modular Buildings connect?
YES! That' his what makes these sets so cool. On each side there are 2 technic pins that match up with adjacent buildings. You can easily connect each set to another.
Plus you can arrange them in any way you want. The connections are standardized. I like to play around with they order my sets are joined as I think that makes a difference in the aesthetic of my city.
Are Lego ICONS Modular sets?
In 2022 LEGO began to rebrand the Creator Expert Sets to the ne ICONs brand. I don't know what they will be calling them going forward.
Final Thoughts
The earlier sets were already amazing to start with, but the later models take it to a new level. Each of these sets is only around for a limited time, so be sure to get yours within the first year or two of release. Wen they are gone the resale market can get quite pricey!
The Modular buildings sets have lots of detailed bricks, and tons of minifigures to make even the most picky collector happy.
Now all I have to do is get lights for everything!