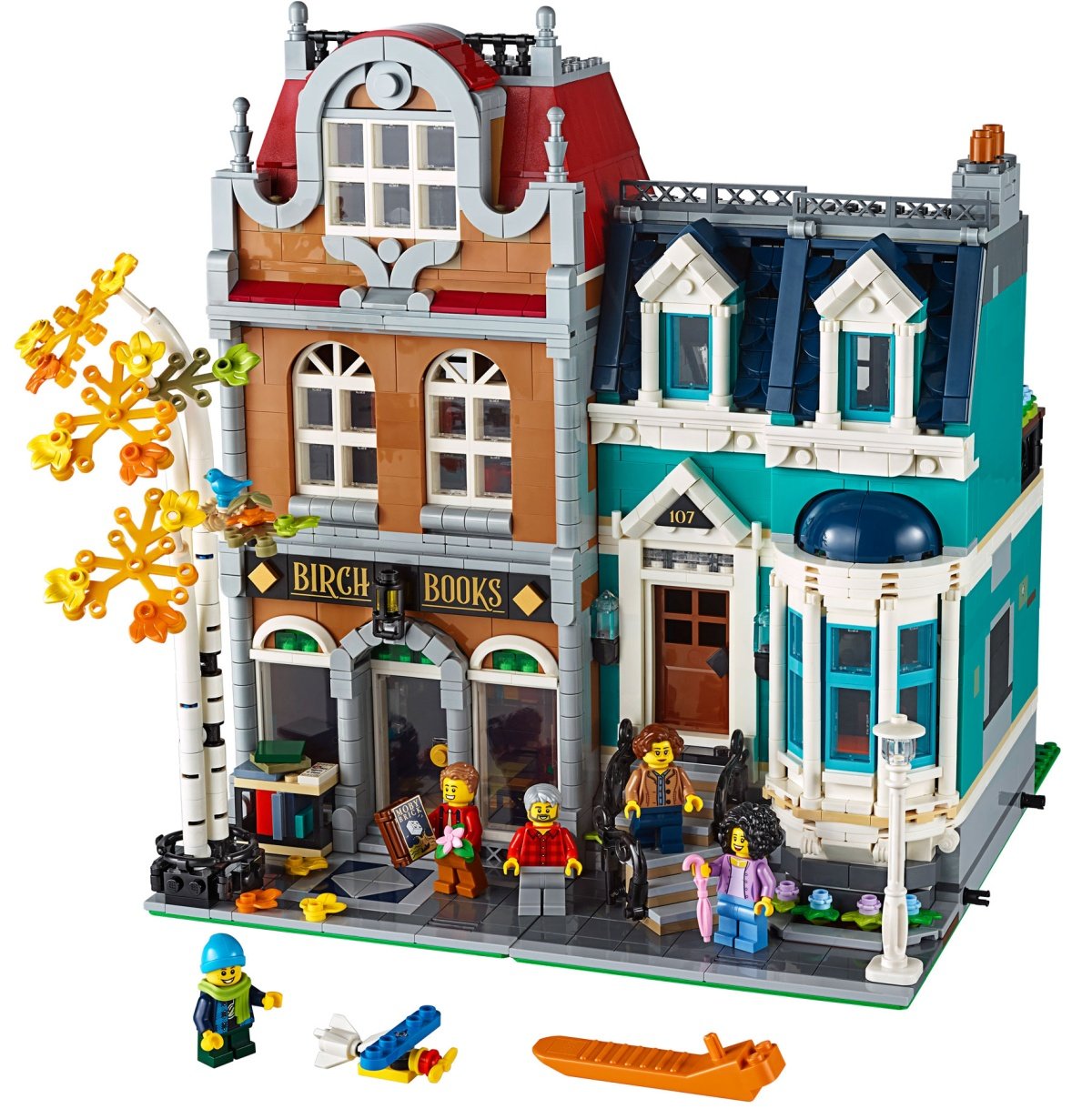 Today the LEGOnet (LEGO Internet) is all abuzz with the announcement of the latest Creator Expert Modular set – The Bookshop. With 2504 pieces and 5 minifigures – the price will be $179.00. As you can see from the images, this is actually 2 buildings built together a bookstore on one side and a little 3 story house on the other, side by side. It's a modular so it will connect and fit in with the other LEGO modulars that have come out already.
Be sure to check out all the LEGO Creator Modular Sets Available. How many do you have?
Watch the LEGO Modular Bookstore Creator Video
LEGO 75273 Release Date
This new Modular Booskhop will be released on Jan 1 2020. That's the day after my birthday, and I'll be up and early doing what I love to do – heading to the LEGO store. I have a custom that I do every year on New Year day. I once was told by a wise person that whatever you are doing on Jan 1 sets the tone for what you will be doing the rest of the year. So for me- LEGOs. Originally, it was announced that this will only be available at official LEGO stores. However I expect that after a time it will also be available at 3rd party retailers like Amazon or Target.

LEGO 75273 Pieces & Minifigures
There are 2504 pieces in this set, including 5 minifigures. 4 Adults (2 guys and 2 girls) – and one child. They are all great generic city people that just look like they are going about their day in a regular way. One of the minifigs looks like it has several elements that could be used for a George Lucas Minifigure.
LEGO 75273 Price
I expect this set to be priced at $179.99 US and will be on sale starting January 1, 2020.

LEGO 75273 Review
Right now as of the time of writing this blog post, this set is not yet released. I'm really looking forward to all the different minifigures of course.
These images are from Promobricks.de. I will replace them with my own images as soon as I get this set.
If you are looking for all the LEGO modular buildings ever made, I keep a complete list going.
If you want to see when I open the set and build it in real time, follow me on Instagram where I frequently do live feeds and Lego Instagram Stories of new sets. This year my goal is to buy and review every single LEGO set made in 2020.