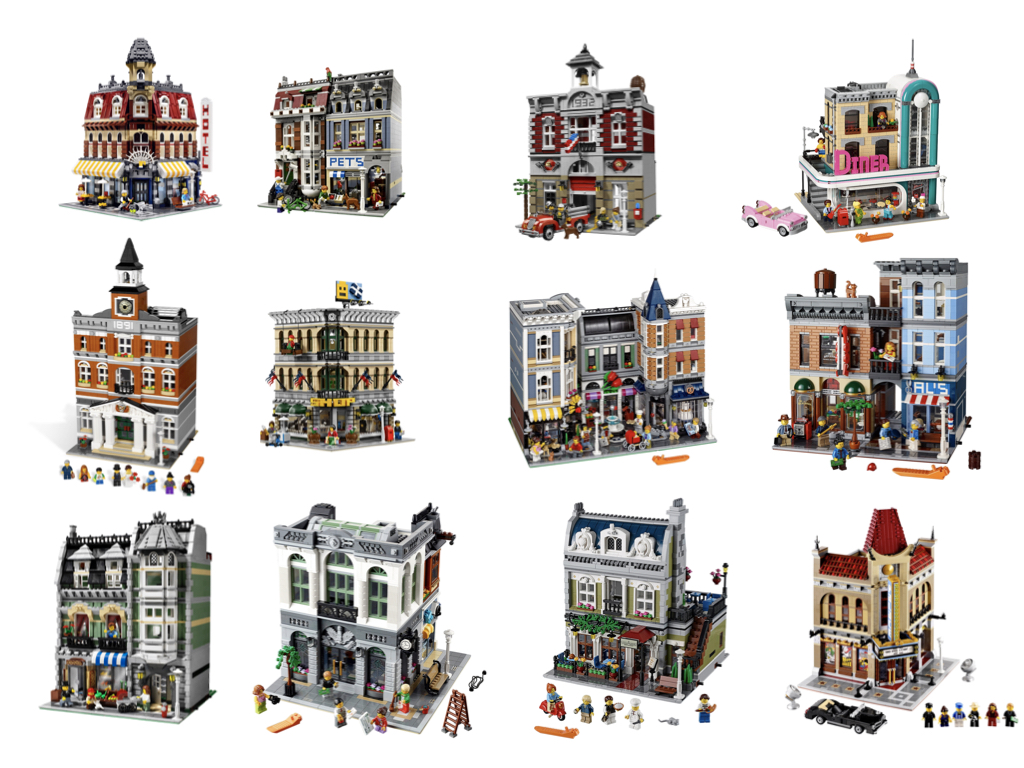 One of my very favorite types of LEGO sets are the Modular buildings. In fact, I like to say that the first modular I got, the Grand Emporium solidified my emerging from my Dark Ages.
At first I would build them and leave them up in my old LEGO city, but now I build them to learn any new techniques (and because they are just fun), and then use the pieces in my Farm Moc.
In this article I'll give a brief overview of some of the key features of the modular buildings collection. Then You will be able to read a brief summary of each of them (including my personal thoughts). Finally, I'll discuss some of the more famous ones, and wrap it up with a prediction or two.
What are Modular Buildings?
The Modulars are a series of highly detailed connectable buildings in Minifigure Scale that use more advanced building techniques. One key feature of them is to connect them together (with Technic Pins) to create a "city". Also there are multiple floors that can be removed to see detailed interiors. There is a street facade that generally has a sidewalk, but sometimes there are corner modules with 2 sides.
Most of the modular buildings have a European feel, but there are also references to the 1950's as well as more modern structures. Featuring more natural colors Instead of the traditional Reds, Blues, and Greens, the modular buildings use brick reds, sand greens, and other earth tones or natural palate colors.
These are sets with higher piece counts and take longer than usual to build. Often new or unique building techniques are incorporated. SNOT building (Studs Not on Top),
The release of the next structure in the Modular Buildings Series is highly anticipated, and after a period of a few years they are retired and no longer available except on the secondary market (like Ebay or Amazon).
After a while – between 18-24 months – the sets are retired and you can only LEGO modular buildings for sale on the secondary market.
Some day I hope there will also be LEGO modular houses. But until then I can only make my own MOCs.
What Line are the Modular Buildings Collection?
Originally, the Modulars were a sub theme of the Creator line. Starting in 2007 with the Cafe Corner, these sets are for more advanced builders. Most of the sets are 16+, but one is 10+. Recently (starting in 2021) they are labeled as 18+.
Initially the boxes weren't labeled with any particular line. Starting with Palace Cinema in 2013 they were called Creator Expert. Then in 2021, the Police Station began a change to the ICONs line.
So if you start to search for them you will want to use either Creator Expert, or ICON. Or you can simply bookmark this page and I'll update it every time a new one is released.
The Complete Modular Buildings Collection
Since 2007 there have beeIe interested in collecting them, I recommend getting them as they are released because they aren't around forever. Once they are gone, you can still buy them but the price goes up substantially.
Usually LEGO does some kind of special for a modular release. Not only is there is usually a Gift With Purchase, but VIP members can have access a few days before the general public.
Also the sets are typically available only through LEGO.com or their stores. However as a set gets closer to retirement, I have seen them at big box stores like Target.
I should also add that each of these sets comes with a brick separator.
Set – 10182
Pieces – 2046
Release date – 2007
Age – 18+
Minifigs – 3
Original US Price – $139.99
This intricate and realistic street corner scene was created by LEGO fans and designers working together. It includes many unique colors, uncommon LEGO pieces, inventive building techniques, realistic interior details, and modular construction so you can expand the neighborhood as your LEGO collection expands. built entirely in scale with minifigures! 3 miniature townspeople are included! Building is taller than 14″ (36 cm), and the street foundation is 10″ x 10″ (25.4 cm x 25.4 cm) or one full baseplate. With an Opening front door, café tables with umbrellas, striped awning, "Hotel" sign, trash can, street lamp, bench, and more realistic details are included! To show interior spaces and staircases, the top two stores lift off. Other Modulars can be connected together using the technic Pins at the model's base.
As of the writing of this article I have not acquired nor built this set. However, some day, If I find a good deal, I'll grab it!
Set – 10190
Pieces – 1248
Release date – 2007
Age – 10+
Minifigs – 3
Original US Price – $89.99
In 2007, a set that was compatible with the initial modular building, 10182 Café Corner, was produced a few months later as 10190 Market Street.This set, which was labeled LEGO Factory and was a forerunner to LEGO Ideas, was not a Creator set like the café.
Users could create digital models, upload them, and then buy the components to build them, which came in a box with a personalized print. This fan-designed model, created by notable Dutch AFOL and one of the first LEGO Ambassadors Eric Brok, was one of many that were turned into official sets.I believe it is safe to conclude that this is because of the cooperation with 10182 Cafe Corner that the building is connection- and pavement-compatible and sits on two 16×32 baseplates.While this set isn't technically a part of the Modular buildings collection. I've included it as it most similarly resembles the style and techniques used.
Set – 10185
Pieces – 2352
Release date – 2008
Age – 18+
Minifigs – 4
Original US Price – $149.99
The Green Grocer can help you grow your LEGO® neighborhood or create a new one! This vibrant and vivid structure, created in a modular design, has a grocery store and traditional residences that can be assembled, disassembled, and reassembled to fit your own LEGO town. Realistic interior, courtyard access, a roof terrace, a fire escape, numerous windows, and other features are all part of the intricate architecture.
Combine Green Grocer with 10190 Market Street and 10182 Café Corner to create a street layout! Three upper floors pull up to expose interior spaces! A blue and white awning, a cashier, bins for fruit, vegetables, and bread, a refrigerator, and a tiled floor are all present at the grocery store. Numerous elements can be found in apartments, such as bay windows, fireplaces with tools, grandfather clocks, and windows that open to the outside fire escape. A unique technique for stairs leads up to the roof top where there is a scene for the modern city apartment dweller. On the ground floor there is a mailbox, lamp-post, fire-hydrant, and More. Be sure to find the cat (and Rat) in the build.
Set – 10197
Pieces –
Release date – 2009
Age – 16+
Minifigs – 4
Original US Price – $149.99
Construct a true historical fire station!
A bell is ringing. The town is on fire! This meticulously recreated fire station from the 1930s drives the fire department to the scene. The station is built with uncommon LEGO® bricks and cutting-edge construction methods, and it was created to fit with other modular structures like 10211 Grand Emporium and 10185 Green Grocer. It comes with a fire vehicle designed in the style of the 1930s, four minifigures, a fire dog, an opening station garage door, and a removable building roof enabling access to the interior. Aside from having two completely equipped levels, it also has a roof with a water tower and bell, racks for the firemen's helmets, a fire pole, a ping pong table, a kitchen with a fully stocked fridge, a couch, and a bookshelf. 10″ (25 cm) wide and 14″ (35 cm) height.
Set – 10211
Pieces – 2182
Release date – 2010
Age – 16+
Minifigs – 7
Original US Price – $149.99
Welcome to the Grand Emporium's official opening!
This incredibly detailed 3-story department store, constructed in a realistic scale with a ton of unique building techniques and uncommon pieces, is the latest installment in the LEGO® Modular Buildings series. While a busy window washer works above, people on the street below carry shopping bags, drop off letters at the mailbox, admire the window mannequins, and then cool off at the ice cream stand. Through the rotating doors, you may access the ground-floor apparel section, which includes a fitting room, a pay register, hats, jewelry, perfume, and even a variety of extra pairs of pants. Customers ascend an escalator made of bricks to the second floor housewares area, where they may get glassware and golden plates for special occasions. The top floor has the toy section and a cool brick built chandelier with trans clear pieces. Be sure to check out the rooftop billboard !
Set – 10218
Pieces – 2032
Release date – 2011
Age – 16+
Minifigs – 4
Original US Price – $149.99
Welcome to the all-inclusive pet store, customers!
Build a luxurious pet pad in a three-story store!
This three-story Pet Shop building and townhouse, which is part of the LEGO® Modular Buildings series, is extremely detailed and the ideal addition to your LEGO town. Welcome clients with a variety of animals and allow them to spoil them with a choice of toys and supplies. The pet store building has a loft above the open-concept floor below, an above apartment with a kitchenette, and a movable stairway for convenient access. The attractively decorated home has a spiral staircase rising to the upper floor and a detailed ground floor with accents. French doors and storage bins are present in the attic level. Be sure to check out the rooftop Gardens with an organic garden.
Set – 10224
Pieces – 2766
Release date – 2014
Age – 12+
Minifigs – 8
Original US Price – $199.99
The real Town Hall will keep business moving forward!
Build the most recent installment in the LEGO® Modular Buildings series, the three-story Town Hall! Large entranceway columns, a coat of arms, a tall bell tower with a clock, and a sizable skylight allow you to view inside this extremely detailed model. Everything you need to manage the town is on the ground floor, in the big hall, the tax office, and the auditorium. Take the operating elevator to the second floor to reach the secretary and mayor's offices, which are well decorated with desks, chairs, paintings, and even a sculpture of a frog. Organize a gathering and use the podium to address the town's residents! A sizable meeting room with a huge conference table, chairs, globe, and other equipment is located on the third floor.
Set – 10232
Pieces – 2196
Release date – 2013
Age – 18+
Minifigs – 6
Original US Price – $149.99
Create a spectacular premiere at the Palace Theater!
The Palace Cinema is hosting a premiere tonight! Spotlights should be used to illuminate the night sky when the young celebrity rolls in in a plush black limousine. Entrance to the elaborate lobby with a refreshment counter and ticket booth after gathering the throng on the star-studded sidewalk! Enter the theater via the grand staircase, which has a big screen, a movie projector, and recliners for six minifigures. The two-story, highly detailed corner structure is the newest release in the line of LEGO® Modular Buildings and decorated with LEGO themed Movie Posters. A walkway of stars, brick-built entrance doors, posters, a sign façade, a tower with spires, and rooftop decorations are all included in this collector model. 6 minifigures are included: a kid actress, a driver, a female guest, a male guest, a photographer, and a movie theater employee.
Set – 10243
Pieces – 2469
Release date – 2014
Age – 18+
Minifigs – 5
Original US Price – $159.99
The Parisian Restaurant is really busy! The waiter dashes between the tables as the anxious young man prepares to pop the question inside as a scooter zooms by! Behind the scenes, where the chef is busy making the food, things are just as chaotic. This exquisitely detailed structure, a wonderful addition to the modular building series, serves as the backdrop for numerous stories. The Parisian Restaurant provides a pleasant apartment with a pull-down bed, kitchenette, and fireplace in addition to a fully furnished, blue and white tiled kitchen with dinnerware. The artist's studio is located in the artist's room on the top level and features a cast iron heater, an easel, a paintbrush, and two pieces of the budding artist's artwork. Stairs outside descend to the roof top terrace with additional seating for the dining customers.
Of all the buildings, this one has the most detail to me- including a clever use of seashells and even white croissants for ornamentation.
Set – 10246
Pieces – 2262
Release date – 2015
Age – 16+
Minifigs – 6
Original US Price – $159.99
With the LEGO® Creator Expert Detective's Office, explore a mysterious and exciting universe! Enter the barbershop through the wide archway, where seated clients are treated under the calming whir of a ceiling fan while competitors play pool and darts next door in the reflection of a giant wall mirror. You can locate the detective's office on the first floor, along with his desk covered in hints, a safe that contains important evidence, and a secret wall compartment. Visit the nearby bathroom, which has a vintage pull-chain toilet, after which you may access the roof terrace from the well-equipped kitchen by climbing the stairs there. The most recent LEGO Modular Building release is jam-packed with extraordinary detail and lots of easter Eggs and surprises. Of course the roof comes off to access the interior.
One of my favorite Minifigure scale builds is in this set – the cool little pool table!
Set – 10251
Pieces – 2380
Release date – 2015
Age – 16+
Minifigs – 5
Original US Price – $169.99
What Makes the Brick Bank so Special?
Enter the great entryway through the arched entrance of the sculptural façade to find yourself on the finely tiled floor. Light pours in from the vast, oxidized copper skylight, illuminating the elaborate chandelier hanging high in the atrium. Deposit your money with the helpful teller and put it in the safe at the bank. Then up the stairs to the second level, where you can talk your finances over a delectable cappuccino in the comfortable surroundings of the bank manager's office, while clients are busy dropping off their clothes at the pleasant, self-service laundromat next door to the bank.
Welcome to this majestic structure, home to one of the most reputable and long-standing financial organizations in the region. But someone has already discovered a potential weak point in the vault. There are some very unique play features with this set – I won't give away any spoilers in case you decide to get it and build it one day.
Set – 10255
Pieces –4002
Release date – 2017
Age – 16+
Minifigs – 9
Original US Price – $299.99
Join Assembly Square in commemorating ten years of modular construction!
Visit the incredible Assembly Square, created to honor ten years of LEGO® Modular Buildings, which is filled with fascinating, intricate features and hidden surprises. Access to the intricate interior is made possible by easily detachable building sections. The interior is divided into three levels, with the ground level housing a bakery, florist's shop, and café, the middle level housing a music store, photo studio, and dental office, and the upper level housing a dance studio and apartment with access to a rooftop terrace with barbecue.
The building's outside has a realistic walkway with outdoor furniture for cafés, a fountain, streetlamps, and a highly detailed front with three buildable store signs, a spired tower, and an ornate roofline. The windows and doors are also exquisitely crafted. Contains a baby figure and eight minifigures (one of which is a Music store assistant).
Set – 10260
Pieces – 2480
Release date – 2018
Age – 18+
Minifigs – 6
Original US Price – $169.99
Visit the LEGO® Creator Expert 10260 Downtown Diner for a heaping helping of entertainment and surprises. The intricate interior of this remarkable model, which includes a ground-level 1950s-style restaurant with a wide curving front window, red bar stools, a jukebox, a counter, and an open-plan kitchen, is easily accessible thanks to the removable construction pieces. On the upper floor, there is a recording studio with a vocal booth, mixing desk, and refreshments cabinet. The mid level features a gym with a boxing ring, punching bag, and weight training area. A big "DINER" sign with pink and teal Streamline Moderne design can be seen on the building's facade. A pink convertible car, a staircase, arched windows, balconies, and a beautiful pavement with flowerbeds are further exterior highlights.Along with the Downtown Diner, I really liked the way this set looked.
Set – 10264
Pieces – 2569
Release date – 2019
Age – 16+
Minifigs – 6
Original US Price – $199.99
Visit the LEGO® Creator Expert 10264 Corner Garage to find a world of entertainment and surprises! This incredible three-story model has detachable building pieces for easy access to the intricate interior. On the ground floor, there is a petrol station with a gasoline pump, a kiosk, and a car garage with a roll-up door, a car lift, and a tire mounter in the style of the 1950s.
On the upper level, you'll find a well-appointed apartment with a kitchen, TV, sofa, bed, and a stairway leading to a rooftop terrace with a sun lounger, umbrella, and flower garden. The lower level animal clinic has an examination table, fish tank, and waiting area with a sofa. The building's façade has a typical 1950s front. Starting at the street level there is a tree lined sidewalk, As you move up the facade, which could be from the same era as the downtown Diner, you end at a rooftpo with a hidden surprise
Set – 10270
Pieces – 2504
Release date – 2020
Age – 16+
Minifigs – 5
Original US Price – $199.99
Create and exhibit a cute bookstore and a modular townhouse.
With this collector's LEGO® Creator Expert toy, you can recreate the beauty of a backstreet bookshop that you would find in any European hamlet or town. A display window, reading nook, and an open-out design are just a few of the interesting building approaches and unexpected touches found throughout the three-story bookshop and adjacent modular townhouse complex. Collectors will enjoy proudly displaying this sizable 2,504-piece LEGO kit next to their other modular structures.
What I really like about this set is that the two buildings separate and can be placed in different parts in your modular city.
Police Station
Set – 10278
Pieces – 2923
Release date – 2021
Age – 18+
Minifigs – 5
Original US Price – $199.99
To solve a sweet crime, construct the LEGO® Police Station.
With this LEGO® Police Station (10278) model, you can enter a delightful world of deception, detection, and doughnuts. As you construct the three-floor police station, take pleasure in hours of immersive constructing. Watch the brick-built staircase wind through the intricate, removable floors to the inside. A doughnut shop filled with sweets is right next door, and on the other side is a newsstand.
There are many subtle nuances and excellent design elements in this remarkable set. The police have everything they need to solve the case, including an evidence locker, detention cell, interrogation room, and case board with red lines connecting the clues. For the benefit of adult LEGO lovers, the set also includes a few unique parts.
Set – 10297
Pieces – 3066
Release date – 2022
Age – 18+
Minifigs – 7
Original US Price – $229.99
A tranquil build full of undiscovered jewels
Think of relaxing in a five-star hotel. where every little thing is meticulously thought out. where each guest's wish is fulfilled elegantly. With the help of this adult model building project for the LEGO® Boutique Hotel (10297), you can now create your own hotel holiday on your shelf or your LEGO city.
There are surprises everywhere.
As you create the model's 5 sections, you might spend hours immersed in construction. It is modeled after lavish turn-of-the-century European buildings and features an unusual triangular geometry and beautiful ornamentation. Build the lobby, patio, stairwell, guest rooms, and penthouse suite. then delve into all the tales contained therein, which also include entertaining homages to other LEGO Modular Buildings models. Adult builders will be delighted with its five portions, which include the roof with its gorgeous dome and skylight as well as never-before-seen components and colors.
Set – 10312
Pieces – 2899
Release date – 2023
Age – 18+
Minifigs – 7
Original US Price – $229.99
My set is on order and as soon as I get it, I'll do a complete review here!
Final Thoughts
The LEGO Modular Buildings are one of the most anticipated releases every year. They are complicated builds that are fun and each seems to be better than the last! Its cool that all the related sets can connect together.
Which is your favorite? How many do you have? I'd love to know in the comments below!