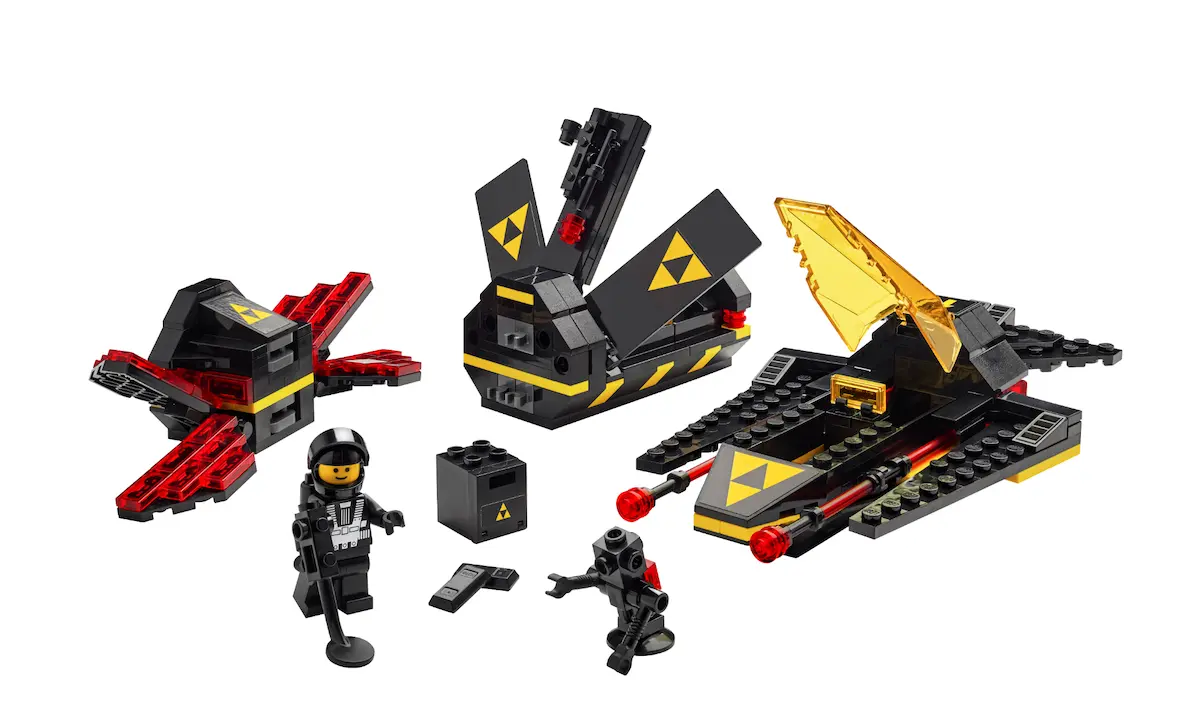 The Jan 2023 LEGO Gift With Purchase is the Blacktron Cruiser – 40580. Only available from Jan 1 2023, until Jan 14, 2023 (or until it's sold out). The best part is that it is FREE- but there are two conditions. First is you have to spend $190 to get it. The second is that it's only available at LEGO stores or at LEGO.com.
MSRP: FREE – Gift with Purchase
Set Number: 40580
Release Date: Jan 1, 2023
Part count: 356
Number of Minifigures: 1
Inspiration for the new Blacktron Cruiser Set
This is a remake of the original 6894 set which came out in 1987 and was called the Invader. Sadly this set came out just as I was entering my first Dark Ages, and I never actually collected or owned any Blacktron Sets. I was always a classic Space Guy.
Speaking of the Classic Space LEGO theme, I wonder if this is a hint of a re-release? Last year LEGO made a great New Galaxy Explorer for the LEGO Group 90th Anniversary. I got that set as soon as it came out, and it was easily my favorite set of 2022.
From what I can tell this new Blacktron Cruiser will come with one minifigure, and a brick built robot.
The Blacktron Cruiser Box
Because I'm writing this on the day it comes out (and I have to order my sets from LEGO.com because my nearest store is 2+ hours away), I have to rely on the box photos for this review.
From the Blacktron Cruiser piece count (356), I believe this box will be on the larger size of a small box.
The box is immediately identifiable as a LEGO set, but there are a few differences from the older boxes.
Regular readers of my blog know that I've talked about LEGO changing their box designs over the past few years.
This box has the set number in the top left corner, above a yellow banner with the set name. On the top right hand side is the piece count, and the familiar LEGO logo.
As for the box art, there is a high-quality photo of the assembled Blacktron Cruiser over a spacey looking square grid. This gives it both a modern and a retro look simultaneously.
The back of the box shows some different angles of the traditional build as well as some details shots. More about that below.
My biggest question about this set is: Will it come with the new paper bags? I'll know in a few days and will update this post to let you know.
Blacktron Cruiser Minifigures
The Blacktron Minifigs were dressed in black (obviously). Historically bad guys dress in black, and this case is no different. Called "Baddies" by LEGO.
I've read from a few other LEGO Blogs that this set doesn't have any printed bricks. A small sticker sheet is included with the different yellow and black icons and logos that are part of this theme.
From what I can tell on the box, the minifigure is all Black. Black pants. black torso with the old style blaktron white print on both the front and back, black helmet, black visor and even a black air tank (or Jetpack depending on your style).
For me, the airtank on the back was dual purpose. Not only did it contain the life support systems needed for the minifigure, but it also had thrusters on the bottom which could allow them to jump/fly short distances. Of course when we were playing, the distances became quite large, going from room to room and more.
Also, in true old school LEGO vintage style. the face print is the classic yellow smiley face.
There is also a small black, brick built robot. In the old sets this was simply called the assistant robot. It has a modified 1×1 brick with studs on all sides for a head, and a trans red 1×1 tile on the back.
The Blacktron Cruiser Ship
From the box, the main colors of the blacktron remake are black (of course), yellow, and trans red.
The bulk of the body is black. The trans yellow canopy appears to open like a traditional LEGO spaceship and there is room for the minifig. He has a yellow display, and a small tile (with a sticker) for a control panel.
Does the Blacktron Cruiser have any Stickers?
Like most LEGO purists, I'm not a fan of Stickers.
As soon as a sticker is placed on a piece, that brick immediately has to be used for that set and build. I much prefer to have my bricks un-stickered so I can use them any way I want to in my MOCs.
I can understand the use of stickers, as disappointing as it is. This is a "Free Gift with Purchase", so I would imagine that if the LEGO group could save a few bucks by using stickers instead of printed tiles, they would.
Building the 40580 Blacktron Cruiser
One of the cool features of the old Blacktron was the wings would move. There was a cruising mode, and an attack mode. I could also never tell if the open wings was attack mode or the other way.
Also at the front of the ship are two trans red bars – I like to think of these as the barrels for the lasers. Pew-Pew.
The shape of the cruiser mimics old Blacktron. Long and skinny. Perfect for fast maneuvering and taking down classic space sets in battle.
On the back there are more wings – black triangular plates covered in red trans tiles. It looks like the back wings also move which would be really cool!
At the top of the ship, just behind the canopy are two additional details – a black antenna with a trans red piece and a black camcorder piece. These are probably used for communication or scanners.
The fuselage of the ship is a hexagonal shape, and has two flag pieces that act as doors for an interior compartment.
Finally, according to the photos, the ship comes apart into three sections. The front which is a smaller, faster, and more maneuverable ship. The middle which contains the items for transport, and the tail which appears to be an unmanned drone.
There are a few smaller accessories too – like a black metal detector, a black box, and a few black gold brick pieces.
One of Four LEGO Space Themes
Did you know there have been at least 4 different LEGO space themes?
Classic Space
Futron 1987 – 1990
Blacktron 1987-1988
City Space Theme
Now it can be argued that the Blacktron and Futron were the same theme, but one was Bad guys and the other were the Good Guys. I separate them out because the Futron theme lasted longer, and therefore it's different.
I'm not counting sets like the Lunar Lander or Saturn V Rocket as part of the LEGO space theme as these are from the Ideas theme.
Also released about the same time as this Blacktron GWP was the LEGO Brown Astronaut and Spacebaby Minifigure, as part of the CMF 23 series. Have you tried collecting all the different space minifigure colors?
Final Thoughts
Yes, I will be making an order on Jan 1 at midnight. I plan on ordering the new Modular Jazz Club, which would qualify for me to get this GWP as well.
And as soon as it comes, I'll add to this post with original photos and even more details as I discover them.
What do you think of the 2023 Blacktron Cruiser? Did you get one? Are you going to build it or save it. I'd love to know!