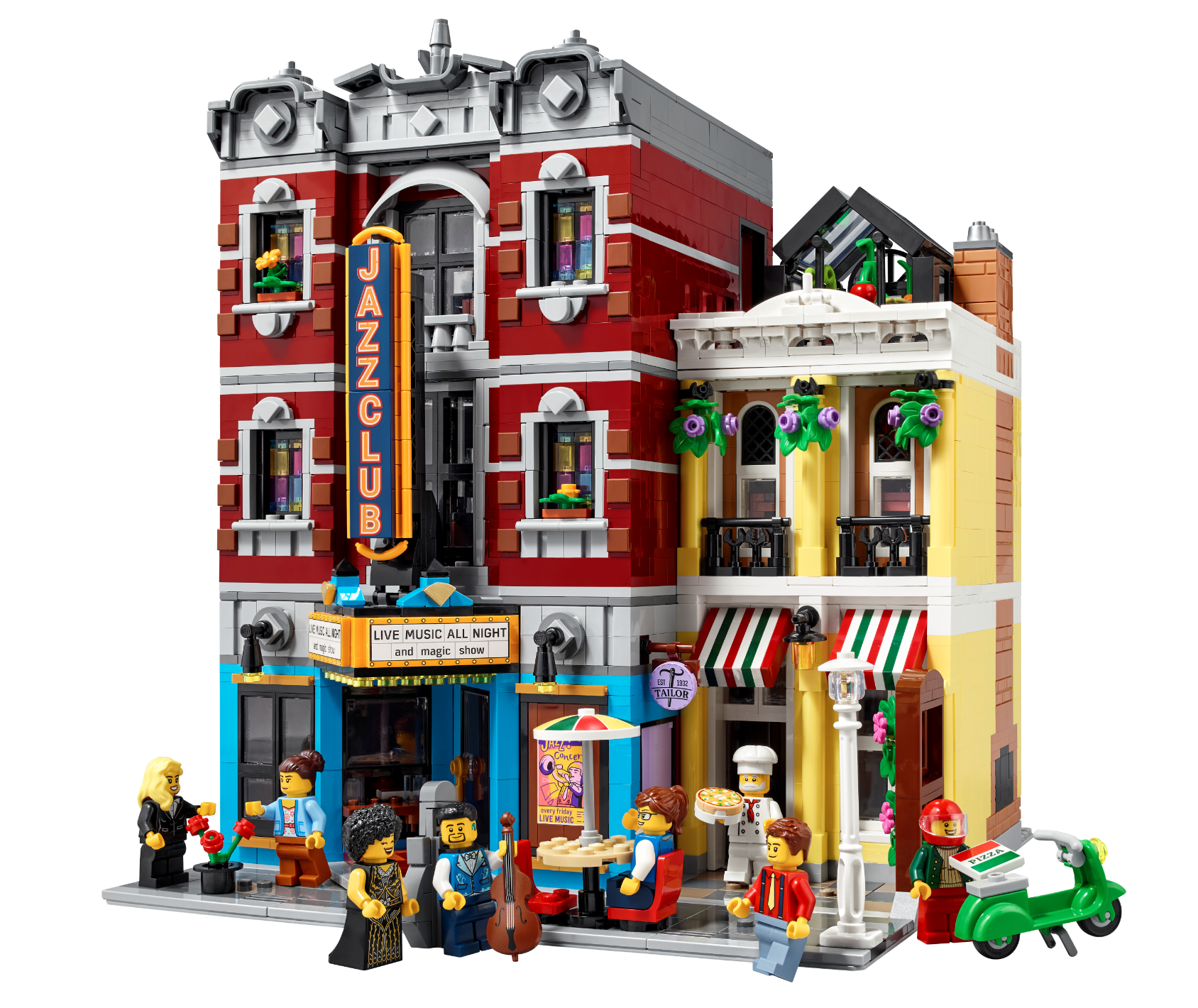 I can't be more excited! Announcing the latest modular set – the LEGO Jazz Club 10312. It's about time there was some more entertainment among all the modular street buildings.
Here's the link to the official LEGO page where you can learn more details. Read on for some of my initial thoughts. As soon as I can get a copy, I'll do a much more complete review.
This is the 18th modular release. Of course, I've got a complete list for the LEGO Modular sets.
A few days ago I tweeted that I expected the announcement for the new modular building to be on Dec 10. I was only a few days off.
Then when I woke up today I saw the announcement! What a great way to start the new year!
LEGO Jazz club LEGO Details
Set – 10312
Pieces – 2,899
Release date – Jan 1 , 2023 VIP, Jan 4, General Release
Age – 18+
Minifigs – 8
US Price $229.99
This 3 story LEGO Modular will have the usual removable floors (which usually have a lot of detail), and comes on a standard baseplate. This way it will combine nicely with the other sets in this series to make an amazing modular street scene.
Are you interested? These are my initial thoughts using photos from the LEGO website.
LEGO 10312 Jazz Club Modular Box
The box appears to be following the usual new LEGO ICONS style. Black with some deep red (maroon accents). I especially like the Jazz club logo in a marquis style at the top.
On the back there is a high-quality photo of the set placed in a street scene between 10278 Police Station and 10297 Botique Hotel. There are also a few other smaller photos (which I have below) of interesting details of the completed building.
Also in the top corner there is a white line drawing of the set showing the overall dimensions: 10 in (26 cm) x 11.5 in (30 cm).
LEGO 10312 Jazz Club Minifigures
This set comes with 8 minifigs. According to the website, we will be getting
Club Manager
Jazz Singer
Bassist
Drummer,
Pizza Chef
Pizza Delivery Driver
Tailor
and a Magician
One has to wonder how many pizzas are consumed in the world of LEGO. I know that they are all eaten at 2:57:38.
Getting 8 mini figs is almost a record. This makes me happy.
First impressions of LEGO 10312 Jazz Club
Following the traditional LEGO modular form, a 32×32 baseplate is used. On it sits 2 structures – the 3 story Jazz club, and a smaller 2-story pizza restaurant attached next door. There is also a street-level sign for a tailor which appears to be on a different floor.
This modular brings some brighter colors on the facade than most other sets. I can see bright blue, cool yellow, and maybe dark red colors, with the usual whites and greys that are so often used.
On the Ground Floor
A large movie-like marquee sign is over the door and is a major feature of the front. The words Jazz Club are spelled out using the brick letter technique, and it appears there is a printed brick that says "Live Music all Night" and "Magic Show" in smaller letters underneath.
On the pizza restaurant side there is an Italian style red, green, and white brick-built awning for that extra detail
Does that mean we are getting some LEGO magic? Read on.
I also see a poster-sized display highlighting the live music happening inside.
On the tiled street, we get the typical white lamp post and a small street-side table with an umbrella. It will fit in nicely with all the other 17 modular sets.
Inside the First Floor
Visitors come in over a red and orange checker tile entry and through a uniquely angled front door. Sitting at a 45-degree angle, I am very curious about the building technique.
Peeking into the club side, I can see a stage with a drum kit. 5 or so chairs are positioned around the stage which has red brick built curtains and some industrial stage lighting above.
Over on the restaurant side, there's a little counter with some condiments and a very cool brick-built pizza oven that appears to fit the standard-size LEGO pizza into it. You have room for a pizza chef, and a patron. A black and white checkerboard title greets customers and the pizza delivery driver.
Between the buildings is a staircase that is accessible from the front.
The Second Floor
I can't see many details in the included photos of the second floor. There is a shot of a balcony, however. I don't know if that is part of the first-floor build, or incorporated intotailor's the upper floors. I have a feeling it is part of the second floor because I can see colorful trans tiles used to make a stained glass window in a few images. Also visibleis a vintage LEGO record player.
Since a magician is included, perhaps there is a magic shop directly over the pizza kitchen. It could also be the tailors shop that is alluded to from the sign on the street level.
The Third Floor
As the pizza joint only has 2 floors the 3rd level is a rooftop garden. There is a little lego greenhouse growing some tomatoes. I'll bet these are used in the pizzeria to make fresh sauce. A squirrel can also be seen running around.
Above the Jazz club, you can clearly see a tailor with scissors helping with a fitting for the singer. A black brick sewing machine is in the background.
There is a second building on the top floor, It could be a dressing room for the musicians, or the jazz club manager's office.
I'll bet that all these rooms are part of the build, I just don't know exactly where they all are. They do have detailed interiors and follow the usual minifigure scale.
Who Designed the LEGO Modular 10312 Jazz Club?
This set was designed by the same person who did the Botique Hotel, Anderson Ward Grubb. To learn more about him, visit his Instagram or webpage.
When will the LEGO Jazz Club Be Released?
The official release date for LEGO 10312 Jazz Club is Jan 4 for the general public. However, LEGO VIPs will have access on midnight Jan 1.
This set will only be available at official LEGO stores. I like to order mine on-line because my nearest store is over 2 hours away. Plus there is bound to be a line the first day they are available and are likely to sell out quickly.
How Many Pieces are in the LEGO Jazz Club Modular?
This set will have 2,988 pieces. Usually, there are at least a few new elements added. Also, the ICON modular sets don't use stickers very much, which I appreciate. But the best part about these sets to me is that I usually get to learn at least 1 or 2 new building techniques. I can then incorporate these ideas into my own MOCs.
I'm especially interested in the ground floor doorway, which appears to be at an angle to the rest of the structure. I'm very curious as to how it was done.
Adding it to The Modular Street Sets
The new LEGO modular fits in nicely between the Boutique Hotel, Assembly Square, Police Station, or any other LEGO modular produced. The ornate architecture combined with the other details make this a perfect addition to your modular street scene.
Final Thoughts
As I look at this set I think about old midwest cities with their theaters. In this case I feel like that building has been converted to a new use, and given new life. Others have told me that it reminds them of New Orleans, however, after visiting that city many times, I don't think it has enough French influence to say that.
Will you be getting this set? Let me know your thoughts in the comments.