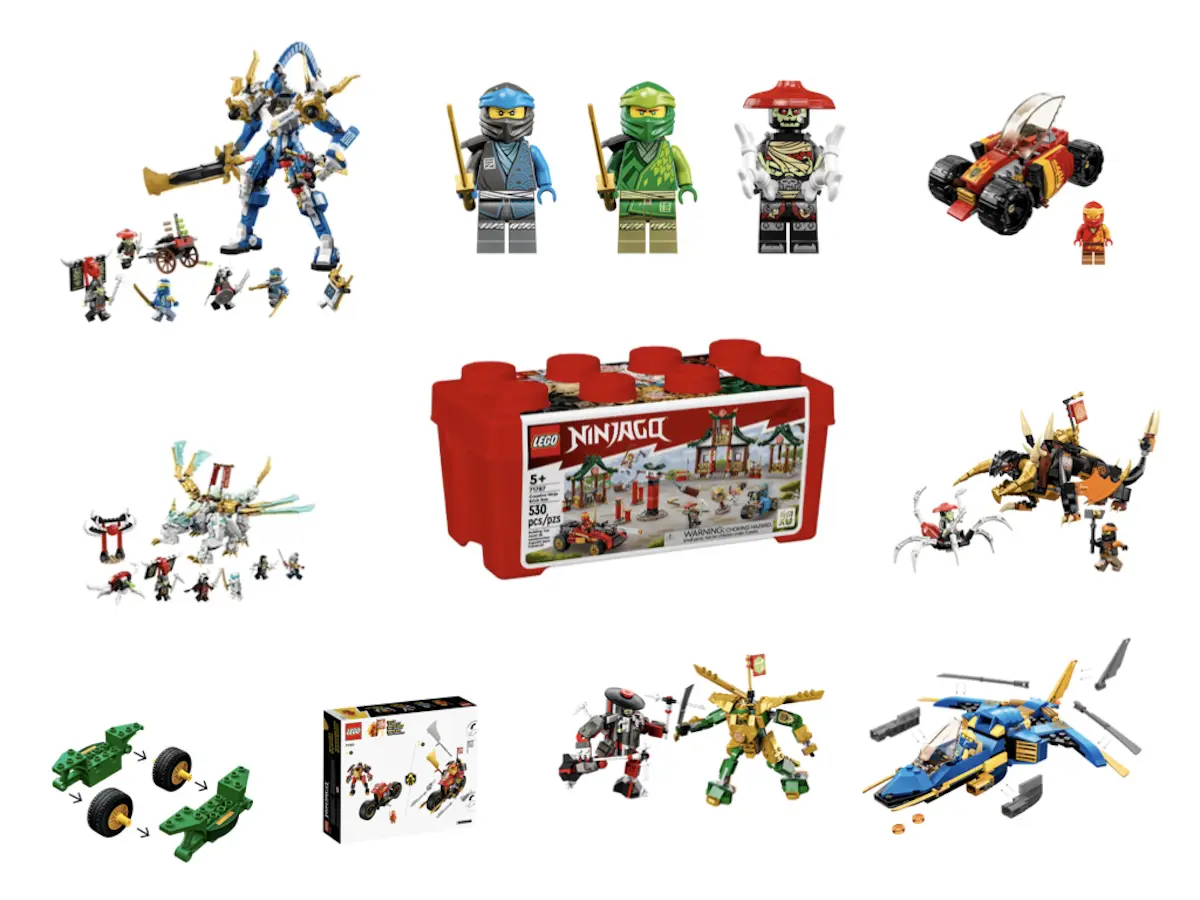 LEGO has just announced all the Ninjago sets coming out in 2023.
Every year, sometime between Thanksgiving and Christmas, LEGO reveals all the new sets being released, and I'm excited to share the 10 LEGO Ninjago 2023 sets that have just been announced.
I can't wait to see a few of these. Scroll down and let me know which one you want in the comments below!
These are the confirmed 2023 Ninjago sets that are currently on the LEGO website. They all have official numbers and will be available to order right from the website, or at your favorite store.
I like to order directly from LEGO.com because I can get VIP points as well as some cool gift with purchases.
With this LEGO® NINJAGO® Jay's Titan Mech (71785) building set, children ages 9 and up can enjoy simulating nonstop, riveting Ninjago action. The poseable toy mech has two shooters attached on its shoulders, two katana swords, a giant dragon blade, and a cockpit on its chest for Jay. The mech's large dragon fits in the Mech's adjustable hand.
The cool toy playset for kids comes with 5 minifigures, including the ninja warriors Jay and Nya, who each have a sword, as well as the evil green bone warrior characters: Bone King, Bone Knight, and Bone Hunter, who each have a weapon from the green bone warrior assorted weapons pack. There's also a fast-firing double crossbow mounted on a wagon that can shoot four darts. Plus you get a Pixel Bot. But my favorite feature are the dragon's sharp ice claws.
---
Kids aged 10 and up will find everything they need in the LEGO® NINJAGO® Zane's Ice Dragon Creature (71786). Build this setup to enjoy role-playing with your ninja heroes. This NINJAGO 2-in-1 model can be constructed into a poseable ice dragon with 6 legs, a long tail, horns, and wings with golden blades, and it can then be disassembled and rebuilt into a posable dragon warrior standing on 2 legs and wielding a large golden blade.
To act out battles against the bad guys Bone Knight, Bone Warrior, and Bone King, who each have a weapon from the green bone warriors weapons pack, the building set comes with 5 minifigures: Zane, Pixal, and each with a sword. Additionally, this trio of villains has a brick-built shrine where they can congregate.
---
Fans of Ninjago aged 5 and above will find all they need in this LEGO® NINJAGO® Creative Ninja Brick Box (71787). Prepare your heroes for action-packed adventures! You get three buildings, an obstacle course with three interactive stations, a weapon-filled armory, a ninja automobile, and a ninja motorcycle in this construction set.
Six minifigures with weapons are also included in the playset: Nya, Kai, Master Wu, male and female apprentices, and sword Bone Hunter. The coolest thing to me about this set is the box. It is a large 2×4 red brick storage box! I might buy lots of these sets just for the LEGO Storage. Additionally, it is a fantastic storage option and facilitates quick and simple cleanups.
---
With the Cole's Earth Dragon EVO (71782) playset from LEGO® NINJAGO®, children ages 7 and up will enjoy staging thrilling battles. You can modify the posable dragon toy during play by adding golden wings, horns, and a tail to make it even bigger and more powerful.
Cole, who is holding a golden katana, and Bone Scorpio, who is holding a scythe and a bone warrior varied weapons pack, are the two minifigures that come with the playset. Bone Scorpio may also ride his 6-legged scorpion beast into combat. Receive a collectible Strength banner as a reward for completing their challenge.
---
With this action-packed Kai's Mech Rider EVO (71783) playset, young builders (7+) and enthusiasts of amazing vehicles can stage their own good vs. evil fantasy showdowns. The ninja bike and posable mech may be converted into a larger version by adding golden side panels and a huge golden sword.
Watch good and evil clash.
Four mini figs are included in this building set: a sword-wielding Kai, a sword-wielding Nya, a sword-wielding Bone King, and a sword-wielding Bone Hunter. Kids who complete their challenge are given a collector Focus banner that can be displayed on the ninja motorcycle as a prize.
---
Children ages 6 and up will be thrilled to construct and play with Lloyd's Mech Battle EVO as they learn everything there is to know about the fantasy action world of LEGO® NINJAGO® (71781). Kids can stage thrilling battles with the help of the playset's two poseable mechs, each of which is equipped with unique weapons. Kids may help Lloyd succeed by upgrading his mech with golden armor and wings.
The best toys for kids, plus a bonus!
Golden Lloyd and his adversary Bone Warrior, who can both ride in the cockpits of their posable mechs to conduct epic fights, are included in this LEGO NINJAGO battle set. Kids receive a collectible Resilience banner as a reward for completing their challenge. And as always in Lloyd will fight bone warrior and prevail.
---
Give fans of ninjas aged 7 and above the chance to fly above NINJAGO® City with Jay's Lightning Jet EVO (71784). With the addition of two stud shooters, golden blades, and a golden rudder, this supercool aircraft can be transformed into an even bigger and more terrifying model.
The top aerial experiences for fans of ninjas
Kids can role-play high-flying ninja adventures with the Jay minifigure included in this lightning jet building kit by placing him inside the cockpit. For even more recreational activity, kids can mix it with other NINJAGO sets in their collection.
---
With Nya's Water Dragon EVO, ninja lovers ages 6 and up can experience thrilling adventures in the air, water, or on land (71800). With a posable head, jaw, legs, wings, and a tail that can be wielded as a weapon, the amazing LEGO® dragon is a work of art. It includes a saddle for Nya to sit in and can be strengthened and made larger by adding golden pieces.
The Best children's Ninjago toys!
Three fascinating minifigures Lloyd, and fellow ninja warrior Nya, and the Bone Guard —who are all equipped with outstanding and battle-ready weaponry are included in this entertaining ninja playset to encourage numerous hours of imaginative play. Kids receive a collectible Generosity banner when they succeed alongside their ninja heroes and finish their task.
On a separate note, do you think that Jenna Ortega from the Wednesday Netflix TV show will ever become the voice of Nya?
---
With Kai's Ninja Race Car EVO (71780) building set, ninja enthusiasts aged 6 and up can experience swift thrills. This LEGO® NINJAGO® automobile toy has an impressive golden wing spoiler on the back and an opening cockpit. Try switching out the four wheels, toe transform it from an off-road vehicle to a street racer.
Are LEGO the best children's ninja toys?
The playset includes a wonderful Kai minifigure that can be used to operate the red NINJAGO automobile and is equipped with two golden katana weapons. Kids of all ages will get a kick out of staging endless hours of racing action in NINJAGO City.
---
Children ages 4 and up will appreciate receiving LEGO® NINJAGO® Lloyd's Ninja Street Bike (71788) as a gift since it will help them improve their construction and storytelling abilities. It comes with 2 minifigures, Jay and Bone Guard, a super-cool ninja motorcycle, a bone temple, and everything you need to stage a ton of exciting adventures.
A LEGO starter set teaches children how to construct.
Each bag of bricks in the box comes with a model and a character to create, allowing children to start the activity right away. Additionally, there is a Starter Brick that offers a partially built foundation to get kids building.
This really is a playful digital building experience for young LEGO fans.
Use the LEGO Builder app as a manual.
---
LEGO 2023 Ninjago Spoilers
I don't know if there are any spoilers for the new 2023 season. Have you noticed anything? What do you think will happen this year? What sets are you interested in seeing?
One Ninjago Spilier I though of is:
In 2022 the According to Crystalized the 2022 season ended, and now it will restart from 1 again.
Final Thoughts
I know I'm excited to see all the LEGO Ninjago 2023 sets.
The Mechs steal the show this year. In fact all the posable toy mech features make me happy. The Awesome ice dragon, the Ninja car, and all the assorted bone weapons make these sets stand out above the rest.
Which are your favorites?