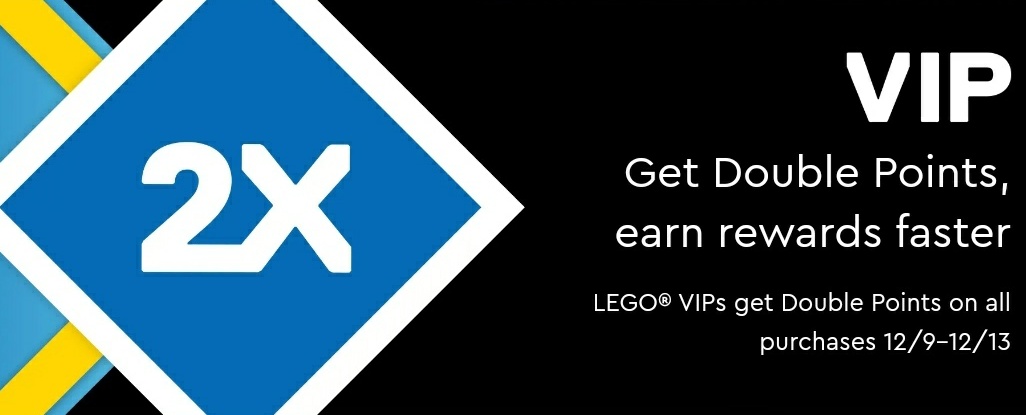 It's not too late to get your LEGO orders delivered before Christmas! Plus, if you buy something from LEGO.com you can get DOUBLE VIP points from Dec 9 -16, 2022
As a reminder, the last order date on LEGO.com to get gifts in time for Christmas Day for standard US shipping is the 19th of December.
That's right – for 1 week LEGO® VIPs: Earn Double Points 12/9-12/13!
But that's not all. Throughout December there are exclusive promotions live on LEGO.com:
You will get our seasonal 40565 Santa's Workshop as a gift with purchase over $150 from December 1st through to December 24th or until stocks last.
You can also get 30584 Christmas Train with purchases over $40 from December 1st through to December 24th.
VIPs will also receive 40512 Fun & Funky VIP add on pack as a gift with purchase on all orders over $50 throughout December.
How to Become a LEGO VIP
Becoming a LEGO VIP is easy and free!
All you have to do is sign up for the LEGO VIP program. After clicking the link, Click Join Online, then create a new account. It only takes a few seconds and allows you to take advantage of special offers throughout the year.
How the LEGO VIP Program Works
To use the free program, all you have to do is be registered and logged in when you make a purchase on LEGO.com. Every time you buy something you get points which can be redeemed for discounts, exclusive merchandise, and more!
But you don't only get discounts and exclusives. As a VIP you can also get early access to new LEGO releases before everyone else does. That's right! This is one of the ways people get sets first!
But there's more – You don't have to just buy on-line. You can also use your VIP points in LEGO stores, and even on LEGO purchases from Target.com.
Benefits of becoming a LEGO VIP
Here are the major benefits of becoming a LEGO VIP:
Earn points for shopping in LEGO Brand Retail Stores and at LEGO.com
Unlock members-only discounts and experiences
Get Early Access to Exclusive sets
Enjoy members-only gifts and more
Receive monthly promotions and specials for VIPs
Let's say you were a VIP member when the new Holiday Main Street Came out. This was the latest set in the LEGO Holiday Theme that comes out every Christmas.
On Sept 22 LEGO made the official announcement for the new set.
VIPs were able to order it on Oct 3
The general release was on Oct 7.
VIPs could order the set early and avoid the rush. Plus they could make sure it wasn't sold out by getting it first.
Final Thoughts on the LEGO VIP Program
As an AFOL I'm always looking for deals on LEGO. The VIP program allows me to collect points and then redeem them for discounts or exclusive merch. If you haven't signed up, what's stopping you?