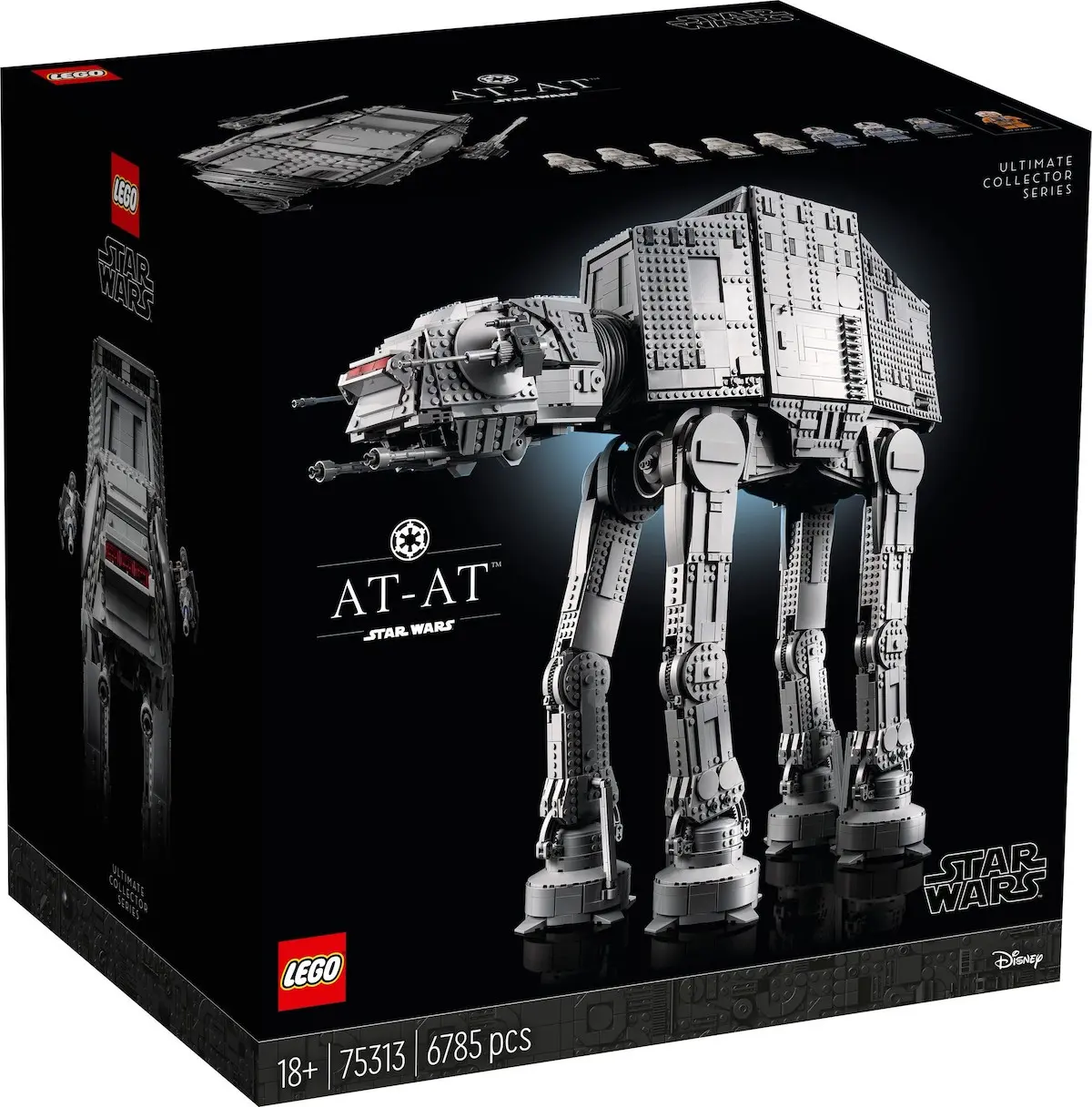 There have been quite a few different LEGO At-at Walker sets released over the years. Let's take a look at them all.
The very first At-at Walker was released in 2003, and there have been a total of 13 different versions over the years. This model was simple and made from the standard gray bricks compared to later versions. In 2021, LEGO released the largest version ever with over 6,700 pieces.
This post may contain affiliate links, which means I'll receive a commission if you purchase through my link, at no extra cost to you.
What is the Difference between At-at and LEGO Star Wars At-st walker?
There is often confusion between At-at and At-st walkers, as they both appear in the LEGO Star Wars universe. However, there are some key differences between them.
They were used by Old Republic, the Galactic Empire, and the First Order armies over the entire Star Wars Saga.
Officially the names are the All Terrain Armored Transport (AT-AT) and All Terrain Scout Transport (AT-ST). To the uninitiated, they may seem the same, but they are very different.
The biggest difference is 2 vs 4 posable legs. The ST walker has 2.
At-at walkers are much larger than At-st walker and are made for moving across open terrain. They are also equipped with heavier weapons, making them more suited for combat. On the other hand, At-st walkers are smaller and more agile, making them better suited for scouting missions or guerrilla warfare.
The AT-ST is a two-man walker that served the Imperial side in the Galactic Civil War. It is lightly armed with chin-mounted laser cannons and side-mounted weapon pods. The two legs make it good for reconnaissance and patrolling. The AT-ST was used in both the Battle of Hoth and the Battle of Endor.
What is an At-at walker?
An At-at walker is a giant four-legged machine used by the Imperial Army in the Star Wars universe. They are heavily armored and equipped with powerful weapons, making them a fearsome opponent on the battlefield.
LEGO Star Wars
LEGO has released several different versions of the At-at Walker over the years, each one more detailed and accurate than the last. The most recent version was released in 2021.
Year: 2003
Pieces: 1064
Minifigs: 4
Welcome to the world of LEGO 4483 AT-AT! This exciting set lets you recreate one of the most iconic scenes from the classic Star Wars movie, The Empire Strikes Back. With over 1,000 pieces, this set is perfect for any LEGO fan or Star Wars fan who wants to relive the action of the film. The set includes four minifigs, Luke Skywalker, 1 At-at Driver, and 2 snowtroopers. It's also compatible with other LEGO sets, so you can create your own unique Star Wars world. So what are you waiting for? Join Luke and the rebels on their daring mission to destroy the evil Empire. No matter which side you're on, you're sure to have a blast with this awesome set.
Year: 2003
Pieces: 98
Minifigs: 0
Are you looking for a fun and engaging building set that will capture your imagination? Look no further than the LEGO 4489 At-AT Star Wars Mini Building Set! This awesome set includes everything you need to build a miniaturized version of the iconic All Terrain Armored Transport vehicle from the Star Wars universe. The stylish black and gray color scheme is perfect for any LEGO fan, and the detailed design is sure to please even the most discerning builder. You are also able to build a mini Y-wing fighter from the same pieces in this set, making it the perfect addition to any Star Wars collection. Featuring posable legs and a swiveling cockpit, this set is perfect for hours of creative fun. So don't wait any longer, order your LEGO 4489 At-AT Star Wars Mini Building Set today!
Year: 2007
Pieces: 1137
Minifigs: 4
Welcome to the dark side! With the LEGO 10178 Motorized Walking AT-AT, you can now command your own All-Terrain Armored Transport. This impressive 12″ (30cm) tall and 14″ (36cm) long set features a working opening cockpit and rotating laser cannons. Thanks to the Power Functions System, the AT-AT really walks forward or backward into battle. The handle on top allows for easy transport. Includes AT-AT Pilot, General Veers, Snowtrooper and Luke Skywalker with grappling line and lightsaber. Requires 6 AA (1.5V) batteries, not included.
Year: 2010
Pieces: 815
Minifigs: 8
The AT-AT Walker is the smallest one yet, but it's still huge! And it fits with the 2009 style updates that were released. It practically looks related to the AT-ST in 8038! It's not the cheapest, but it's better value than most of the bigger sets, and it has a good selection of minifigures that would rival most of them.
The figures that come with it are very good, and over time they have become quite rare and collectible. All 8 make this an instantly playable set. C-3PO is standard enough, but isn't actually in as many sets as I thought, so as much as he's a little out of place (unless you build a rebel base for him to run round panicking!) it's nice to have him. Han is also not all that fitting for the battlefield, but would go nicely in that interior scene. Luke is fantastic though – complete with his electrobinoculars! It's not often we get minifigs with accessories.
In fact this is the set with the most lego atat minifigures.
Chewie is pretty much essential to any Star Wars set – he looks great here too. And the two pilots are both excellent figures. TheSnowtrooper has some lovely printing on his legs, and Hoth Lukeis another figure with brilliant leg printing. Finally, we have Darth Vader himself. He doesn't say anything (as far as I know!) But he looks great. He has a newish headpiece which I think is an improvement on the old one, and his body print is excellent too.
This set is brilliantly designed. It's easy to build, and there are plenty of interesting techniques used throughout. The end result is a sturdy, impressive model that looks great and will take pride of place in any LEGO collection!
Year: 2010
Pieces: 83
Minifigs: 0
Just when you thought mini sets were the only way to go, this midi-scale set comes to challenge your assumptions! The LEGO 20018-1 AT-AT Walker set is perfect for anyone who loves a good mini set but wants something with a little more… oomph. This set comes with all the features you love in a mini set – intricate design, movable parts, and durability – but on a larger scale that will have you marveling at the detail.
The best part about the LEGO 20018-1 AT-AT Walker set is that it's perfect for display or play. With its moved head and legs, this set can be posed in any number of ways, making it perfect for showing off your LEGO skills to friends and family. But don't be fooled – just because it's bigger doesn't mean it's not just as fun to play with. This set is perfect for anyone who loves LEGO, whether you're a seasoned pro or just getting started.
Year: 2014
Pieces: 1137
Minifigs: 5
Introducing the 75054 Star Wars Episode 5 At-at walker! This awesome war machine is perfect for evading the mighty, stomping legs of your enemies. Seat the AT-AT™ Driver and a Snowtrooper™ in the cockpit and move the head to aim the dual spring-loaded shooters. Pose the legs, trigger the trap door in the body and open up the side hatches for enhanced playability. Collect the 75049 Snowspeeder (sold separately) to play out the classic Battle of Hoth scene from Star Wars: Episode V The Empire Strikes Back!
This imposing AT-AT walker features 5 minifigures with assorted weapons and an accessory: AT-AT™ Driver, General Veers™, Snowtrooper™ Commander, and 2 Snowtroopers™. It's truly a must-have for any Star Wars fan!
Year: 2015
Pieces: 88
Minifigs: 1
If you're looking for a fun and engaging way to play out the Battle of Hoth, then look no further than the LEGO® Star Wars AT-AT Microfighter! This cool miniature version of the Imperial Walker features realistic detailing, posable head and legs, 2 flick missiles and even a mini cockpit for the AT-AT Driver minifigure to sit in. It's the perfect way to recreate your favourite scenes from Star Wars: Episode V The Empire Strikes Back!
Year: 2016
Pieces: 48
Minifigs: 0
This was a small, limited edition set that came Free with Star Wars comic, in September 2016.
Year: 2020
Pieces: 1267
Minifigs: 6
Looking for an amazing LEGO set that captures the thrills of the classic Star Wars story? Then check out the LEGO 75288: AT-AT set! This awesome toy lets you relive the Battle of Hoth and other classic scenes from the movies. The All Terrain Armored Transport vehicle is highly detailed and features numerous moving parts, plus spring-loaded shooters and a speeder bike inside. The set also includes six LEGO minifigures – Luke Skywalker, General Veers, two AT-AT Drivers and two Snowtroopers – each with their own weapon. It's perfect for solo or group play, and makes a great gift for any LEGO Star Wars fan!
Year: 2020
Pieces: 51
Minifigs: 0
This was a small, limited edition set that came Free with Star Wars comic in 2020.
Year: 2021
Pieces: 205
Minifigs: 2
Looking for the perfect LEGO set for a Star Wars fan? Look no further than the AT-AT vs. Tauntaun Microfighters set! This set includes a quick-to-build, posable AT-AT Walker and Tauntaun construction models, perfect for any LEGO minifigure to sit on. Plus, the Luke Skywalker and AT-AT Driver LEGO minifigures each come with their own stud shooter and electrobinoculars element. And don't forget, Luke also has his very own lightsaber for battle play! This fun, creative set comes with clear instructions so even LEGO beginners can build with Jedi-like confidence. And best of all, it combines perfectly with the Millennium Falcon Microfighter (75295). So hurry and add this must-have set to your collection today!
Year: 2021
Pieces: 6785
Minifigs: 9
Introducing the LEGO 75313 UCS AT-AT, the definitive building kit for any self-respecting Star Wars fan! This immense model is packed with an incredible 6,785 pieces, offering hours of fun as you painstakingly assemble it piece by piece.
Once complete, you'll have a stunning replica of the Galactic Empire's mightiest ground vehicle, featuring a movable head, spinning front guns, adjustable legs, and opening side panels revealing detailed interiors. It's the perfect centerpiece for any collection – or even just to show off to your friends and family!
And the fun doesn't stop there – even unboxing the LEGO 75313 UCS AT-AT is an experience in itself. The packaging is designed to display beautiful imagery of the final set from all angles, making it almost as satisfying to look at as the finished product!
Some of my favorite things are opening the hatch revealing the detailed minifigure interior, and of course all the minifgs.
So if you're a serious Star Wars fan looking for the ultimate building challenge, or just want a cool and impressive display piece for your home or office, this is the set for you. Order now and let the fun begin!
Final Thoughts
All in all I really like LEGO construction sets because they have so many creative building measures. With these sets, you can have them in many different scenes because they feature posable legs.
You can have them standing as a display on a shelf, or carefully move the legs so they appear to be walking or even falling!
In the older sets, the minifigures are becoming very collectible, which as my regular readers know is of my favorite parts.
These are more than just building toys. Which is your favorite?