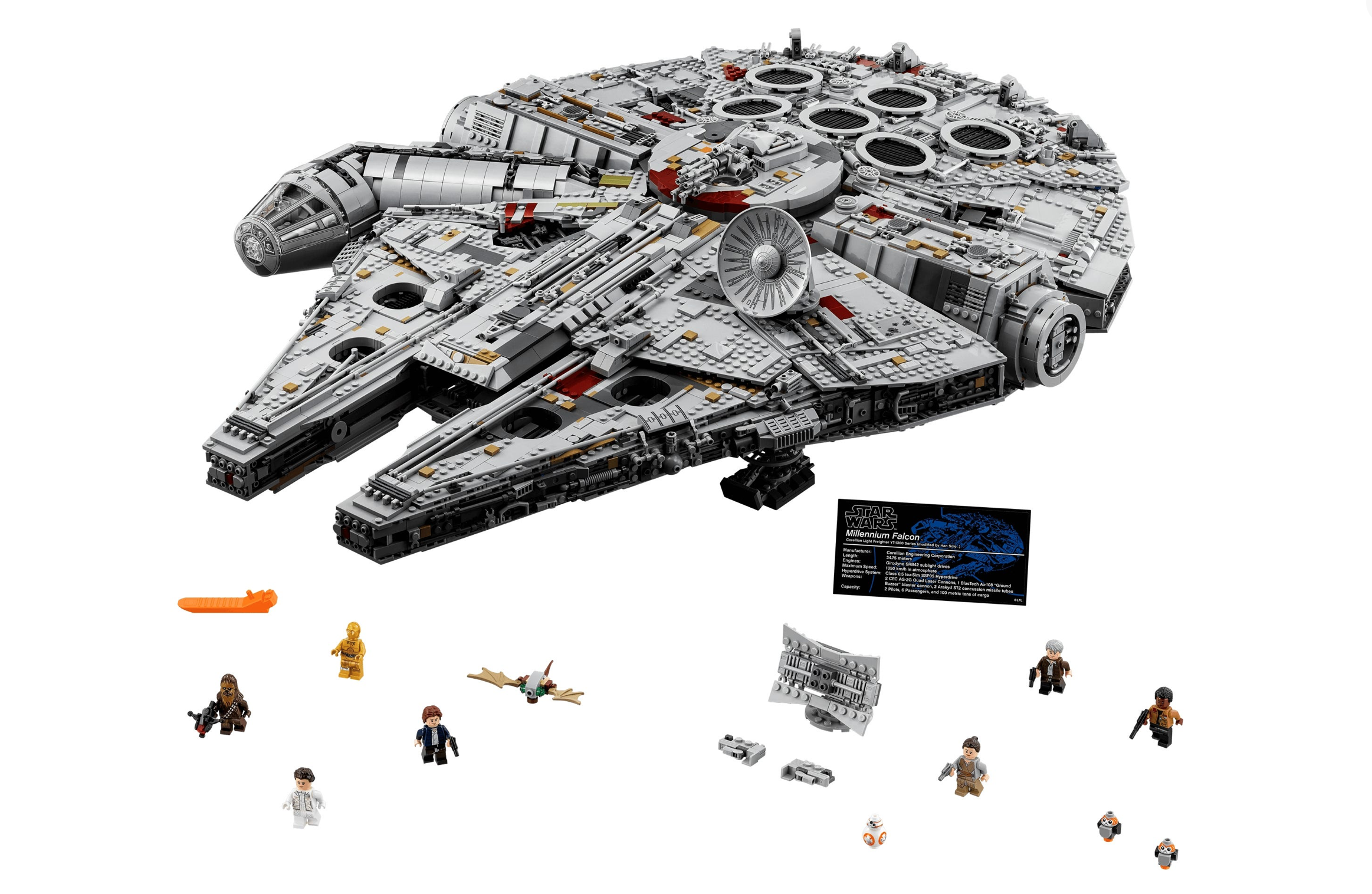 If you are looking for the ultimate Star Wars LEGO sets, these LEGO UCS sets should be near the top of your list. These are large sets, usually with a lot of pieces, and Minifigures. They typically have advanced build techniques. As a result, they are marketed toward the adults more than the kids. Now on to the Complete LEGO Star Wars UCS List.
Currently, I know of 35 sets that qualify.
Here are some quick UCS Star Wars Stats:
Biggest set number of pieces The 2017 Millennium Falcon (75192) 7541 PCS
Biggest set assembled The 2017 Millennium Falcon (75192) 7541 PCS (4th biggest LEGO set ever)
UCS set with most Minifigures: UCS Death Star 10188 has 23
Most expensive Star Wars UCS set – This is shared. For new sets when released the Millennium Falcon (75192) and the At-AT (75153) both came in at $799. But the one with the highest resale value is the cloud city (not a UCS set)
Most affordable set. The early UCS sets from 2000 can still be gotten in new condition for half of what a new UCS set costs.
How do you know what a UCS Set is?
While the LEGO group does say that some sets are UCS class, there are others that were released before that title was invented. I've gone back over 20 years and looked at all the sets that qualify, or would have qualified had the UCS designation existed.
Some of the criteria I used are: Is it labeled as a UCS set by LEGO? Does it have a UCS sticker? Does it have UCS box artwork? Do other significant LEGO websites identify the set as a UCS?
Some sets have all these factors, others only a few. After careful review here are the 35 LEGO Star Wars sets.
These are some of the more expensive and desired Star Wars LEGO sets. Do you have any in your LEGO collection? Do you want any? Let me know in the comments below!
Are these LEGO sets good Investments?
There are few toys that appreciate as much as LEGO bricks and Minifigures. Over time the value goes up. The Star Wars ultimate collector series are more expensive to buy at first but they also go up more than other sets.
In my opinion, there are a few things you can do to maximize the investment potential. In order of most to least:
Never open the box and keep it sealed and pristine.
Open the box and assemble the set but don't put on any stickers (if present). Carefully disassemble and save everything in the original box and bags.
Open the set and assemble it – discarding all the packaging.
Open and assemble the set, enjoy, play, and display it.
There are basically two ways sets are resold – and that is as a sealed set, or as a complete set with all the parts and minifigs verified. Either way, UCS sets command a higher value than other sets. This may be because they have a higher piece count, or are more desirable. I'm not completely sure.
The Complete LEGO Star Wars UCS List
If you want to know what are all the Star Wars sets in the UCS Series, here they are. First, is the set number, then the name, then the year released.
75331 Razor Crest 2022
75341 Luke Skywalker's Landspeeder 2022
75309 Republic Gunship 2021
75313 AT-AT 2021
75275 A-wing Starfighter 2020
75252 Imperial Star Destroyer 2019
75181 Y-wing Starfighter 2018
75144 Snowspeeder 2017
75192 Millennium Falcon 2017
75098 Assault on Hoth 2016
75159 Death Star 2016
75060 Slave I 2015
75095 TIE Fighter 2015
75059 Sandcrawler 2014
10236 Ewok Village 2013
10240 Red Five X-wing Starfighter 2013
10225 R2-D2 2012
10227 B-wing Starfighter 2012
10221 Super Star Destroyer 2011
10212 Imperial Shuttle 2010
10215 Obi-Wan's Jedi Starfighter 2010
10143 Death Star II 2009
10174 Imperial AT-ST 2009
10175 Vader's TIE Advanced 2009
10030 Imperial Star Destroyer 2008
10186 General Grievous 2008
10188 Death Star 2008
10179 Ultimate Collector's Millennium Falcon 2007
10134 Y-Wing Attack Starfighter 2006
10129 Rebel Snowspeeder 2005
7194 Yoda 2002
10026 Special Edition Naboo Straighter 2002
10018 Darth Maul 2001
10019 Rebel Blockade Runner 2001
7181 TIE Interceptor 2000
7191 X-Wing Fighter 2000
2022
2022
2021
2020
2019
2018
2017
2016
2015
2014
2013
2012
2011
2010
2009
2008
2007
2006
2005
2002
2001
2000
Common Questions
Do you have to be a LEGO VIP to get a LEGO UCS Star Wars Set?
No. While LEGO VIPs do get some extra things, there are no UCS sets that are specifically for them. Some benefits of being VIP are early access to sets and extra free small gifts when purchases are made in the LEGO stores and on Line. It is free to sign up for LEGO VIP here's the link.
Why are there different LEGO UCS Star Wars Sets Box Art types?
Who knows why LEGO changes the box style for new sets. I have no idea. I do know that the LEGO logo always appears on the box, and that the LEGO art changes with the trends of the day.
What sets will be the next UCS LEGO Star Wars Sets?
Of course, nobody knows exactly what sets will be the next ones released. I have a feeling that it might be an updated Rebel Blockade Runner, Mos Eisley Cantina, or even other characters like Vader, Solo, Leia, or Luke. LEGO does a very good job keeping secrets about what the next set will be. You can look for the hashtag #legoleaks and maybe find something, but good luck!
Final thoughts about the Complete Lego Star Wars UCS List
The Ultimate collector's series sets are truly awe-inspiring. If you don't have one and see one, you realize just how big and detailed they are. Lego fans have been collecting them for the entire time they are released, and some anticipate what the new set coming next year will be. For more info on that there are some great lego news websites to follow. I hope this article on the ultimate collectors series has been helpful.