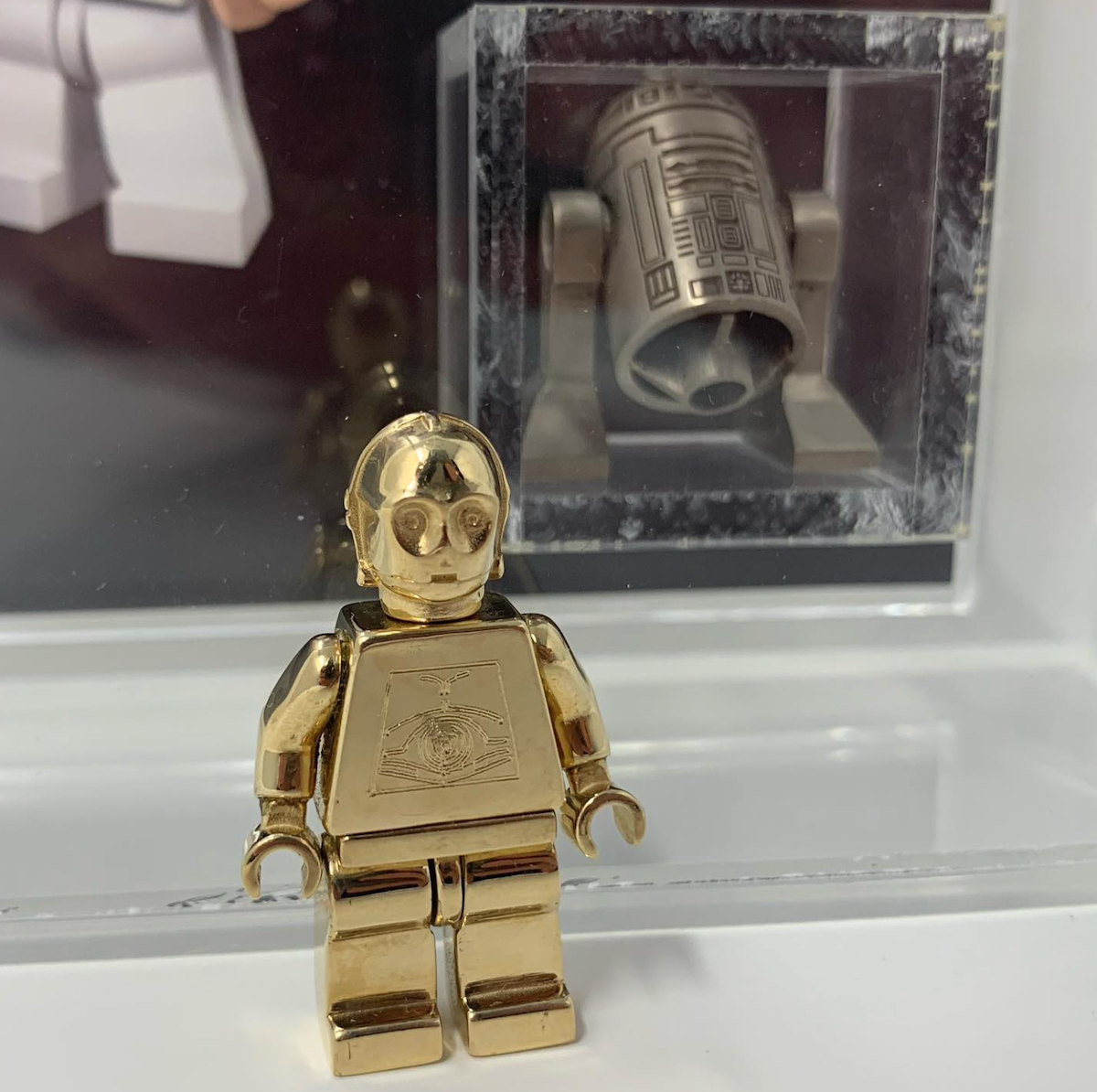 LEGO are more than a cool building toy for kids, they are a series of collectible parts and figurines that can increase substantially in value over the years. Perhaps the most desired theme is the Star Wars one, and those Minifigures can command quite a price, especially when they are in mint condition. Here are the top Rare Lego Star Wars Figures, including tips on identification, storage, and value.
There are so many Iconic characters in the Star Wars Universe. Between the 9 main movies, the Clone Wars Animated Series, all the video games, and the new feature films and series made by Disney, you have Weeks of content to view. Since the original Movie's release in 1977, we have enjoyed the battles between the Jedi and Sith as they battle for control of the universe.
What about Cursed Star Wars Minifigures?
ARe there some LEGO minifigures that scare you? Maybe you experience some dread when you see them. Here are some cursed minifigs that just didn't translate well from the movies (or animated series) to the world of LEGO.
Some are: Aldar Vito, Orisen, the DD-BB droid, Rio Duran, Max Rebo, MoMo Nedon, Quarrie, the old Sebulba (yikes), this Han Solo minifiture named Star Wars, or any of the Star Wars Microfigures.
Are there any Cheap LEGO Star Wars Minifigures
There are cheap lego minifigures star wars for the fans who want to display their love and support for the franchise. With so many iconic characters, it can be hard to choose which ones to buy. However, some of the most popular choices include Darth Vader, Luke Skywalker, Princess Leia, Han Solo, and Obi-Wan Kenobi. Each of these characters has a unique story and is essential to the Star Wars universe. As a result, they make great additions to any lego collection. Furthermore, they are also relatively cheap, making them a great option for budget-conscious fans.
Commonly Available Rare LEGO Minifigures
I classify Rare LEGO Star Wars Figures into two categories – Minifigures that came in widely available sets, and unique limited edition minifigs that are so rare only a handful exist and are in possession of collectors. For this article I am focusing on the Minifigs you might actually have. The ones that came in sets. The rare ones are worth some money that might be sitting in a bin in your closet or garage. All are valuable lego mini-figures though.
Regular sets are ones that are widely available. They are widely distributed at LEGO stores or retail outlets and are produced in mass quantities. Although TLG (The LEGO Group) doesn't publish how many copies they make of a particular set, it can be estimated that they make upwards of a million sets for the most popular series, like Star Wars.
Rare sets are different. They are usually much less, typically in runs of 10,000 or so, and NOT widely distributed. They may be randomly inserted into regular sets or distributed at the San Diego Comic-Con. They could also be gifts for LEGO employees or given at grand openings of new LEGO stores. They are not commonly available, unless you are lucky, or at a specific place or time. These come in much more exclusive sets.
Here are the most popular Star Wars Characters and the Rare Versions of their Minifigures
Rare Boba Fett Minifigures
The Minifigure that has the highest value, but is not widely known is the Boba Fett from the 2003 Cloud City set 10123.
$1500 for a used one, and over $5K if you have a brand new version.
From 2010 this white snow version of the bounty hunter came in a polybag and also a collectors edition book.
Used is around $200 and new is over $300.
Rare Luke Skywalker Minifigures
A version of Luke Skywalker also came in the cloud city set. All in all, there were 8 minifigs in that box, but some are obviously much rarer than others. This is because sometimes the face, torso, legs, or hair could be combined from other star wars sets to make the rare one.
Used is around $500 and NEW could fetch upwards of $3,000
Here is a version of Luke that came in an X-wing fighter set from 2003. For a complete version make sure he comes with the backpack which has a rare 1×2 printed tile.
Used from $50 and New are around $140.
Rare Princess Leia Minifigures
Do you have this Princess Leia from the Empire Strikes Back Star Wars Episode V (the best one IMHO)? She was in the 2006 X-Wing fighter set.
New from $200 if you can find one.
If you were collecting LEGO in 2009, you might have gotten the big Tantive IV set – it had 5 minifigures, but the most expensive this one with her in a white dress.
Used around $350, NEW upwards of $800.
Rare Obi-Wan Kenobi Minifigures
Every now and then LEGO did something different. There were a few characters that got battery-powered Lightsabers, including this version of Obi from 2005. The other minifigure was Anakin Skywalker (both sell for approximately the same price).
Used is around $50, and new is 3x that.
Rare Lando Calrissian Minifigures
We are back at a different LEGO Cloud City set – this one is from 2018 and is set 75222. It had 21 (TWENTY ONE) minifigures in it, including this rare one.
New and Used are about the same price at $150 or so.
Other Rare LEGO Star Wars Minifigures
Although other bounty hunters were alluded to, we got our first real al understanding of Jango Fett in Episode II Attack of the Clones. This minifigure was in the 2002 Jango Fett Slave 1 set 7153 and has a cool dual molded helmet.
Used from $200 and New is over $500.
Unless you watch the Clone Wars or some of the Disney + productions you would never know about Ahoska Tako. But in the LEGO world, she is quite the collectible. From the 2016 Rebel Combat Frigate 75158.
From $150 for both new and used.
In the 2005 Clone Turbo Tank set there were 7 Minifigures, and this Mace Windu Minifigure was in it – complete with a light-up purple lightsaber – the only known in existence.
$100 for used, and $250 or more if you can find a new one.
Since we first heard about Mandalorians in the Clone Wars series, These fighters have been very popular in the LEGO world. This is from the 2012 Pre Vizsla's Mandalorian Fighter set, and that was the only set where this figure appeared.
Used prices are around $!50, and New goes for up to $500.
This Minifigure didn't come in a big set, but instead in a small polybag in 2012.
This Minifigure is around $150 for both new and very good used copies.
This is another Minifigure not from the main Star Wars Movies, but instead from the Old Republic Series. A minifig from the Jedi Defender-class Cruiser Set from 2013. It came with 4 minifigures (all of wich are pretty expensive now).
Used is priced around $125, and New is close to $200.
I had to look up who this guy is. From the Clone Wars Series he came in The Ghose (shio) set from 2014.
He is quite an expensive minifigure. Used from $250 and new as much as $600!
This was the very first rare minifigure I ever got. I love the detail on the headpiece and dress on this LEGO Queen Amadala Minifigure.
New from $175 and Used around $145
Three are the good guys and the bad guys – Minifigure values don't really care. This came in a 2014 Darth Revan polybag that only had the Minifigure in it.
Used around $200, and New for more than $250
Here is another rare Jango Fett Minifigure. From the 2017 Jedi Starfighter with Hyperdrive set. It came with 4 minifigures.
From $250 Used, to $350 new.
What is the rarest Lego Star Wars character?
There are a few collectors who share their ultra-rare LEGO Minifigure collections on Instagram Legoman Scotland and Rarest_LEGO_Minifigures (the lead image in this article is from his Instagram page) have some mind-blowing collections and it's fun to watch them share photos on their pages.
The Rarest Star Wars Minifigures are always up for debate, but it is likely to be one of the extremely limited edition chrome gold R2D2 (only one is known in existence). It was a giveaway from the UCS Mileninm falcon Black VIP Card contest and is on the Instagram account of one of the people above.
Another extremely rare Minifigure is the 1/1 Bronze C-3PO which was also a giveaway from the 2007 SDCC.
But both of these are spoken for, and unavailable to obtain. But they might be the Most Rare LEGO star wars figures in the world.
Examples of Rare Limited Edition Star Wars Minifigures
The I Heart NY Yoda was a giveaway as a free promotion minifig in Toys R Us stores in Times Square New York. The Store that had the giveaway is No longer open. This is a very rare Minifigure that is frequently copied so there a lot of fakes out there. I don't know how many were given away, but it wasn't that many.
An original new one will fetch $8,000-10,000. Used can be found for $1700.
There are only 10,000 30th Anniversary Chrom Gold LEGO C-3PO Minifigures. Also frequently copied, watch out for fakes. This is equally as rare as the MR Gold Minifigure, but not as popular.
Used from $500 and new around $2000
In 2019, LEGO made available a Holiday X-wing set (4002019) to employees only. It had 3 Minifigures in but this one is the collectible one. Look for the details on the printed legs.
Used from $350 and New is $450 or more
In 2009 this Darth Vader Minifigure appeared in both a polybag as well as a special gift given at 100 given to VIPs at Toy Fair 2009 with a special badge in a collectible case.
Used from $300 and new is around $400 or so
This was a free gift if you purchased a qualifying black card purchase from 7/12/2018 to 31/12/2018 at the LEGO store (for Star Wars Purchases only. There were supposed to be lots of special Black Card items, but this was the only one.
Used and new from around $100
What to do if you Have a RARE Star Wars Minifigure
Nobody really knows which minifigs will become popular and rare. What is so interesting to me is that they are just "out there" sitting on. a shelf in your childhood room, or in a cardboard box in your parent's attic tossed in with other rare LEGO bricks. If you are lucky enough to find one, there is always the issue of condition. Remember these were and still are toys. They may be scratched, cracked, broken, or even painted.
There are a few that I'm keeping my eye on as well – Darth Maul is one. Also any minifigures from the UCS Death Star Set,
Do you have any of these rare LEGO Star Wars figures?
If you have one of these expensive LEGO minifigures you have a few different options. Personally, I think they are great to collect and display in my home and online. However, if you are looking to sell, you have a few different routes. For the more common rare minifigs eBay, and BrickLink are your best options. A good Lego enthusiast will pay much more than the original retail price, for the right minifig. 
Predicting which Star Wars Sets will have Rare Minifigures
One question I am frequently asked is which Star Wars sets I think will have collectible minifigs.
I can tell you that sets like the LEGO Razor Crest UCS most likely will, eventually, have a rare minifig. But it is hard to wait with a $600 set.
I never know if the next polybag minifigure will be a jackpot. But I can say with some certainty that there won't be a rare LEGO Star Wars Keychain. I may be wrong – let's see!
If you really want to get a head start on collectible minifigs – head to the Nürnberg toy fair in Germany. That's where LEGO and all the other major toy companies show off what they will be doing in the upcoming year.
Final Thoughts
Some of the rarest star wars collectibles could be sitting in your LEGO pile. It's worth a second look to see if you have any. Finding a figurine LEGO from Star Wars that is rare is such a rush! While they aren't the rarest star wars collectibles, for an AFOL like me it's a special thing.
If you are lucky enough to have one of the UltraRare Minifigures, I would like to talk to you about your options which would include a private sale to a collector. If your minifig is indeed authentic and original (and in good shape) you could get quite a nice sum. I'm always on the lookout for rare lego sets and minifigs. I'd love to know what is on your rare lego minifigures list.