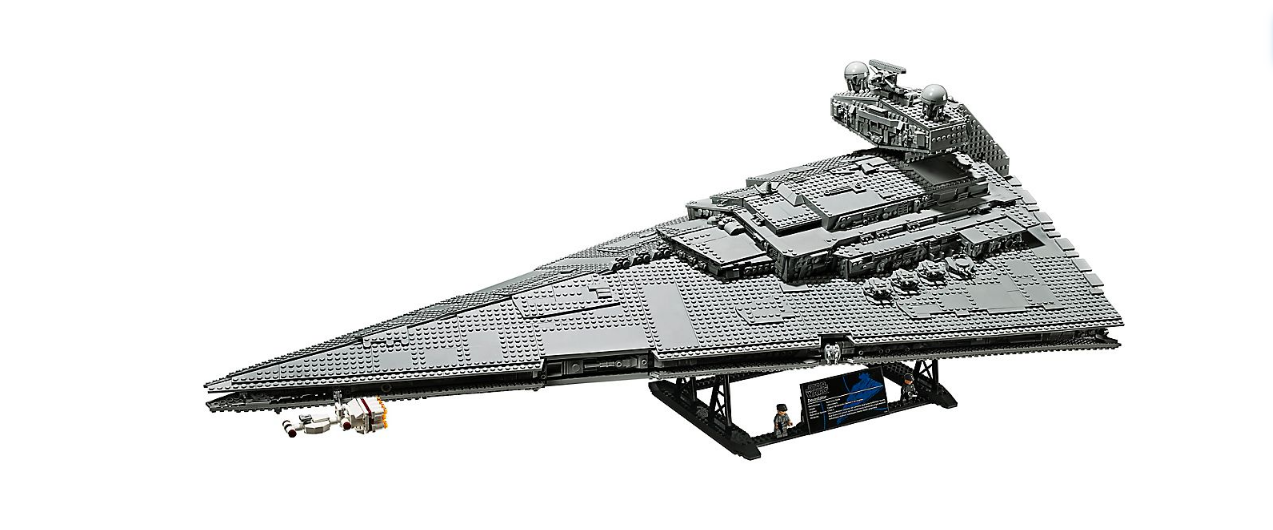 Updated September 5, 2019
This is the Devastator, the new for 2019 LEGO Ultimate Collector Series (UCS) Imperial Star Destroyer. Set number 75252. It's over 43 inches long – That's almost 4 feet, it's taller than many fan's kids! As I get more details I'll share them here, but for now this is what has been officially released by the LEGO group.
The websites that leak new LEGO sets are all abuzz about a new LEGO Star Wars UCS Imperial Star Destroyer. If you don't know what UCS means in LEGO terms it's Ultimate Collector Series. These are the really big, fancy, and expensive sets that the hard core collectors and super fans wait all year for. The last one released was the Millennium Falcon, and so the Imperial Star Destroyer would be the perfect compliment to that.
But this was an announcement for an announcement. LEGO Tweeted a 11 second video, saying more would come on November 5 2019. I've tried to come up with why that date is important and all I can think of is that it is the birthday of Werner Herzog who is going to be in the new Disney TV The Mandalorian.
Stay tuned for the reveal on September 5th! pic.twitter.com/5NG25ab3ab

— LEGO (@LEGO_Group) August 29, 2019
Then a few days later on September 5th they released this video as well as some official photos:
Star Wars UCS Imperial Star Destroyer Release Date
LEGO 75252 Announcement Date: September 5, 2019
LEGO 75252 VIP Release Date: Sept 18, 2019
LEGO 75252 General Release Date: September 1, 2019
LEGO 75252 Star Wars UCS Imperial Star Destroyer Minifigures
There are only 2 minifigures included in this set: an imperial Officer and Imperial Crewmember minifigures. This is different than my original estimate of it having quite a few. Because of the cost of this set, and the limited number of minifigures, these are sure to become very collectible and expensive.
Of course the minifigures for this set haven't been released yet, but here are some others you might be interested in. Complete your minifigure collection!
LEGO 75252 Star Wars UCS Imperial Star Destroyer Price
I originally estimated this set to sell for $700, and the price was released at $699.00. It will be available to LEGO VIP members starting on Sept 18, 2019, and then everywhere on Oct 1, 2019.
LEGO 75252 Star Wars UCS Imperial Star Destroyer Review
There will be 4,784 pieces in the LEGO 75252 UCS Imperial Star Destroyer set. This is a little bit less than the 5200 that are in the UCS Milennium Falcon Set LEGO 75192.
According to the designer video it is based on the ship from the first Star wars movie, and was designed to be as accurate as possible. It is one of the first UCS models he has built to use a Technic interior framework. While the outside is mostly bley (blue grey) in color, the inside is very colorful which helps with the build.
In addition to the main ship, minifigures, and stand, there is a scale version of the Rebels' Tantive IV starship.
Be sure to follow me on Instagram and Pinterest and if you want to be updated when I review this set subscribe to my site.