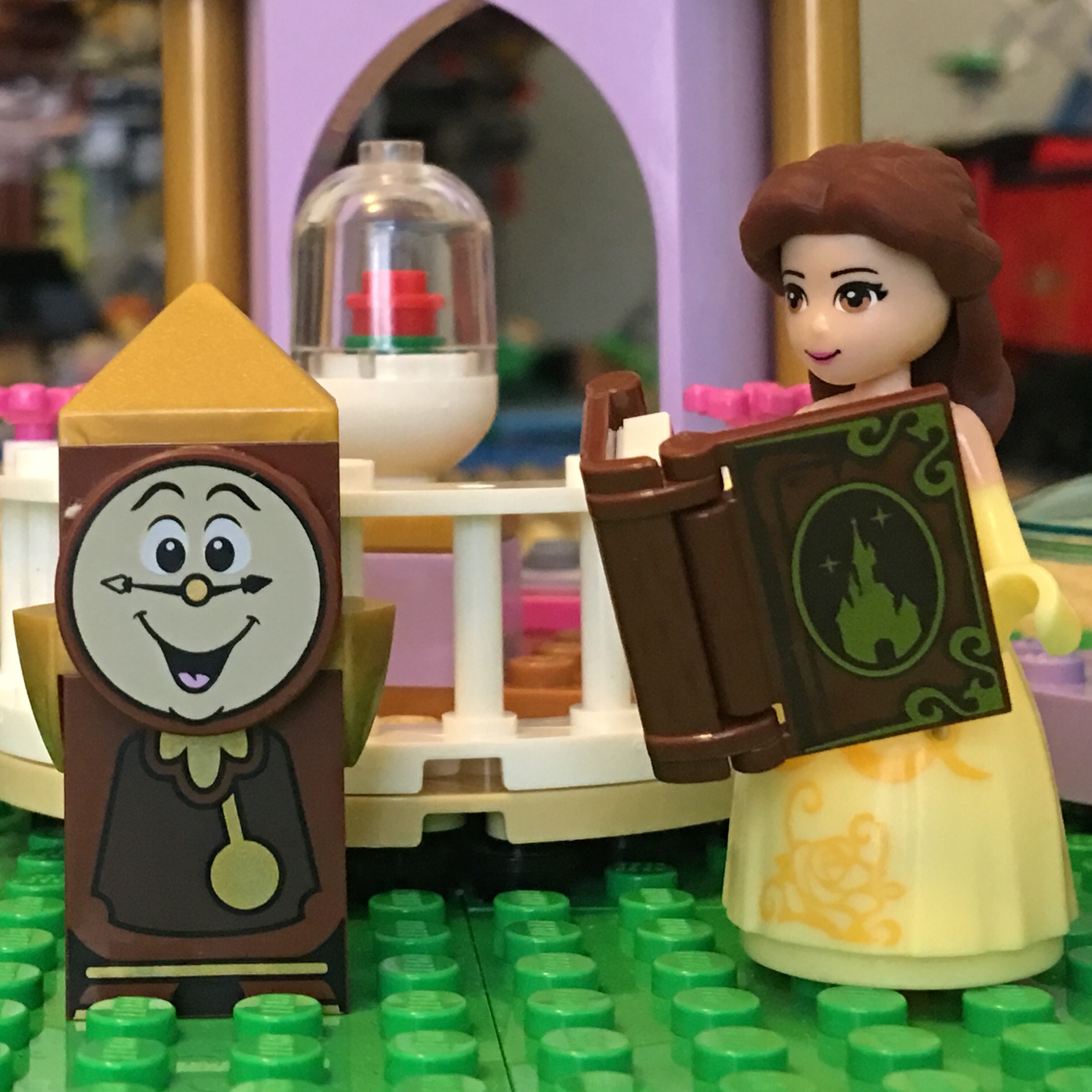 The other day I was double checking my Disney Princess minifigures, and I realized I was missing one. I needed Belle to complete my collection! Not any princess would do. I needed the LEGO Belle Minidoll from the retired set 10762 Belle's Story Time.
Since I couldn't find it on the LEGO website anymore, I turned to Amazon, and was able to find a new unopened and sealed set. I clicked the order button and a few days later it was in my mailbox.
LEGO 10762 Belle's Story Time Release Date
This LEGO Juniors set was released in 2018 and unfortunately is no longer "officially" available, but it is still easy to find on-line if you want a set. It is now Retired. That just means it is still is supported by LEGO (you can get instructions and missing pieces if needed), just not for sale new anymore.
LEGO 10762 Belle's Story Time Minifigure
There is only one minifigure in this set – Belle. She is actually a Minidoll, and not a minifigure. What's the difference between a minidoll and a minifigure you ask? Well, let me tell you. Most people are familiar with a minifigure. Both minifigures and minidolls have 4 pieces – a head, a torso, feet, and hair. The main difference is that minidolls are less blocky, a tiny bit taller, and more slender. To me they look more like princesses.
I like to think of minifigures as regular people in my Disney LEGO city, and the minidolls are more like characters. It seems to make it more realistic for me when I do things this way.
Anyway, Belle has a yellow skirt, a yellow torso with some printing. Her arms have white gloves. Her head is one sided (all minidolls have only one face) and her hair is long and brown.
Here are some additional minifigures for sale:
LEGO 10762 Belle's Story Time Instructions
The set comes with two bags. The first bag builds the belle minifigure and the accessories, and the second bag builds her little castle and the spinning table.
The instruction book that comes with the set is clear, and easy to understand, even for a child as young as 4. There are some small parts, so I wouldn't let younger kids play with the set for safety reasons.
If you need the instructions for this set, you can download a PDF right from the LEGO website to use on your iPad.
LEGO 10762 Belle's Story Time Review
Like I mentioned earlier, I purchased this set only for the Belle LEGO character. However, as I was building it, I had an idea to use it in my LEGO Disneyland. I'll share more about that in a moment.
This set has 87 pieces that come in a small box. There are NO stickers, only printed pieces which include Cogsworth's face, The Beast in a mirror, A Disneyland Book and printed tile, and a very cool rose printed on a trans window piece that resembles a stained glass window. Plus there is a printed cup with a face, and teapot too. I prefer sets that don't have any stickers, because once you place a sticker on a brick, it has to be used as a specific piece. I like to be able to use my bricks any way I want, especially as MOCs.
This set has a lot of little accessories that make it fun to play with – you get a little brick built cart with a cake, a fountain, a book that opens and can be held in a minifigure (or minidolls hand) a table that spins, and a castle.
The castle is not very big, but has lots of great angles for photos, and that's what I like so much about it. If you have ever been to Disneyland, there are 2 different main ways to get your photo taken with a character. You can try to find them wandering around the park, which can be really difficult, or you can check their schedule and see when they will be making an appearance in their special area.
That's what I think of this castle. Its Belle's special area for photos. She can stand near the rose, or behind the fence, or on a special stand, and then you can stand next to her and get your photo taken. I plan on incorporating these little vignettes at the back of my LEGO Disneyland for minifigures to pose next to their favorite LEGO Disney Princess or character.
Be sure to follow me on Instagram and Pinterest and if you want to be updated when I review this set subscribe to my site.