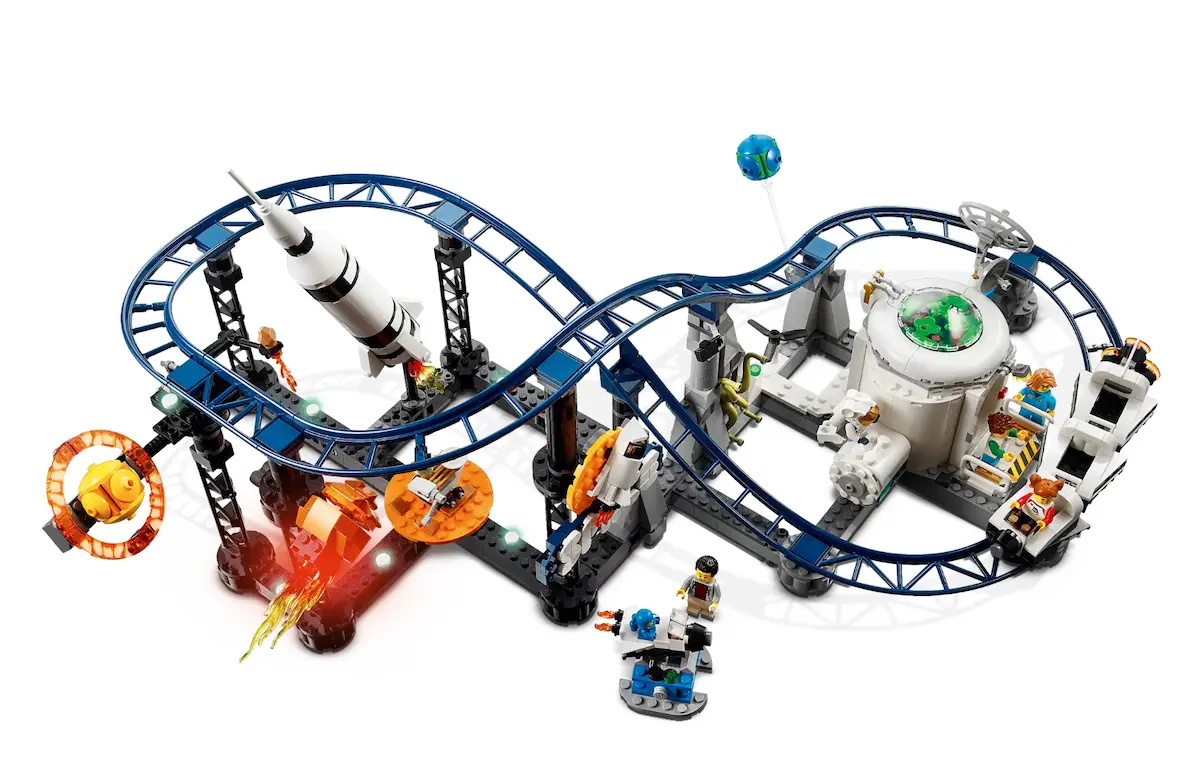 Are you a LEGO enthusiast? Do you love building intricate sets and reliving the excitement of the toys from your childhood through your creations? If so, then you'll understand my excitement when I say that I am eagerly anticipating the arrival of the new 3 in 1 LEGO Space Roller Coaster set!
As someone who grew up playing with LEGO, one of my favorite themes was the Classic Space series. Although this set doesn't' have all the same features as the old ones, this set has a Baby Benny, and lots of other nods to the original series..
Now, with the release of this new set, I can't wait to embark with fans on a new adventure into the final frontier of outer space. Join me as I share my excitement for this new set and explore what makes it so special.
The Space Roller Coaster Set Details
Set – 31142
Pieces – 874
Release date – August 1,2023
Age – 9+
Minifigs – 5
Original US Price – $109.99
With this incredibly realistic set, both city and space enthusiasts can experience an exhilarating trip to an amusement park. A meandering roller coaster track with three moving carts for exciting rides can be found in the playset. The carts race past a decorative space rocket, models of Saturn and Earth, mini space rocket, a moon base, and a shooting star. In addition, there are 5 minifigures and a cool meteor with an illuminated light brick.
What is a 3 in 1 LEGO set?
A LEGO 3 in 1 set is a type of LEGO building set that allows you to build three different models with the same set of bricks. These sets typically come with instructions for building three different model designs, each with a unique theme and set of features.
For example, this 3 in 1 set includes instructions for several different amusement park rides, including the Roller Coaster, a drop tower with an elevator and a spinning UFO space carousel.
Unfortunately you can't build all three versions at one time. You would need to buy 3 sets in total to make all the different combinations.
LEGO 3 in 1 sets are popular among LEGO enthusiasts of all ages, as they offer a fun and challenging building experience, as well as the opportunity to create something for creative play and imaginative storytelling. Whether you're a seasoned LEGO builder or just getting started, a 3 in 1 set can provide hours of entertainment and creativity.
When will the LEGO Space Roller Coaster be released?
Set 31142, the 3 in 1 Lego Space Roller Coster will be released on August 1,2023 in the USA. With its exciting space-themed design, fun rides, unique roller coaster feature, and detailed minifigures, the LEGO Space Roller Coaster is sure to be a hit with both young and old LEGO builders, and I know it is a Day 1 purchase for me. I'll be on LEGO.com at midnight to put it in my cart.
How many pieces are in the LEGO Space Roller Coaster?
This set will come with 874 pieces. In addition to the usual lego bricks, there will be lots of roller coaster track in the blue color which I think is new for this set. There is space shuttle and also a radar dish which is a throwback to the vintage space sets from the 1980s.
What are the Minifigures in the Space Roller Coaster Set?
Five minifigures are included in Set 31142 set: an astronaut, a scientist, a father with two kids, baby astronaut and a little astronaut. Hint: It's Baby Benny!
How much does the LEGO Space Roller Coaster cost?
The 3 in 1 Lego Space Roller coaster Set 31142 will cost $109.99 US when it is released. This is a pretty good price for a set with so many fun play features and 5 minifigs. The cost per piece comes out to 7.95¢. This is at the lower end of the $0.06-0.14 range that is so common.
How long does it take to build the 2023 LEGO Space coaster set?
An advance builder can put this set together in about 2 hours or so. I think that at the beginning recommended age of 9+ it will probably take around 4-5 hours to put it together, and they should be able to do it all by themselves.
In terms of value for money, the cost of this set may be higher than some other LEGO sets due to its size, complexity, and features. However, the set offers a unique building experience for space fans and provides a lot of play value and display potential.
Is the the LEGO Space Roller Coster worth it?
YES! This set is absolutely worth it. In addition to the cool play features, the 3 different builds you can do with this 1 box, and the 5 minifigs you get, there is also a very cool light brick.
For a $100 set, this is a very good one, and has lots of playability, and hours of fun!
Final thoughts
The Space Roller Coaster 31142 is a fun set that creates a winding roller coaster track around a space theme.
Usingthe LEGO builder app guide, you can also have an interactive digital building experience, and choose from the spinning space carousel, or Space shuttle alternate rides.
But my favorite part is the light brick feature.
Create fun and memories with the LEGO creator 3 in 1 space roller coaster!