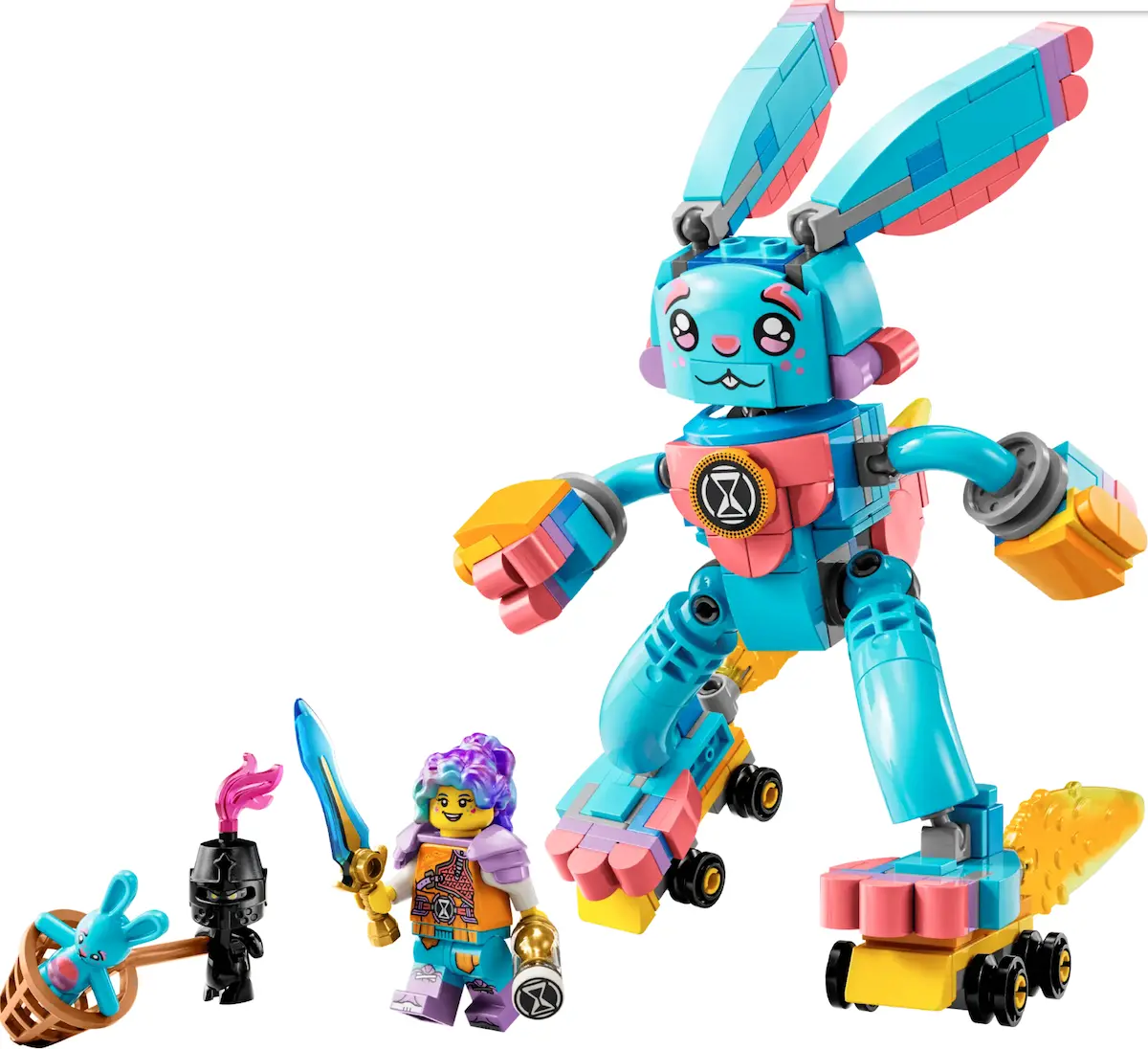 The new LEGO Izzie and Bunchu the Bunny set is a great entry level set to the just released Dreamzzz world. Izzie is one of the new main characters in the series. Her bunny, Bunchu changes from a cute little stuffed animal into a oversized mech on roller skates.
Dreamzzz Izzie and Bunchu Set Details
Set – 71453
Pieces – 259
Release date – August 1,2023
Age – 7+
Minifigs – 1
Original US Price – $19.95
With this LEGO® DREAMZzzTM Izzie and Bunchu the Bunny (71453) building toy set, children aged 7 and up can plunge right into the action of the dream world. The set allows kids to assist main character Izzie in making a big facsimile of her beloved plushie to help rescue the stuffed animal, which has been kidnapped by a nightmare Grimspawn, based on an exciting TV program plot.
What is LEGO DreamZzz?
Over the years LEGO has created several different lines of playsets. The newest theme is an incredible mashup of items found in the regular world, combined with what is possible with your imagination in a made up dream world.
Much like Ninjago, Friends and even Nexo Knights, LEGO Dreams, this series also has an animated series that first was released on the streaming platforms Netflix and Prime, but will soon be released on Youtube as well.
The main characters are two middle school kids named Mateo and Izzie, and the show centers around their real life interactions with peers, as well as how to overcome evil villains in the Dream world. They get help from some of their friends, as well as a teacher who has a secret story.
The sets are direct tie-ins to the show (or is the show designed to promote the sets?) and they have lots of great play features. Not only do you get cool LEGO pieces and minifigures in each set, but there are also story led building instructions to stimulate creativity.
Often people just build the sets and then play with them or display them on a shelf as is. But LEGO is so much more than that. The prices can be used to create new and different builds, and I see Dreamzz as a step in changing people's minds about how to use the Bricks.
Complete List of all the LEGO DreamZzz 2023 sets
Starting in August of 2023, there will be a total of 11 LEGO DreamZzz sets released. These will range in price from $19.99 to $140 US and should be available at Amazon, Target, and of course LEGO.com.
Recreate scenes from the LEGO® DREAMZzzTM TV series or use your imagination to create a unique plot. Join Mateo, Izzie, Cooper, Logan, and Zoey as they venture into the dream world using their imaginations to battle the wicked Nightmare King. Each of these sets will have one or more of the characters and can re-create scenes from the shows, or be used as a jumping off point to make your own MOCs based on the series.
When will the Izzie and Bunchu set be released?
Set 71453, the Lego Dreamzzz Izzie and Bunchu the Bunnie will be released on August 1,2023 in the USA. Beginning several months before the release date, you can actually pre-order it on LEGO.com, as well as all the other Dreamzzz sets listed above.
How many pieces are in the Izzie and Bunchu set?
This set comes with 259 pieces. To me, the parts are a combination of a marvel Mech set with a LEGO friends color scheme. Imagine if you had a small stuffed bunny toy (which is actually included in LEGO form), and then you were in a dream world where it was super-sized and came to life. That's what you get with this set.
The main character Izzie create a large bunchu the bunny, Bunchu stands over 7.5 inches tall which is significantly larger than the Izzie minifigure. He has a fully articulated neck, and with the alternate building instructions you can switch between equipping bunchy with either rocket roller skates and gloves or with bee wings and a bee stinger.
What are the minifigures in the Izzie and Bunchu the Bunny 71453 set?
This set only comes with one fantastic minifigure – the Izzie character. This highly detailed minifigure comes with an hourglass, armor, and a sword. For She has multi-colored hair, and heart shaped freckles on her face. She also has a small bunchu the bunny, too
There is also a smaller grimspawn minifigure. This more closely resembles the lava monster army characters. Instead of being red, they are black in color, and have a lot more detail!
It appears they have a small one piece molded body about the same size as the small bunny. But with the ability to attach a regular sized minifigure head on it.
How much does the Izzie and Bunchu the bunny Set cost?
When released on August 1 in the USA, this set will retail for 19.95.
Before the official release you can pre-order it on LEGO.com, but I'm sure that after the release date you will be able to find it at Target and even Amazon. I don't live near a LEGO store, so all my sets are ordered on-line and shipped to me. I find this the easest way for me.
How long will it take to build the Izzie and Bunchu the bunny Set?
This set is designed with kids 7+ or older in mind. There are 259 pieces, and I would say that a kid with some LEGO experience could build this on their own in about 2 hours.
Someone a little older would do it faster, I'm sure. Based on looking at the set, and my skill level, I think I could speed build this set in less than 20 minutes.
But building it fast is NOT the goal. The Dreamzzz sets are designed to be built in at least 2 different ways. For me, that's just the beginning. I have more fun playing with the sets and getting them remixed and made in all sorts of different ways.
The exciting storyline that LEGO has created with the Dreamzzz series will allow anybody to spend hours having fun and interacting with the set.
Is the LEGO Dreamzzz Izzie and Bunchu the Bunny Set worth it?
I get this question most often on my Instagram account, or in my Twitch stream comments. In this case, this set is under $20, and comes with one of the most popular characters in the series. Plus you get an Hourglass small bunchu (watch the show to know the power of the hourglass). So I give this a YES, this set is worth it!
It would make a great birthday or holiday present for any Dreamzzz LEGO fan!
What is also cool, is that since there are 2 ways to build the set, if you have 2 builders in the family, one can build it one way first, and then the other can build it the other way after!
Final thoughts
Set 71453 izzie and bunchu is a Day 1 purchase for me. Not only do I want to collect all the minifigures in the Dreamzzz series, but I want to be able to have the entire story of the dream world in my LEGO city. I love the colorful pieces, and the large living version of the bunny with a fully artuculated neck, or bee wings, is not terrifying, but instead quite friendly!