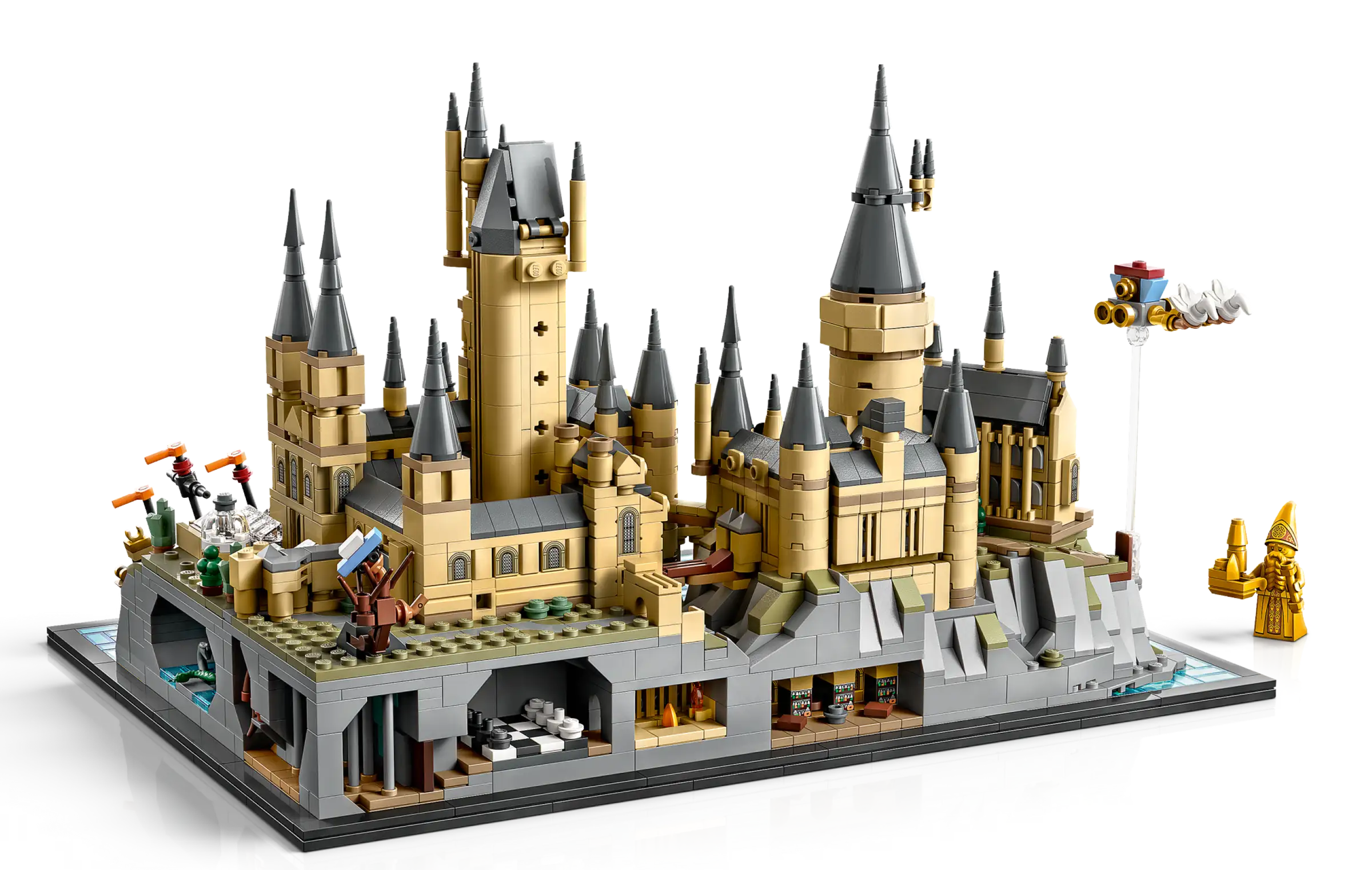 Attention all LEGO fans and devoted Harry Potter enthusiasts! It's that time of the year again when the wizarding world and the brick-building universe collide in a spectacular fashion. LEGO.com proudly presents "Back to Hogwarts Week," a magical celebration that brings together the love and passion for one of the most iconic and beloved themes of all time. Whether you're a seasoned Hogwarts alumni or a fresh-faced Muggle, there's something enchanting for everyone. Join us as we delve into the enchanting world of LEGO's latest offerings and irresistible promotions.
New Exclusive Set: Gringotts™ Wizarding Bank – Collectors' Edition (76417)
The centerpiece of this year's Back to Hogwarts celebration is the spellbinding Gringotts™ Wizarding Bank – Collectors' Edition (76417). This meticulously crafted set is a treasure trove of intricate details that will transport you to the heart of the wizarding world. From the opulent foyer and mezzanine floor to a spiraling vault cart track, every nook and cranny has been faithfully recreated. The pièce de résistance is a mechanism that stops the cart at each of the three underground vaults, just like in the movies.
This enchanting set will be available for Insiders early access on September 1st and launches to all fans on September 4th. The price for this magical masterpiece is set at $429.99.
New Harry Potter™ Hogwarts™ Castle and Grounds (76419)
Prepare to embark on a captivating creative journey with the LEGO® Harry Potter™ Hogwarts™ Castle and Grounds (76419). This remarkable set allows you to bring the grandeur of Hogwarts Castle to life with LEGO bricks. Explore its iconic towers, courtyards, and the Forbidden Forest in the comfort of your own home. At $169.99, it's a spellbinding addition to any LEGO and Harry Potter collection.
More LEGO® Harry Potter™ Sets
The magic doesn't stop there! Our Back to Hogwarts celebration wouldn't be complete without a myriad of other enchanting sets, including:
Each set offers a unique slice of the wizarding world, and you can choose the ones that resonate most with your Hogwarts house spirit.
Harry Potter Bundles™
For those who seek even more magic and savings, we have a special treat. From September 1st through September 10th, you can enjoy a 20% discount by bundling eligible Harry Potter sets! Here are some bundles to consider:
These bundles are perfect for showcasing your house pride and saving a little gold for your Gringotts vault.
Gifts with Purchase
What's a celebration without gifts? From September 1st through September 13th, we have two delightful gifts for you:
Spend $130 or more on Harry Potter purchases, and you'll receive a free LEGO® Gringotts™ Vault (40598) as a gift with your purchase.
Spend just $40 on any LEGO.com purchase during the same period, and you'll receive a free LEGO® Quidditch™ Practice (30651) set with your purchase!
It's our way of saying thank you for being a part of our magical community.
Conclusion
As Back to Hogwarts Week unfolds on LEGO.com, it's the perfect time to rediscover the enchantment of the wizarding world through the lens of LEGO bricks. With new exclusives, a spellbinding Hogwarts Castle, tempting bundles, and delightful gifts, there's no shortage of magic to be found. So, gather your wands (or rather, bricks) and immerse yourself in the wonder of Harry Potter brought to life with LEGO. Join us in celebrating the love and passion of fans like you, who make this theme one of the most cherished and enduring in the LEGO universe. Happy building, and may your creations be as enchanting as the world of Harry Potter itself!