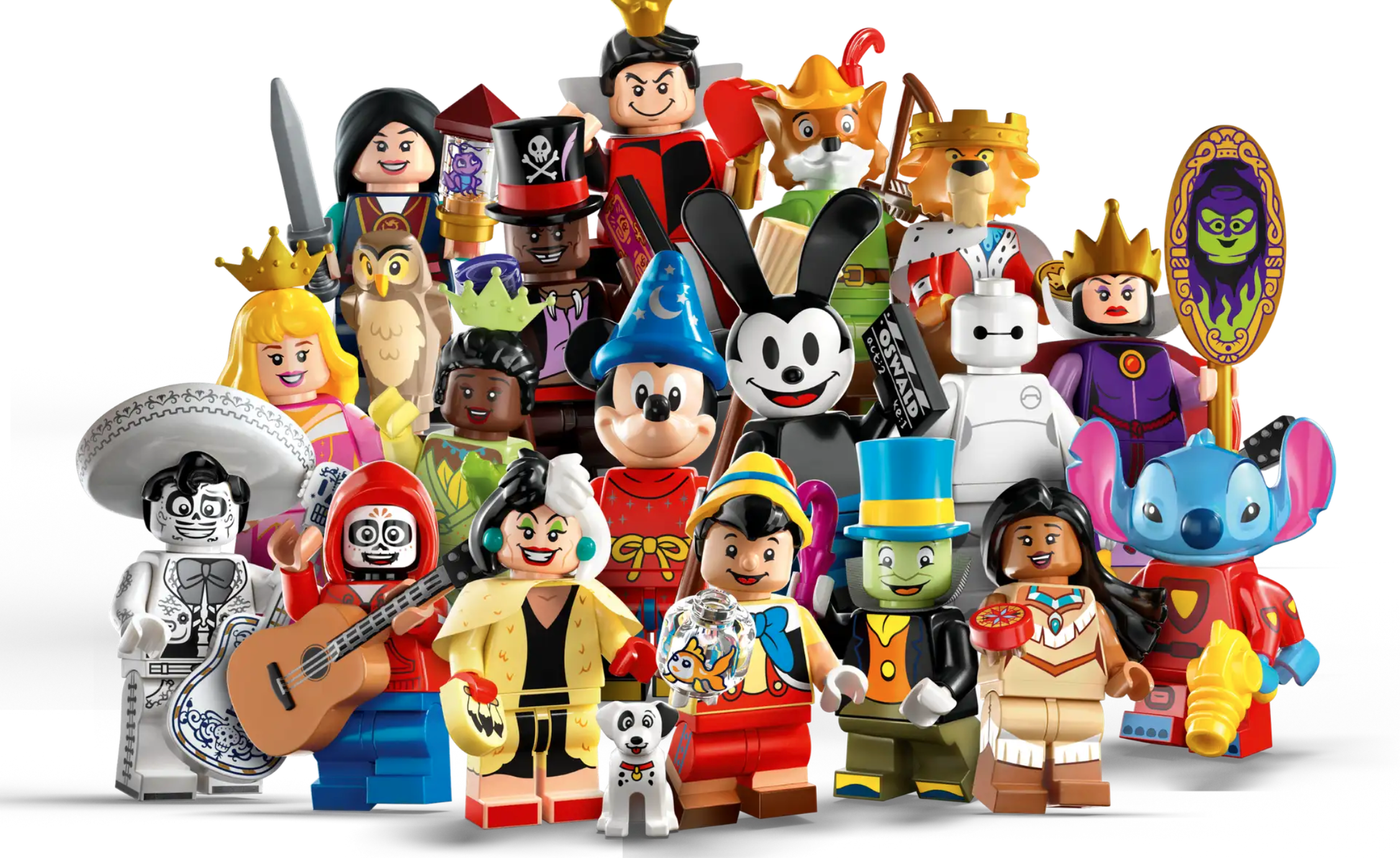 The third series collection of Disney CMF minifigs, 71038 is officially revealed! To be released May 1, 2023 with 18 different classic characters to collect.
I wish we were getting 100 minifigures, but in this wave, there will be a total of eighteen collectible minfigs. They will come as usual in the blind bags.
If you want to know whic LEGO minifigures Disney is releasing here's the complete list. Scroll down for photos and my thougts on each one. As usual I will have them for sale in my Minifigure store on release day. You will be able to sign up to receive an email when they are released so you can get the exact one you want.
Complete List of all 18 Disney Series 3 Minifigures
I really like that there are different franchises in this series – there's a good mix of old and new. What I mean is that we have characters some of my favorites from when I was a kid – Robin Hood, and 101 Dalmations, but also some newer ones like Coco and Big Hero.
Plus there are other new Disney Favorites as new LEGO Minifigures: A Fantasia Mickey Mouse minifig, cricket, and even a Pinnocchio minifigure.
And there are some remakes of a few classics. We got a Peter Pan with the big Disney castle set a few years back. But will be getting a new one with release.
As in previous Disney sealed mystery bay minifigure releases, there will be 18 – just like in Series 1, and Series 2.
Officially the minifigures will be available on May 1 and will sell for $4.95 retail per bag. You won't know exactly which ones you are getting as Lego is using the old familiar sealed mystery bag.
There have been hints of new eco-friendly packaging coming, but recently I have been hearing that this will be the last CMF in blind bags. Soon LEGO will be switching over to cardboard boxes like the Vimeo minifigures were in.
LEGO Disney Minifigures Series 3
Here are photos of each character, as well as some of my thoughts and first impressions.
Sorcerer's Apprentice Mickey
What's not to love about this classic Fantasia character. Mickey is in his red robes, and appears to be wearing the same blue cap with stars and a moon printed on it that was in the original Disney Castle Set. He also has a bucket and what looks like a new broom.
Pinocchio
Such a cute little minifigure. Dressed in the classic Italian Children's outfit from the 1800's this little wooden minifigure (he is actually plastic of course), is carrying a clear fishbowl with Cleo – That's lego – Geppetto's fish from the 1940s Disney movie version.
Jiminy Cricket
With his classic blue top hat and Pink Umbrella (Is anyone else getting Hagrid Vibes?). Jiminy cricket was only in the Pinocchio movie. In the original book by Carlo Collodi this character was a ghost, but Disney transformed him into a smart-aleck partner in adventure to the doll who came to life.
The Evil Queen
Also just called "the Queen" the villian from Snow white is wearing a gold crown, and has the famous magic Mirror. In this case it isn't a hand held mirror, but a larger one mounted on a freestanding pole.
Stich 626
This new version of the Stitch Minifigure has the very rare 4-arms torso. this has only been seen on some Ninjago Minifigures, and 1 star wars character. Can you guess who?
He is designed to be abnormally strong, virtually indestructible, super-intelligent, and very mischievous. His one true place is with Lilo.
Pocahontas
One of my favorite parts of this minifig is the new black wind swept long hair. I also love the 3 fall colored leaves and the little 1×1 round compass.
Cruella de Ville & Dalmatian puppy
One of the most sinister, sly villians is captured beautifully in this new LEGO set. Together you get a Cruella de vil dalmatian puppy. The little dog is so adorable. Cruella has what looks like a yellow cape, and a little dog treat.
Mulan
LEGO has been releasing Mulan Disney sets for quite some time. This version of the minifig comes with a silver sword, and a little version of Cri-Kee. I especially like how her sash which starts on the torso is continued on her legs.
Miguel and Dante
Ever since the Coco movie came out, I've seen many different custom MOCs of Miguel. Now we finally have a real Miguel Minifigure to collect. He has a skeleton face, a red hoodie, guitar, and of course his pet dog, Dante.
Ernesto De La Cruz
Another Coco minifigure that is in this series is the Grandfather, Ernesto. Both a good guy and a bad guy ( I don't want to give away any spoilers if you haven't seen it). This all white minifigure is very ghostly. I especially like the guitar with a skull for the headstock.
Oswald the Lucky Rabbit
Before Mickey Mouse, there was Oswald. As one of the very first animation characters, one of his characters' primary traits was being able to show emotion through "personality animation characters". This minifig comes with a little tile movie clapper that says Oswald on it.
Robin Hood
No, we aren't talking about the stock trading app. This is the fox version of the classic character. Complete with a bow, the Robin hood minifigure is perfect to add to your collection or trade with friends.
Prince John
For every good guy, there has to be a villian. Here we have the Robin Hood Prince John character. The rich one, that Robin hood steals from to give to the poor. He comes with a regal cape, a bag (full of money I suppose) and a 1×1 round gold coin with a crown on it.
Tiana
Disney is re-releasing the Princess and the Frog in 2023, and this Tiana Minifigure is the version that will be in the new series. She has a green crown, incredible green robes for her torso and legs, and is carrying a green frog and a 2×3 printed plate.
Dr Facilier
I've always known Dr Facilier as the Shadow Man. He is like Ursula and other villians in that he tricks them into getting what he wants by using voodoo. He has a cool tophat witha skull and crossbones, on it, a 1×2 printed tile and a cane with a trans title.
Queen of Hearts
The expression on the Queen of Hearts Minifigure's face is priceless. The creators have truly captured the evilness. I don't know if this is a dual printed face, but I can't imagine a better expression. She comes with a little gold crown, a red 1×1 heart tile on a stick, and a white cloth collar.
Aurora
Did you know that Sleeping Beauty's real name isn't Aurora, but is instead Briar Rose? Here she is in minifigure form with a pink dress, gold crown, and blonde hair. Holding one of the forest animals, Owl.
Baymax
We end the collection with Baymax. I personally would have liked to see him as a big fig, but this is a good alternate version. He has a very simple printed white head, and some unique molded arms. He also comes with a brick built red floating scooter as seen in the Disney+ series.
LEGO Disney Minifigure Collection
We have been waiting a long time for this series. And it's a great way to kick off the Disney 100 series sets that are coming out this year (The Up House).
I've collected the Disney Series 1 and Series 2, and for me this is a day 1 purchase.
Let me know which Disney 100 minifigures are you most looking forward to getting!