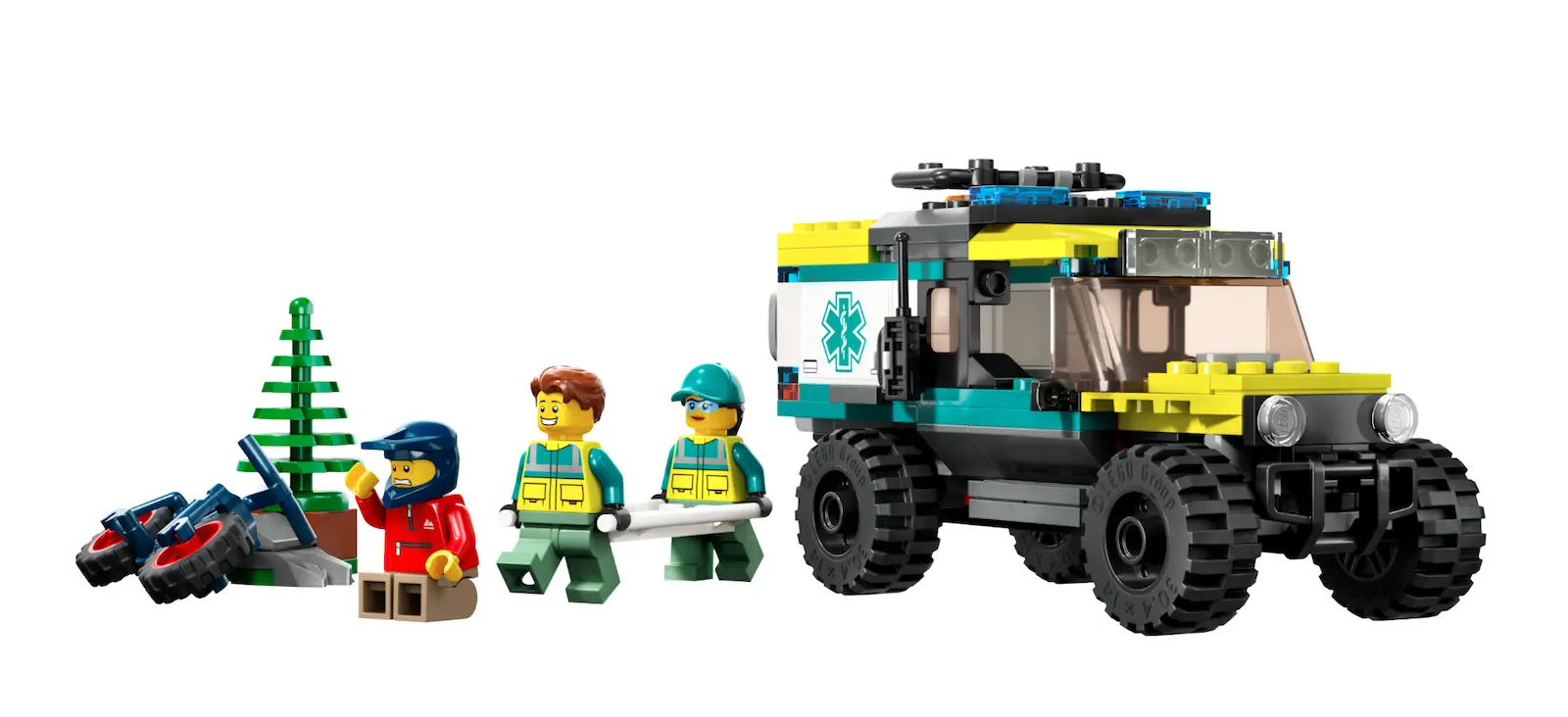 I'm excited to share with you some LEGO news that I learned about a few days ago. Starting TODAY! the 4×4 Off-Road Ambulance Rescue set will be available as a Gift With Purchase (GWP) for ALL orders at LEGO.com over $100.
This is a great deal – usually GWP purchases are either for specific sets, or specific themes, or even a higher price threshold.
Lets dive deep into this set to learn more!
One other important thing to mention is that now is DOUBLE VIP Points – From Feb 10 to Feb 16. This is only for LEGO VIP members. But it is free to sign up and get all the benefits of being a VERY important LEGO person!
Do you know that sometimes LEGO offers free sets? Yes, they do. It's called a gift with Purchase and is available (in this case) whenever you spend $100 on the LEGO website or at an official LEGO store. Places like Walmart and Target don't offer this promotion. If you ever want to see what the current LEGO GWP is, I've got a special page on my website dedicated to it, as well as previous ones too.
If you ever miss the LEGO GWP- you can usually find a set for sale on Amazon.com or Ebay.
Set Details for LEGO 40583 4×4 Off-Road Ambulance Rescue
Set – 40582
Pieces – 162
Release date – 2023
Age – 6+
Minifigs – 3
Original US Price – GWP ($19.95 value)
Initial Thoughts about the LEGO 4×4 Off-Road Ambulance Rescue
If you are a regular reader, you know that i love Minifigures. This free set comes with 3! There is a cool 4×4 LEGO ambulance. Plus some other cool rescue related accessories including a stretcher, and a black walkie-talkie.
You also get a mountain bike, a small green tree, and even a brick built rock (that probably caused the crash of the rider).
The main highlight of this set is the off-road rescue ambulance. It's got big, tough wheels, a cool front bumper, a bike rack on the roof, and a way to slide a stretcher into the back with a closing door.
Between the 3 minifigures, the mountain bike, and the truck, there is a lot to play with on this set.
It's the perfect set for a grandparent to keep at their house for when their kiddos come over. Not a lot of pieces, easy to store, but fun to build and play with.
How big is the set?
I can tell this is a microscale set because of the photos and the overall dimensions3 in. (7 cm) high, 5.5 in. (14 cm) long and 2.5 in. (6 cm) wide. With a count of just over 160 pieces this is a fast set to build, and not too challenging – thus the 6+ rating.
How do you get the 4×4 Off-Road Ambulance Rescue Gift with Purchase?
This set is available starting NOW- Feb 10. It will be available until LEGO runs out which is usually a week or two.
I anticipate the set to be available after the Blacktron Cruiser promo ends (on 1/14) which is about a week from now, and follows the general announcement procedure LEGO follows.
Also, I don't think the threshold to get the set will be as high as the Blacktron set. Probably somewhere in the $100-$150 US amount. I'll update this as we get more details.
For I have a whole section about previous 2003 Gift with purchases, too.
Final Thoughts
Will you be getting this set? Are you planning on collecting this set? I'd love to hear your thoughts below.
Since I don't live anywhere near a LEGO official retail store, I'll be making an order for one of the new 2023 LEGO sets that I don't yet have and getting this GWP. I don't know if I'll open and build it, or store it away in my stockpile. Follow me on Instagram to see what happens!