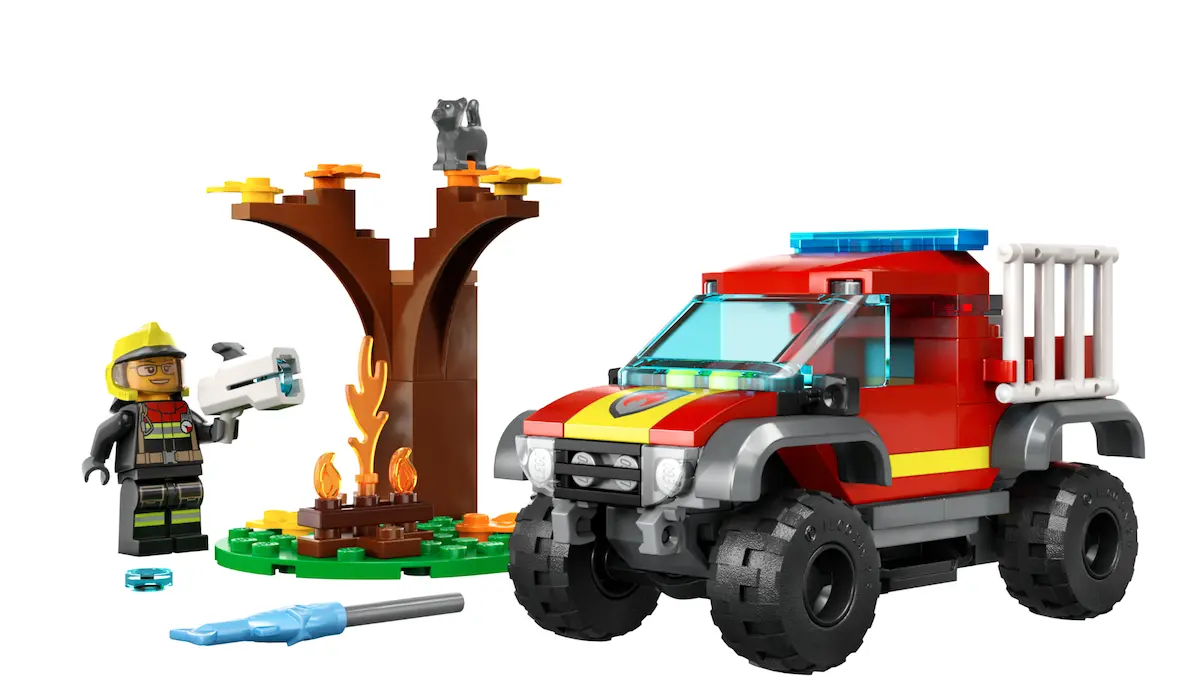 New for 2023 is the LEGO Fire Truck Rescue Set. This isn't a regular fire truck however. This rugged 4×4 is equipped to rescue animals – specifically a cat stuck in a tree. Sure there's also a stud shooter fire extinguisher to put out small fires, but this set is all about animal rescue.
The LEGO City series is a great way to get started building and collecting. Specifically, this Fire Truck is made as a beginner set – starting with ages 5+. It may not be suited for younger kids because some of the pieces are pretty small. But you get some cool pieces including a little cat, a fish, and even a white stud shooter. Plus the truck has a cool new feature.
This makes a great birthday present for either girls OR boys. It's also the kind of set that would be at my grandparents house for me to play with when I visited. Small and affordable but packed with a lot of playability.
That's right. Just $10 for nearly 100 pieces and a minifigure. Let's go over it together.
Set Details for LEGO 60393 4×4 Fire Truck Rescue
Set – 60393
Pieces – 97
Release date – 2023
Age – 5+
Minifigs – 1
Original US Price – $9.99
The LEGO Fire Truck Rescue Box and Contents
Inside the box you get:
Instruction Book
2 Bags of Parts
Baseplate for Tree
The First Bag
The contents of the first bag has the female firefighter minifigure as well as the brick built tree and a small cat.
You start as always building the minifig. The instructions are clear and easy to understand.
Then you make the little landscape that is the tree. It only takes a few minutes for an advanced builder to put it together. Someone who doesn't have as much LEGO experience, or is just starting out can easily follow the directions step-by-step to put the set together.
In fact, if you look at the bottom of each page of the instruction book, there is a little firefighter minifigure character that "moves" across the page as you complete more and more steps.
The Second Bag
In the second bag are all the parts you need to need to make the 4×4 fire rescue truck.
The truck is assembled using numbered steps. Each step only adds a few new pieces, so it is easy to follow and track. It's very clear so you are unlikely to make a mistake. But if you do, LEGO bricks come apart easily and can be repositioned. This set doesn't come with a brick separator, and it's really not needed.
You start buy adding the axles to the chassis. As you progress you add a steering wheel, fenders, front and rear bumpers, and more details!
If you want to see the instructions before you buy the set, it is possible either using the LEGO Builder App, or by downloading a PDF of the instructions.
The LEGO Builder App allows you to use your phone or tablet to easily view the instructions for literally any LEGO set. It has some other features like being able to save your favorite sets or the ones you own, too.
How Big is the LEGO Fire Truck Rescue Set?
The overall measurements: The firefighter's SUV measures over 2 in. (5 cm) high, 3.5 in. (9 cm) long and 1.5 in. (5 cm) wide.
It's not the smallest set, but it is one of the smaller ones. It can be put into a Ziploc bag and used while traveling, or more.
Details of the 4×4 Fire Rescue Truck set.
I like this set because you get a lot of cool things;
fall colored leaves
Detailed Firefighter minifigure
cat
Fish
Box with lid
ladder
stud shooter
The idea of this set is that a cat gets stuck in a tree, and a firefigher arrives in their truck with the equipment needed to rescue the critter. There is a small white ladder that clips onto the truck, but can be removed and cliped on the base of the tree.
The firefighter also has a fish which can be attached to a little pole to entice the cat down.
If there is a fire, a small white fire extinguisher clips to the other side of the truck. It "shoots" a little blue lego piece that is supposed to resemble water, and puts out any fire.
There is a little campfire section on the same plate as the tree and some "fake" flames that can be used to teach fire safety.
The truck uses a newer part for the axles -not only do the wheels actually spin, but the move a little bit side to side. It's sort of like a little active suspension built in.
Of course, you can do all, or even none of the things above. That's the beauty of LEGO. The bricks can be taken apart and re-arranged any number of different ways.
For instance, if you wanted to make a treehouse instead of an SUV, I'm sure there is a way to do it with the pieces supplied.
Final Thoughts
This is a great starter set and one of my favorites in the new 2023 LEGO City theme. Some of my other favorite sets in the 2023 City series are the, Gaming Truck, Recycling truck, Vet Van Rescue, Park Tractor, and the ATV/Otter Habitat.
This year LEGO seems to be focusing a lot more on sets with Animals. They are also incorporating a lot of details that are usually only found in the Friends sets.
Of all the $10 and under sets LEGO has released in 2023, this is the best one in my opinion.