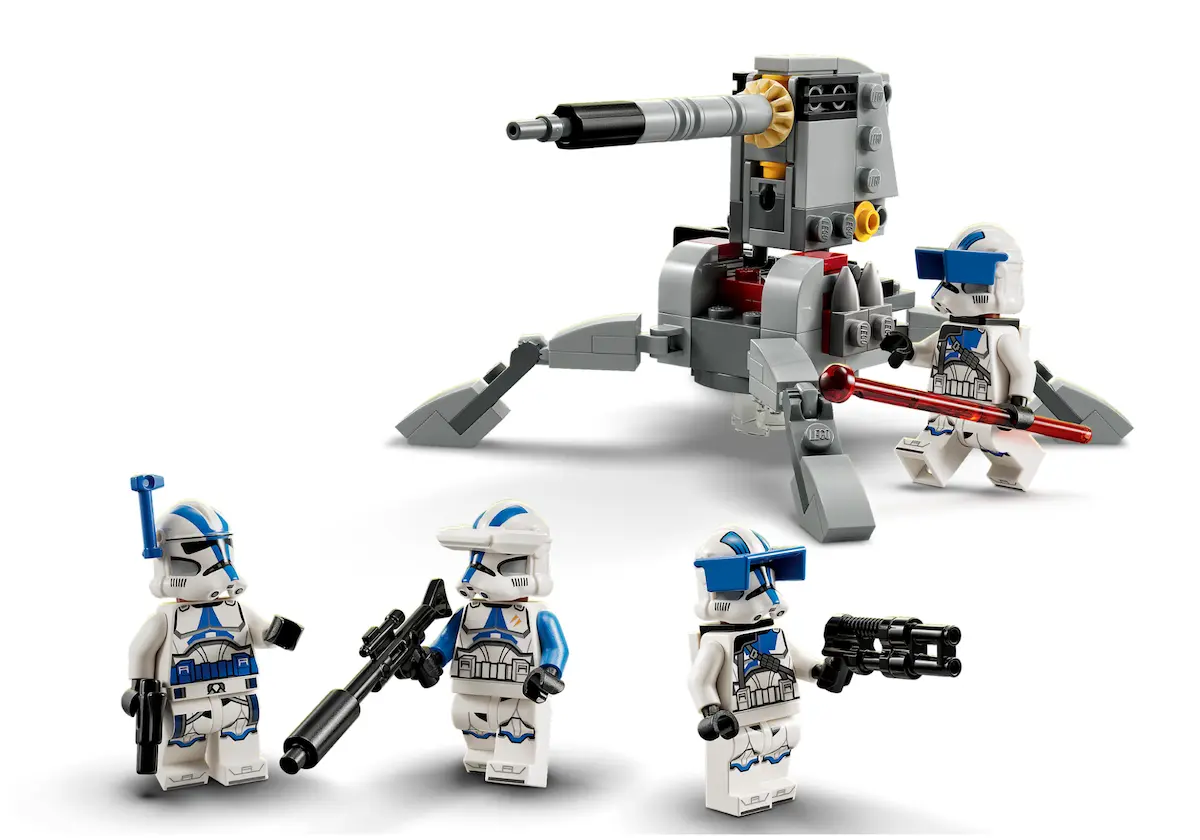 New for 2023 is the latest LEGO star wars battle pack, the 501st Clone Troopers Battle Pack. This set has 4 brand new minifigures that are perfect to collect to create your own LEGO clone army.
Set Details for the LEGO 501st Clone Troopers Battle Pack
Set – 75345
Pieces – 119
Release date – 2023
Age – 6+
Minifigs – 4
Original US Price – $19.99
The 501st Clone Troopers Battle Pack Box
The Box for this set is the standard size, and follows the same design LEGO has used for the past few years.
On the front is a photo of the set, as well as the minifigures, and on the back is an alternate play scene.
Inside the box are two bags with the parts, an instruction manual and a smaller bag with the blue minifigure accessories, like the visors and helmet antennae.
If you want the instructions for 501st Clone Troopers Battle Pack, you can download a PDF from LEGO.com or use the Builder App for a version for your mobile or tablet. I really like the fact that now there is a QR code you can scan to get the isntructions directly.
Here's the QR code for the 501st Clone Troopers Battle Pack Instructions. Just open your camera and scan the QR code.
The Minifigures in the 501st Clone Troopers Battle Pack
There are three different (and 4 total) minifigures in this set:
A 501st Officer with a blaster pistol,
a 501st Clone Specialist with a blaster rifle
and 2 501st Heavy Troopers, each with a blaster
Building the 501st Clone Troopers Battle Pack
As always the set starts by building the minifigures.
Then, over the next 40 steps you build the Brick-built AV-7 anti-vehicle cannon. It has a place for a minifigure to sit on it, 4 adjustable legs, and of course a spring loaded shooter that shoots the trans red rods.
What is a Battle Pack?
Beginning in 2007 LEGO released their first "Battle Pack". These sets which are usually around 100 pieces, typically come with 4 minifigures and a small build, and cost $20 (US) when new.
However, they are highly sought after by collectors who want to start their own Star Wars Minifigure Army, and you can find people buying dozens of these boxes at a time.
This is one of the brilliant marketing plans LEGO has ever done if you ask me. They actually advertised right on the box: "Build your army" (in multiple languages). They actively encouraged you to buy several of these sets.
There are lots of Instagram and Youtube posts boasting 100's of these minifigures lined up in neat rows on baseplates. It's a flex for sure.
I'm guessing they are trying to mimic the scenes in the Star Wars movies where you will see hangars of troops arranged in their ranks and in columns.
Why are These so Easy and Popular to Collect?
For me, a benchmark price is just under $5 for a minifigure. The CMF series minifigures are priced at $4.95 when new, for example. $5 is also a good number to use when calculating the price per piece when evaluating the value of a new set.
However this price often gets inflated due to supply and demand. As collectors begin to hoard these sets, they become hard to find, and the battle pack minifigures can get pricey on the secondary market.
Where to find the LEGO 501st Clone Troopers Battle Pack
When the sets first come out, I like to order them directly from LEGO.com. This way I am guaranteed to get one. Even if they are sold out. I know it will eventually come. Plus I can get VIP points and sometimes even a Gift with Purchase.
Once the sets have been out for a while, I usually pick up a few more from my local Target Store. I use the Target App to see when they are in stock, and at which locations, and then I go grab them!
Finally, when they are about to retire, or are no longer available, I turn to Amazon.com or eBay to find LEGO battle pack Star Wars. Be cautious when buying LEGO sets from these sources. Sometimes the sets are fake. Look carefully at the price. If it seems too good to be true, it probably is. Also check the reviews of the reseller. That can also tell you if they are trustworthy.
How much is the 501st Battle Pack worth?
The 501st Battle pack is worth about $20 US right now. It was just released on Jan 1, 2023, and until the set is retired, it should be available in the USA for this price.
It is rare for LEGO to go on sale, but sometimes they do. If you see that happen, act fast!
Once the LEGO battle packs are retired I regularly see prices between $30-$70. However older, more rare sealed sets can sell for over $100.
How Much is the 501st Jet Trooper Worth?
Every minifigure has a different value. When a set is new, I tend to value each minifig around $5.00.
Since there are a few different kinds of 501st troopers the price can vary. A simple red Sith Jet Trooper from set 75266 sells for around $4 each, while a phase 2 Clone Jet Trooper in the Sky Troops goes for over $30.
And if you have $150 to spend on a single minifig – look at the Clone Trooper Captain Rex, 501st Legion (Phase 2) with the Blue Cloth Pauldron.
All Star Wars Battle Packs
Here is a list of What Lego sets have 501st troopers. These are all the LEGO Battle Packs for Star Wars ever made. I've linked the 501st trooper sets.
7654 Droids Battle Pack (2007)
7655 Clone Troopers Battle Pack (2007)
7667 Imperial Dropship (2008)
7668 Rebel Scout Speeder (2008)
8014 Clone Walker Battle Pack (2008)
8015 Assassin Droids Battle Pack (2009)
8083 Rebel Trooper Battle Pack (2009)
8084 Snowtrooper Battle Pack (2009)
7913 Clone Trooper Battle Pack (2010)
7914 Mandalorian Battle Pack (2011)
9488 Elite Clone Trooper & Commando Droid Battle Pack (2012)
9489 Endor Rebel Trooper & Imperial Trooper Battle Pack (2012)
75000 Clone Troopers vs. Droidekas (2013)
75001 Republic Troopers vs. Sith Troopers (2013)
75034 Death Star Troopers (2014)
75035 Kashyyyk Troopers (2014)
75036 Utapau Troopers (2014)
75037 Battle of Saleucami (2014)
75078 Imperial Troop Transport (2015)
75079 Shadow Troopers (2015)
75088 Senate Commando Troopers (2015)
75089 Geonosis Troopers (2015)
75131 Resistance Trooper Battle Pack (2016)
75132 First Order Battle Pack (2016)
75133 Rebels Battle Pack (2016)
75134 Galactic Empire Battle Pack (2016)
75164 Rebel Trooper Battle Pack (2017)
75165 Imperial Trooper Battle Pack (2017)
75166 First Order Transport Speeder Battle Pack (2017)
75167 Bounty Hunter Speeder Bike Battle Pack (2017)
75197 First Order Specialists Battle Pack (2017)
75198 Tatooine Battle Pack (2018)
75206 Jedi and Clone Troopers Battle Pack (2018)
75027 Imperial Patrol Battle Pack (2018)
75225 Elite Praetorian Guard Battle Pack (2019)
75226 Inferno Squad Battle Pack (2019)
75266 Sith Troopers Battle Pack (2020)
75267 Mandalorian Battle Pack (2020)
75320 Snow Troopers Battle Pack (2022)
Final Thoughts
With this LEGO® Star WarsTM Battle Pack (75345) for kids aged 6 and up, kids and adults alike can command their very own 501st Clone Trooper unit. It includes four brand-new LEGO minifigures for January 2023, including a 501st Officer, 501st Clone Specialist, and two 501st Heavy Troopers, each with a weapon for roleplaying. The set also comes with a seat for a LEGO minifigure and a buildable AV-7 anti-vehicle cannon with a spring-loaded shooter. Kids will enjoy playing with their existing LEGO Star Wars sets and recreating the action from Star Wars: The Clone Wars with this well-liked building toy.
These sets and minifigures can be addicting to collect. I really like this new one because of the 501st troopers. You get 4 in this set, which builds an army quickly. Also the cannon is cool, and able to be built in bulk as well.
Will you be getting this set? How many