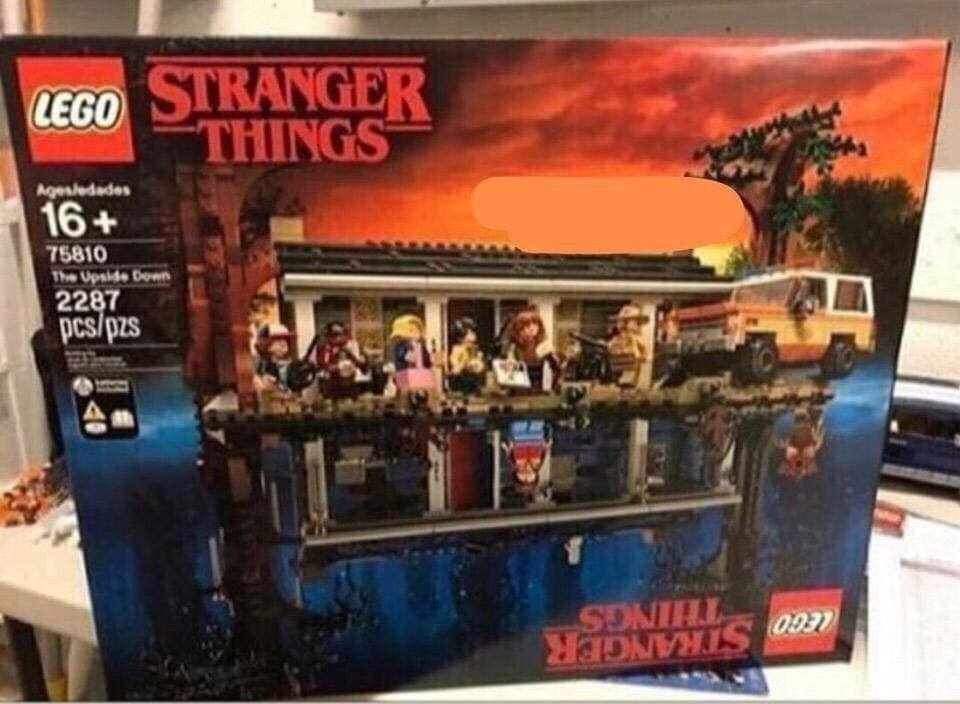 From the beginning, I was hooked on the Netflix Stranger Things Series. Combine that with my love for all things LEGO, and this guy will be standing at the doors to my local LEGO store on May 15 to be the first one in when it opens to buy the new LEGO STRANGER THINGS set as soon as it is released. The official name is "The Upside Down", but I'll get to that in a bit.

Lego 75810 Stranger Things is a new 2019 set that is due to be released on May 15, 2019. According to preliminary box photos it will have 2287 pieces and is labeled for ages 16 and up. At this time the LEGO group has been very secretive about the release, with only some cryptic hints on twitter about the upcoming release. And this is how it should be, after all it's Stranger Things in LEGO.
LEGO 60219 Pieces & Minifigures
There are 2287 pieces in this set, including 8 minifigures. Since LEGO hasn't released anything official yet, all I can go off of is a grainy box art photo, and rumors from other websites. I see the main build is the Byers house, and there is Sheriff's Jim Hopper's Bronco , and that's all I can tell right now. Of course this article will be updated when I have the set in hand on the 15th.
I can see 8 minifigures on the LEGO Stranger Things Box. They are: Mike Wheeler, Lucas Sinclair, Dustin Henderson, Eleven with her blonde wig, Joyce Byers, and Jim Hopper, Will Byers, as well as the terrifying Demogorgon. Plus it looks like they are wearing their season 1 clothes.
LEGO Stranger Things house
If you look carefully at the box art, it appears the LEGO Upside Down House is actually two houses, that can be turned over to mimic the Upside down world in Stranger things. I can clearly see the string of Alphabet letters in one of the rooms, as well as Dustin's room and a few other scenes. More details to come for sure! I fully expect to see some bicycles and maybe even a secret compartment for Seven.
LEGO Stranger Things set price
My understanding is that the LEGO Stranger Things set price is going to be around $200. We all know that LEGO sets are expensive, and the themed ones are even more so. I wouldn't be surprised if this set was even $300. That puts the pieces in the 11.4 to 7.6 cents range which is realistic with current prices.

LEGO Stranger Things Release Date
May 15, 2019 is the day that the LEGO Stranger Things will be released. That's a Wednesday, and I'll be at my local LEGO store when they open, to grab one of the first sets. Then I'll spend the day unboxing the Stranger Things LEGO set, and building it, to get you a review quickly.
If you want to see when I open the set and build it in real time, follow me on Instagram where I frequently do live feeds and Lego Instagram Stories of new sets.