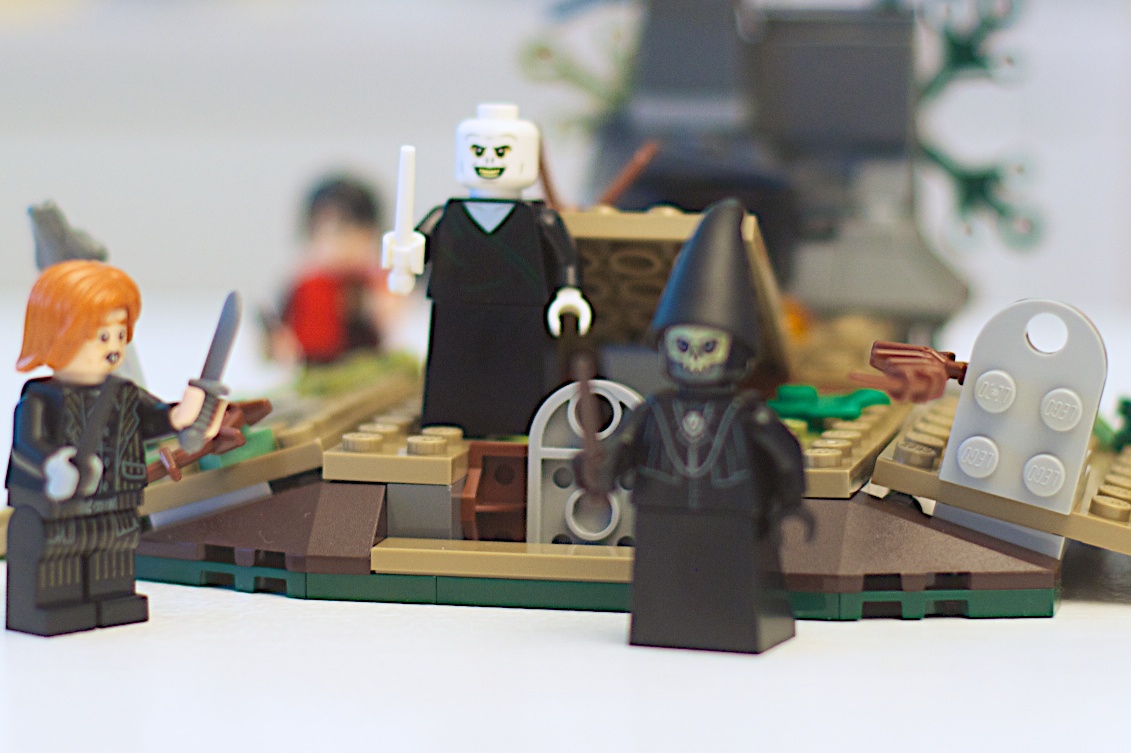 I just saw this new Harry Potter set pop up on several of the websites I follow for new LEGO Sets. Based on the information included (piece count, pricing, release dates) as well as the high quality box and set photos I thing we can look forward to a brand new Harry Potter LEGO Set – 75965, The Rise of Voldemort
This set is based on a classic scene from the Goblet of Fire, the 4th book (and movie) in the classic Harry Potter Series. I'm not sure why LEGO is releasing new Harry Potter sets this year, the next movie, the 3rd one in the Fantastic Beasts series isn't going to be released until Nov 20, 2020, but we will have this new Lego set later this summer. Keep reading for more details
LEGO 75965 Pieces & Minifigures
There are 184 pieces in this set, including 5 minifigures. Harry Potter, Voldemort™, Voldemort™ in baby form, Peter Pettigrew and Death Eater LEGO Minifigures. I don't see the baby Voldemort in this photo however.
The set seems to have some cool play action items, including gravestones a cauldron, a Tom Riddle Headstone (I sure hope this is a printed piece and not a sticker). I looks like there is also a platform that might lift up revealing something underneath.
I like the Tom Riddle Statue, the Death Eater grave marker, and the darker color plant pieces. This set would be a great one for a draft, too, based on the minifigs and pieces included.
LEGO Rise of Voldemort set price
This set is priced at 19.99 Euros, which is about $20 according to current exchange rates
LEGO 75965 The Rise of Voldemort Box Front

LEGO 75965 The Rise of Voldemort Box Back
LEGO Rise of Voldemeort Release Date
There are several new Harry Potter sets coming out in the Summer of 2019, and I understand this set will be Released on August 1, 2019 along with the others.
If you want to see when I open the set and build it in real time, follow me on Instagram where I frequently do live feeds and Lego Instagram Stories of new sets.