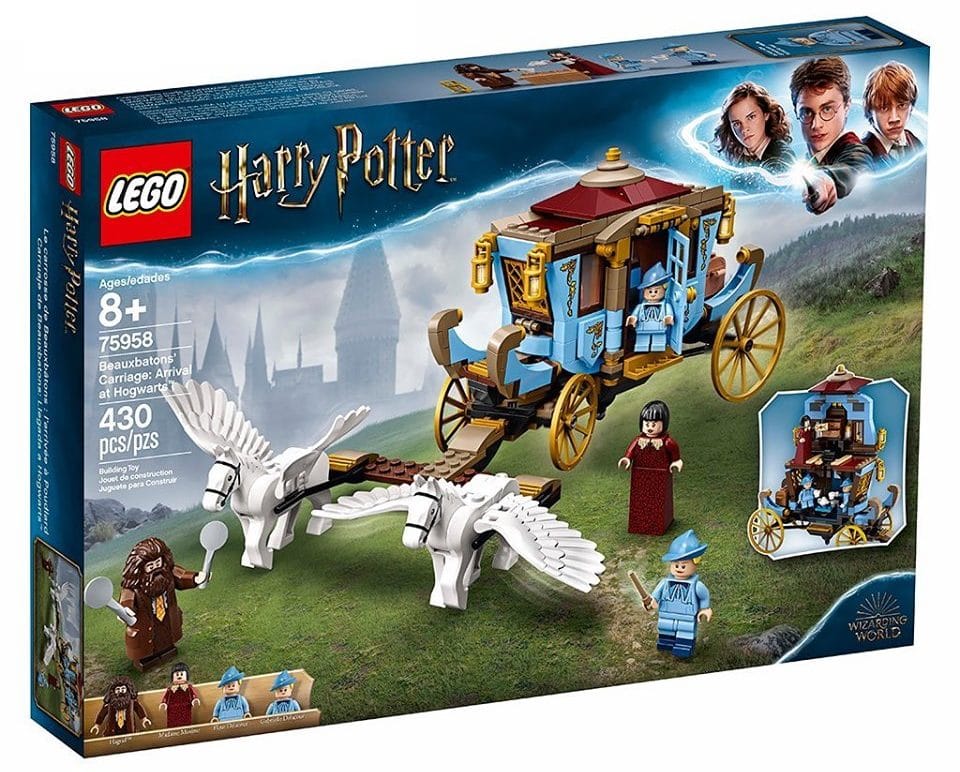 Today My eyes and ears perked up when I learned that there was going to be yet another Harry Potter LEGO set released this summer. LEGO 75958 Beauxbatons Carriage Arrival At Hogwarts is going to come out in the summer of 2019 LEGO wave, along with a bunch of other Harry Potter sets.
This set is based on a classic scene from the Goblet of Fire, the 4th book (and movie) in the classic Harry Potter Series. I'm not sure why LEGO is releasing new Harry Potter sets this year, the next movie, the 3rd one in the Fantastic Beasts series isn't going to be released until Nov 20, 2020, but we will have this new Lego set later this summer. Keep reading for more details
LEGO 75958 Pieces & Minifigures
There are 184 pieces in this set, including 4 minifigures. Madame Maxime, Fleur Delacour, Gabrielle Delacour, Hagrid. What I really like is the way LEGO made the Madame Maxime Minifigure taller than all the others. I also really like how Hagrid is dressed up a little bit. They are all getting ready for the Tri-Wizard Tournament Ball.
I also really like that you get two winged horses in this set, as well as a very detailed carriage. Plus I like all the golden detail pieces (wheels, gates, windows) because I can always use pieces like that in my LEGO Disneyland MOC.
According to an article I read the Carriage opens up and converts to two floors with beds, drawers and tea sets.
LEGO Beauxbatons Carriage Arrival At Hogwarts
This set is priced at 49.99 Euros, which is about $50 according to current exchange rates
LEGO Beauxbatons Carriage Arrival At Hogwarts
There are several new Harry Potter sets coming out in the Summer of 2019, and I understand this set will be Released on August 1, 2019 along with the others.
If you want to see when I open the set and build it in real time, follow me on Instagram where I frequently do live feeds and Lego Instagram Stories of new sets.