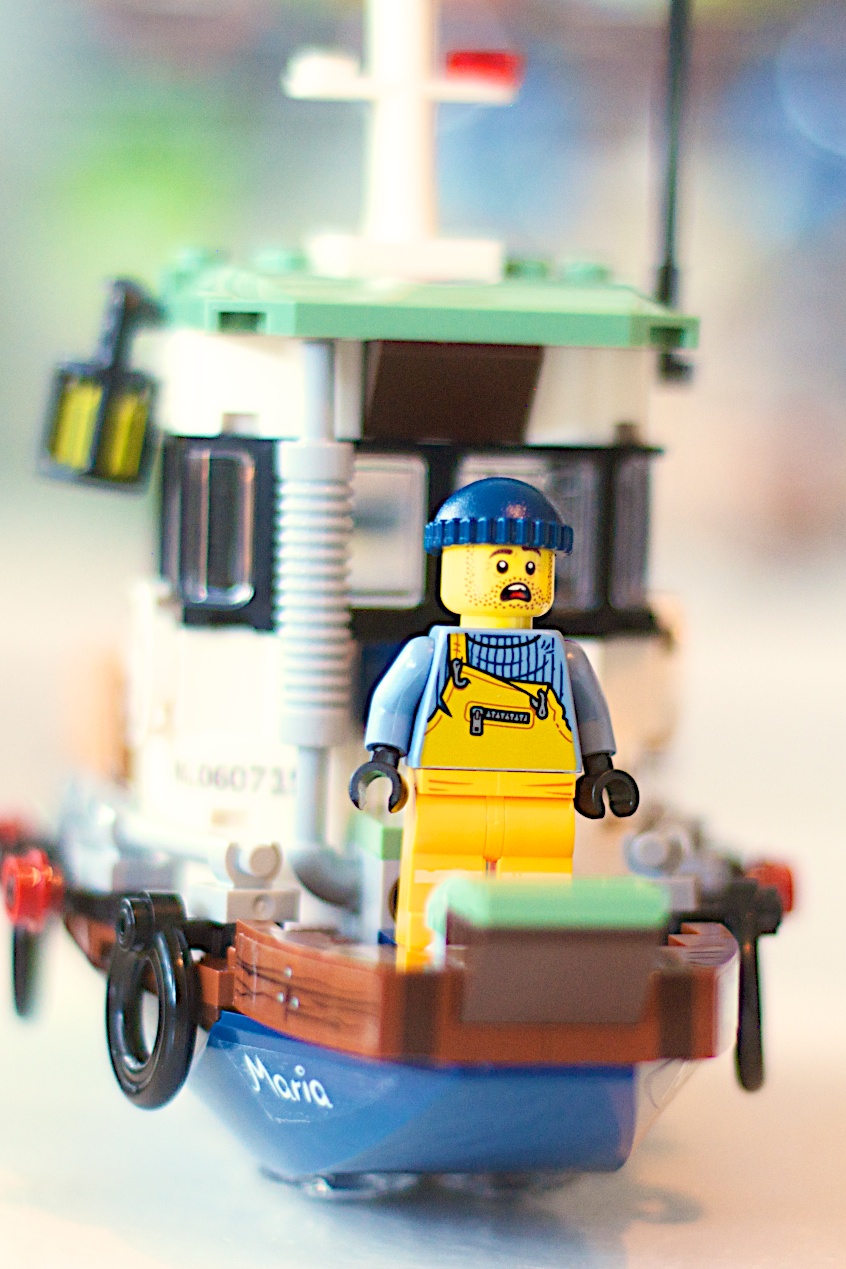 I so wish I was at the New York Toy Fair this year. LEGO had a huge booth there and they unveiled their new Hidden Side series. There will be a total of 7 sets, and this is a post for the LEGO Wrecked Shrimp Boat Hidden Side 70419.
The great thing about having these released at a toy fair is there are lots of high quality photos availible that I can share with you. Of course when the sets are released in August, I'm going to get all of them and replace these images with photos of my own. But for now this will have to do.
LEGO 70419 Pieces & Minifigures
There are 310 pieces in this set, including 4 minifigures. A young boy and young girl with purple hair in a kayak a haunted zombie fisherman, and a regular dock worker. I also see a new trans clear dog and a white alligator. There also appears to be some kind of trans green monster octopus behind the zombie
At first glance, it appears the boat can break apart into two pieces, using some technic studs. I also see a new color sword – it sort of looks glow in the dark green, and I wonder if it is a special color for the augmented reality app on the phone.
LEGO 70419 Hidden Side Wrecked Shrimp Boat
This set is priced at $29.99 US.
LEGO Hidden Side Information
From the LEGO website:
Solve the mysteries haunting the town of Newbury before it's too late. Forget what you know – you've never experienced LEGO® play like this before. Your phone opens the door to a virtual hidden world where your LEGO sets come alive in an unfolding ghostly adventure.
It seems these LEGO sets will use your phone to do some kind of Augmented Reality. LEGO tried this before with the Dimensions sets (which were sort of a flop, and now only collected by hard core fans). This seems different though. Not only do you get a set where you can build something and play with it , but when you point your phone at it it comes alive or something and you get an additional experience.
Screen Shots from the LEGO website, and the Brother's Brick.
If you want to see when I open the set and build it in real time, follow me on Instagram where I frequently do live feeds and Lego Instagram Stories of new sets.