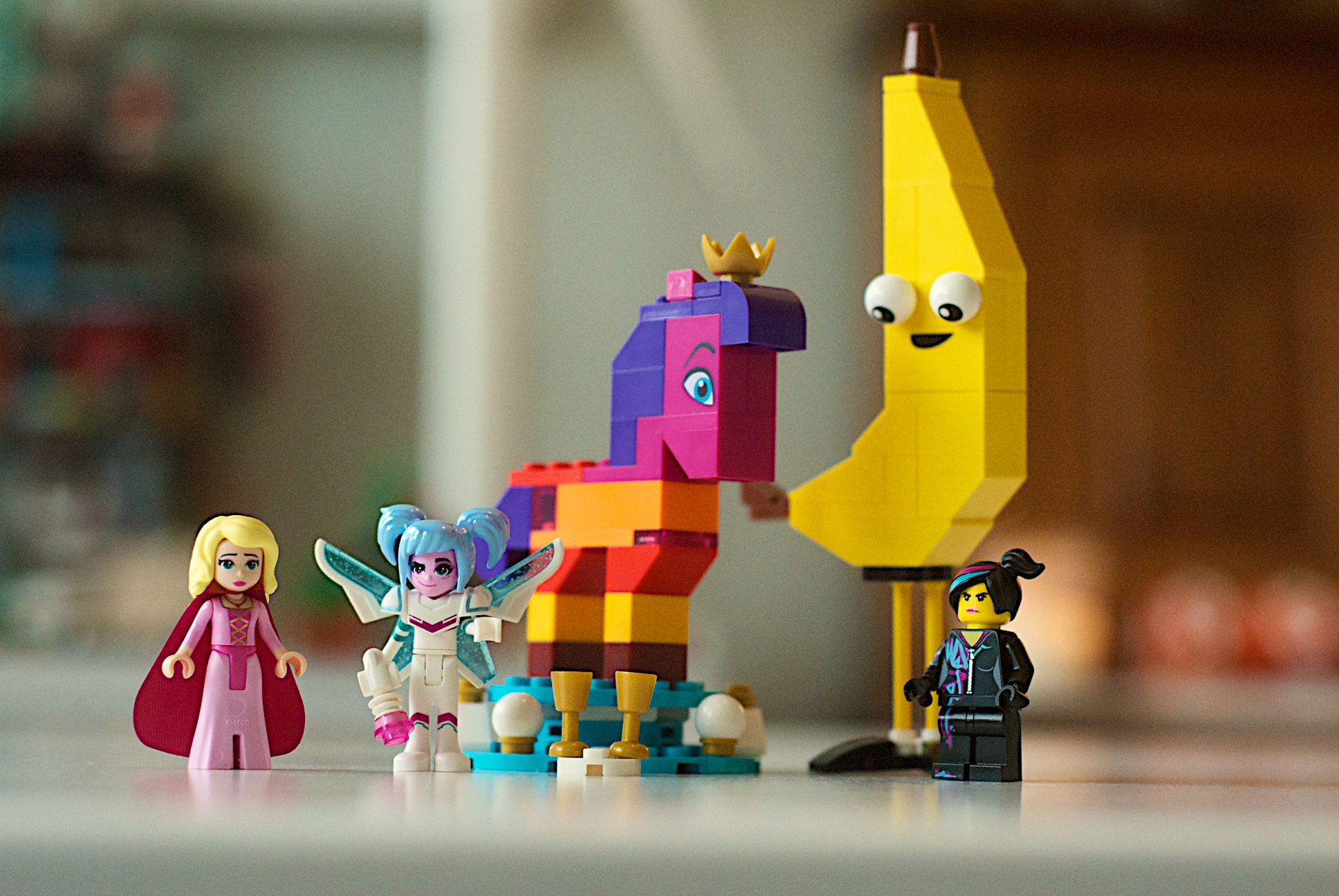 More than ever, the LEGO Movies are combining the different major themes produced by the LEGO group, this set, Introducing Queen Watevra Wa'Nabi is the lowest priced set from the new Lego Movie 2 series that accomplishes that goal. You get a traditional Minifig, a Minidol, Duplo, regular LEGO blocks, and of course the new minifig for the Sweet Mayhem, who looks like the 3rd member of Daft Punk.
Lego 70824 Queen Watevra Wa'Nabi is a new 2019 set that was released in December of 2018. It has 115 pieces and is labeled for ages 6 and up.
LEGO 70824 Pieces & Minifigures
There are 115 pieces in this set, including 1 minifigure, and 2 minidolls. You get the new Lego Movie 2 Lucy. In addition you get the new Sweet Mayhem and Susan minidolls, plus a duplo brick built queen Whatevra Wa'Nabi (whatever I want to be), and a Banarnar brick built banana character.
Since I haven't seen the movie yet, I first thought that the minidoll was the queen, but soon I learned that the Queen is brick built out of Duplo for the majority of the time. The minidoll is Sweet Mayhem.
In this set there are 2 numbered bags, and one instruction book
LEGO 70824 Review
If you are looking for a good beginner set, one where your kid can do it alone, or with minimal help from an adult, this is a good starting place. And this set is good for both Girls and Boys. I like seeing more entry level sets for girls. For a long time LEGO was so focused on the male market.
I'll be honest, at first I thought Sweet Mayhem was the Queen. Of course I haven't seen the movie at the time of this blog post so I feel it was an honest mistake to make.
The first bag builds Banarnar, Lucy and Susan. I love the eyes on Banarnar, and the twiggy legs too.
In the second bag is the Sweet Mayhem Minidoll, and the pieces to build both versions of Queen Watevra Wa'Nabi. Plus a little stand for her to be on.
If you want to see when I open the set and build it in real time, follow me on Instagram where I frequently do live feeds and Lego Instagram Stories of new sets: https://www.instagram.com/thebrickland/
LEGO 70824 Release Date
This set was released in December of 2018 on the Day after Christmas. First I went to a nearby Target to get the set, but they didn't have any on the shelves, and they said they wouldn't be getting any until the first week in January. So instead, I went to my local LEGO store at the mall and found lots of sets on the shelf, and I bought it.
LEGO Ninjago make great Christmas Presents- Did you know that every year I set up a Holiday LEGO display between Halloween and New Years?