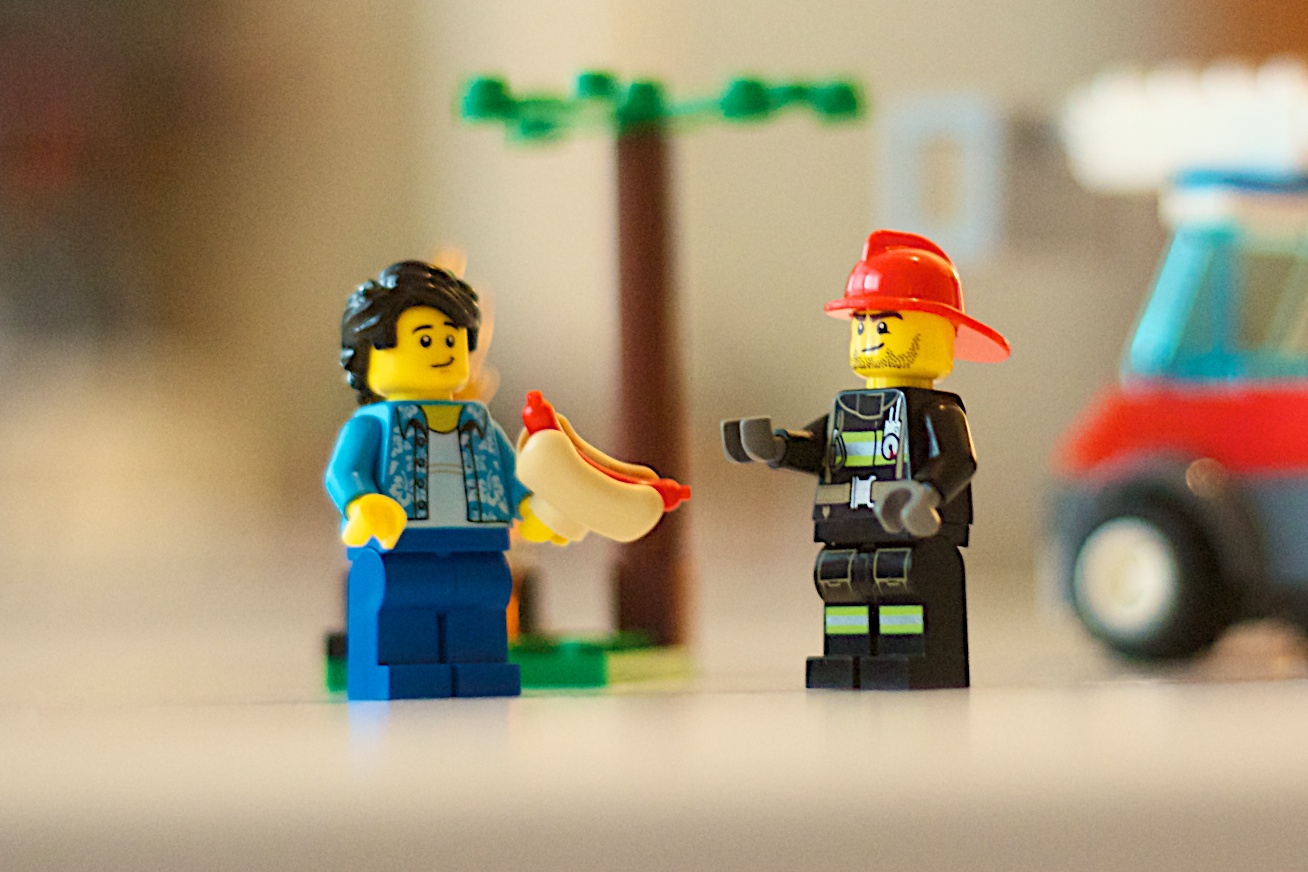 Could this be my favorite beginner LEGO set of 2019? Quite possibly yes! It's less than 10 bucks, easy to assemble, has 2 minifigures, and lots of play-ability.
Lego 60212 Barbecue Burn Out is a new 2019 set that was released in January of 2019. It has 64 pieces and is labeled for ages 4 and up.
LEGO 60212 Pieces & Minifigures
Lego Camper Minifigure with Hotdog

Lego Fireman Minifig
There are 64 pieces in this set, including 2 minifigures (a park visitor, and a fire fighter). There is also a new ax element with a longer handle and red and silvered painted tip. Much more realistic than the older black handheld minifigure axe. Or do you spell it LEGO ax?
In this set there are 2 numbered bags, and one instruction book. There are no stickers, and several pieces are printed (which I love).
LEGO 60212 Review
If you are looking for an easy beginner set, one where your child can do it alone, or with minimal help from an adult, this is a GREAT starting place. The Firetruck is built on a single chassis, and the pieces snap easily onto it.
The minifigures also connect easily together. They come as 4 pieces, and are partially assembled. The bottom leg half snaps into the top torso piece. Then the head goes on, then the hat (or hair). They can easily be disassembled and the pieces are interchangeable. Also, the legs are pre-assembled, as is the torso. What I mean is that the hands are already in the arms, which are already in the torso. But if you want to take these apart, you can if you want to.
This is a great starter set. Designed for ages 4+ it is an easy build and a great way to introduce kids to the LEGO world.
First you assemble the minifigures, which snap together quite easily. You also get to build a firetruck with a bucket the minifig can stand in, and move around. Put a minifigure behind the wheel and they can drive the truck. Clip the axe onto the side of the truck for easy transport. Lots of things to play with! The firefighter can hold a little piece like a fire hose, too!
There is also a little BBQ scene with a hotdog and a little brick built LEGO tree.  The camper can hold the hotdog.  Plus there are two little "fire" pieces that can be attached to other LEGO bricks or moved around.
If you want to see when I open the set and build it in real time, follow me on Instagram where I frequently do live feeds and Lego Instagram Stories of new sets: https://www.instagram.com/thebrickland/
LEGO 60212 Release Date
This set was released  in January of 2019 on the New Year's Day. I bought this set with at my local LEGO store, on the day it came out.