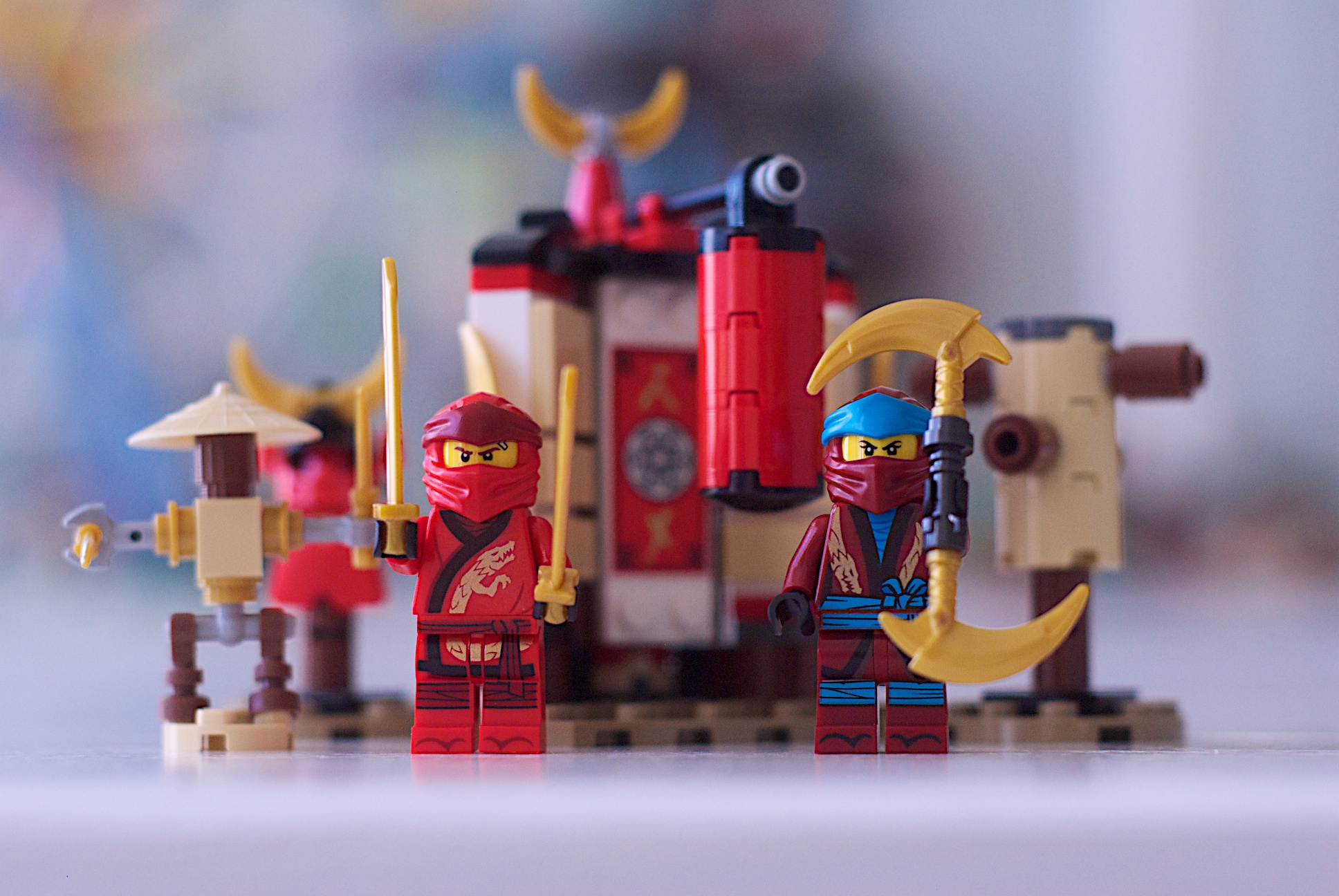 The smallest Ninjago LEGO set of 2019, Monastery Training packs quite a punch, with 2 minifigures, lots of golden weapons and some special armor. It's a great introduction into the LEGO world of Ninjago, but it doesn't have any of the main characters.
Lego 70680 Ninjago Monastery Training is a new 2019 set that was released in January of 2019. It has 122 pieces and is labeled for ages 6 and up.
LEGO 70680 Pieces & Minifigures
LEGO Ninjago Kai

Lego Ninjago Nya
There are 122 pieces in this set, including 2 minifigures. You get Kai and Nya, as well as some brick built training dummies. There is also some very cool Samurai X training armor with a decorative gold-colored moon blade, and many golden colored weapons.
In this set there are 2 regular bags, plus a bag of custom LEGO gold ninja weapons, and one instruction book. There are no stickers, and one 2×4 tile printed element (which I love).
LEGO 60212 Review
This is a pretty good starter set if you want to get into the LEGO world of Ninjago. There are some cool golden weapons, and a neat little training Dojo. It also comes with 2 minifigures, Kai and Nya who are main characters, but not THE main characters.
Overall it's a fun build. A pretty easy set to put together, but there are a few places where you could get messed up, although it's not so complicated the fix is hard. If you watch my YouTube video of this slow build, you can see where I had one thing upside down and had to fix it.
It's a fun set to play with, as you can use the minifigs and have the attack the different training dummies, or punching bag. There is even a little wand where you stand a minifig, and move them around the training arena.
If you want to see when I open the set and build it in real time, follow me on Instagram where I frequently do live feeds and Lego Instagram Stories of new sets.
LEGO 60212 Release Date
This set was released in January of 2019 on the New Year's Day. I bought this set with at my local LEGO store, on the day it came out.