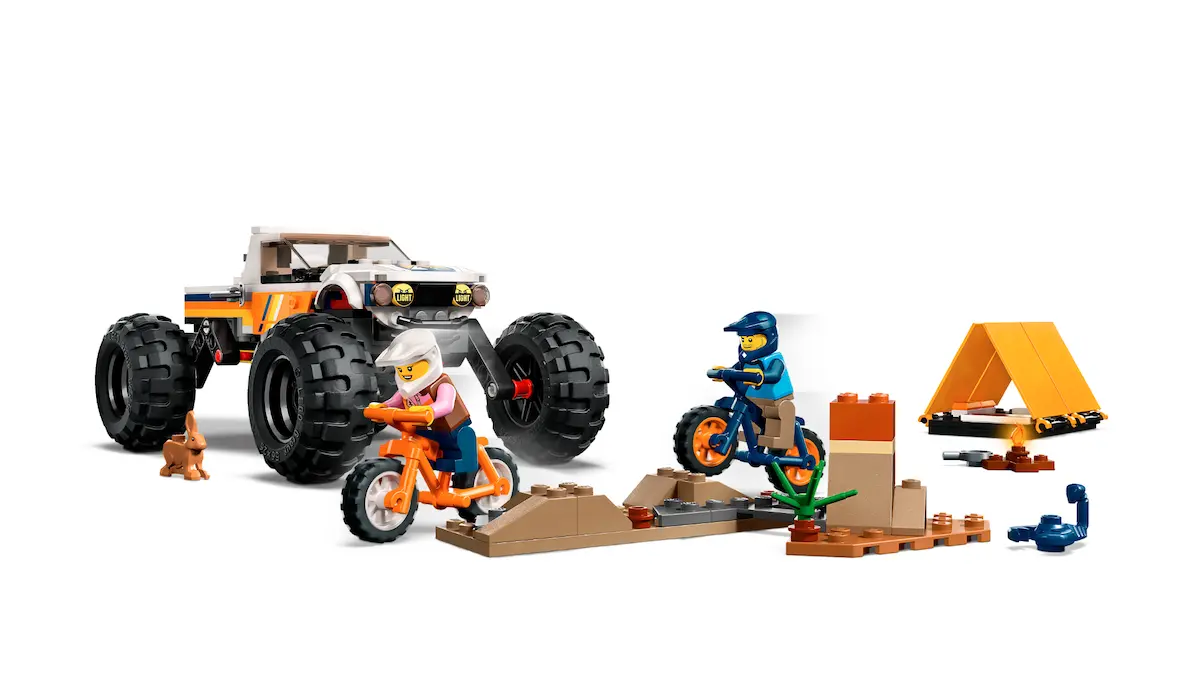 If you are looking for a set with a lot of "playability" this might be the one for you. With 2 outdoorsy minifigures, 2 mountain bikes, an off road 4×4 (with active suspension), some outdoor scenes and even a scorpion, this set packs a big punch for only $30. Great for a birthday present, or just to treat yourself, the LEGO 4×4 Off-Roader Adventures set has a bit of everything for everyone.
Set Details for LEGO 60387 4×4 Off-Roader Adventure Set
Set – 60387
Pieces – 252
Release date – 2023
Age – 6+
Minifigs – 2
Original US Price – $29.99
With this LEGO® City 4×4 Off-Roader Adventures (60387) playset, kids can go camping every day. Huge tires and high suspension give the 4×4 car a cool off-roader appearance. Additionally, you receive a LEGO tent, two toy mountain bikes, and fun extras like a bonfire. The two minifigures and animal figurine are all that are needed to start the adventures.
Interactive instructions make constructing more enjoyable.
The LEGO Builder app, an interactive construction guide with simple zoom and rotate tools that let children see the finished model from all sides as they build, is included with this 6-plus kit in addition to an easy-to-follow pictorial building guide.
Playthings that inspire imagination
The playsets from LEGO City Great Vehicles are feature-rich collections of land, air, and water toys. Children get to experiment with a variety of lifelike tools and vehicles, gaining physical competence and self-assurance as they construct and play.
The 4×4 Off-Roader Adventure Box and Contents
Do you want to know what is inside the LEGO 60387 Off Roader Box? Let me tell you.
Three bags of parts
Instruction books
4-tires, and a chassis piece
This set is designed for ages 6+, but its a fun build for all ages. You won't have any advanced building techniques in this set, but that doesn't mean it isn't fun!
Building the First Bag
As with most LEGO sets, the first thing you build in this set are the minifigures. There is a girl with a purple top with blue pants. She has a white cap or a white helmet (they are interchangeable) and a small black LEGO camera that she can hold in her claw hand. She also has an orange mountain bike that she can sit on and actually rolls.
Next is the 2nd minifig – a little boy. He has brown/grey pants, a blue top, and a red backpack. Unfortunately the backpack is too small to hold anything but it looks cool anyway. He has a blue cap that can be switched to a blue helmet. And a blue bike just like the other.
Next part of the build is a little tent. It uses a black baseplate, and some orange sides that fold up in a clever way. Inside the tent are two "sleeping bags" which are just stickers on a 2×4 tile. A shovel, and fyring pan that fit into the minifigure's hands are included. There is also a small campfire.
You then build a small rock/terrain scene with brown and grey sloped pieces to mimic a trail. The way the instructions say to build it is neat, but I think a there is a more creative way to do it if you want to play around with the bricks.
Finally there is a little brown rabbit, and even a scorpion included in the first bag.
At the end of this first instruction book is a list of all the parts in the set. I find this useful to see if any pieces are missing (which almost never happens).
Building the 2nd Bag
The second bag builds the 4×4. You use the entire contents of the bag, as well as a grey chassis piece that is included in the box.
The truck body is 6-studs wide, however with the "massive" tires and suspension it is much wider. Just a note that 6-wide cars and trucks are the most common Minifigure scale for LEGO cities.
There are 37 steps to use all the parts in the 2nd bag. Each step is clear and easy to understand. But you only finish the bottom half.
Building the 3rd bag
The 3rd bag has the finishing touches for the truck.
You construct the truck bed which holds the mountain bikes, as well as the cab. Another sticker is used on the hood. More stickers decorate the sides too.
Finally 4 technic pieces are used to hold the oversized tires on. A clever use of 2 yellow rubber bands allows for the wheels to move and gives the suspension a little bounce. Its a cool technique.
What I like most about the LEGO 4×4 Off-Roader Adventures Set
Honestly there are 3 really cool parts to this set.
My favorite piece is the scorpion.
I also really like the tent with the fold down sides
Finally the rubber bands for the truck suspension are awesome.
Combine with other LEGO sets
The great thing about LEGO is that you can combine 2 or more sets to make a scene or city. Let's use the Fire Truck Rescue set as an example. You could say that the cat that needs rescuing from the Rescue set belongs to the couple from the Off-Roader Set.
Maybe they left the door to their house open and the cat escaped while they went for a mountain bike ride. A neighbor saw the cat in the tree and called the fire department who dispatched the rescue truck to the scene. After a fun day outdoors the mountain bikers return home to find the cat safe and sound.
This is just one example. Let your imagination soar, and get those creative juices going!
After building the set following the instructions take it apart and use the pieces to make something new. That's the beauty of LEGO!