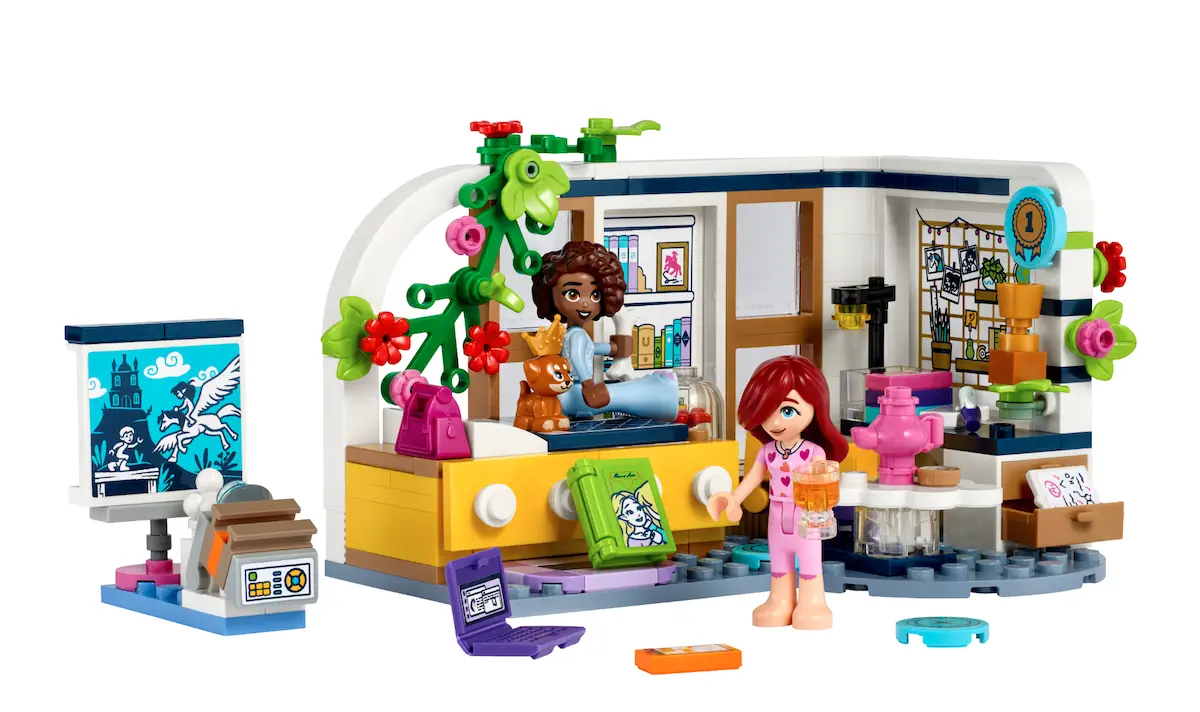 So many story telling options. So many details. so many Accessories! LEGO 41740 Aliyas Room is Packed with so much stuff. This build is deceiving. While not difficult, there are a lot of details packed into this set. I know a lot of LEGO purists don't always like the Friends sets, but for me, they have some amazing colors, and cool details. This set doesn't disappoint!
Each friends character gets their own room this season. Be sure to subscribe to my website to get updates when I review the other 2023 Friends sets.
Set Details for LEGO 41740 Aliya's Room
Set – 41740
Pieces – 209
Release date – 2023
Age – 6+
MiniDolls – 2
Original US Price – $19.99
What comes in the Box for Aliyas Room?
2 bags
grey baseplate
sticker sheet
instructions
The box follows the usual LEGO conventions. On the front is a high resolution photo of the complete set as well as the set number and other details.
For 2023 the boxes proudly show which characters are inside – in this case it are the best friends Aliya and Paisley.More on them below.
The back of thee box shows some details of the set, as well as a few play features.
Building LEGO Set 1740 Aliya's Room
The two bags in the set are both used to build the room. The first bag starts by building the first minidoll, Aliya.
In this set there are new pants piece for her, that are sort of a pajama style with a little flair the bottom. On her top there are Horseshoes on torso pice.
It's the same face & same hair piece. Some have said that the hair come off too easily, but I've never had that issue. Aliya also comes with a little pet dog, whos name is Aira. There is a spot on Aira's head for a crown piece.
Dog is Aira and has a hole on the head for a crown or any other accessory that uses the small pin accessory. As well as a green book with the same 1×2 tile that says "once upon a time" that can be found in the Disney Castle set and the Bookshop Modular.
Also in the instruction book there is a cartoon drawing of Aliya which shows her interests: A checklist (school?), a horse, and a heart with a balloon (friendship?).
Plus there is a cool map of Heartlake city which shows where each character lives. This is a new feature that everyone seems to love.
The build starts with a little movie screen scene. There is a big sticker that shows an image of a unicorn flying near a castle, as well as a small popcorn container, and a digital movie projector. where you can slide in a tile that resembles a cell phone that has some texting on it.
Building the room
The room is based on an 8×18 baseplate. It may seem small but it packs a lot of features on it.
After building some basic shapes to identify the back wall and the bed frame, a purple rug is constructed with some little tiles.
Then some 1×4 slider pieces are used that make up a trundle part of the bed. Thats right the bed is a cool design – it has a slide out trundle bed for sleepovers.
Next to the bed is a window seat. There are lots of tiles with studs (jumper plates) everywhere that allow for more details to be placed in different sections of the build and stay there.
The bag finishes with some Rounded edges to the walls – not as blocky as a usual lego build, and this gives it a more organic feel.
Building the 2nd bag
Paisley is the other character. She kicks off the build from the next bag.
Paisley
Work desk with a cabinet with drawers to hold the graded papers, and a little arts and crafts station, and a 1×2 tile with a sticker that has a to-do list on it. A colorful chair is on a swivel piece. Lots of personal details like a ribon, nd
A cloud tile is used as a tray for a drink and a cookie (biscuit) and a pink teapot
Jumper studs and claw pieces are built in all over the place to hold even more details like hanging plants
Paisley is wearing Pink Pajama bottoms and a pink heart top with a music note pendant.
Her face is a new print, and her hair is made in such a way that it covers one of her eyes in a trendy style.
Her three icons are a music keyboard, a dog, and a cloud with a teardrop.
Because LEGO wants these sets and characters to be more realistic. To that end Aliya is hiding a paper with an F – but there is a science paper with an A. It looks like she has a hard time with creative writing, but excels with chemistry.
LEGO also uses a door frame with a printed sticker to make a tidy bookshelf. Stickers are used heavily in friends sets. It keeps the cost down, but maintains a lot of detail in the LEGO 41740 Aliya's Room set.
Who are the new Friends Minidolls?
Keen eyed builders will notice two things about the LEGO Friends Minifigures.
First of all, they aren't minifigures. They are minidolls. Yes they have a separate head, torso and legs, however they are taller than a usual (4.5 bricks vs 4.0 bricks for a minifig). The legs move, but not independently like a traditional minifigure. They have the same style claw hands, but the arms are more slender. Also the heads are not interchangeable with minifigs. The stud that minidolls have for a neck is smaller.
Second, for 2022 there are 8 new LEGO Friends characters.
2023 new lego friends characters
A new cast of LEGO friends is introduced:
Aliya
Autumn
Leo
Zac
Liann
Olly
Paisley
Nova
This new group was introduced so more kids would feel included. The LEGO Group did a press release on the new Friends, explaining "This next generation is designed to celebrate diverse friendships in the modern world".
Some of the new minidolls have physical or neurological differences. This is readily apparent with this set where Aliya hides a failing paper in the bottom of one of her drawers. She isnt perfect by any means, and this realistic feature is something that can be found in the real world. I know I hid bad papers from my parents when I was a kid. Its a great learning and teaching opportunity for the parents!
Just to refresh your memory, the old Friends cast is: Andrea, Emma, Mia, Olivia and Stephanie, Ethan, Jacob, Daniel, Martin, Matthew.
Not only are they in the new 2023 Friends sets, they will be featured in the new season of the LEGO friends cartoon (which can be found on Netflix).
Final Thoughts
If you haven't bought a LEGO friends set recently, now is a good time to get started. As a new cast of characters is being released, you can still get in early and collect them all.
Remember, when LEGO retires a set the cost usually goes up on the secondary market, and this is also true for Friend's LEGO sets.
Will you be getting this set? Who is your new favorite character in LEGO 41740 Aliya's Room?