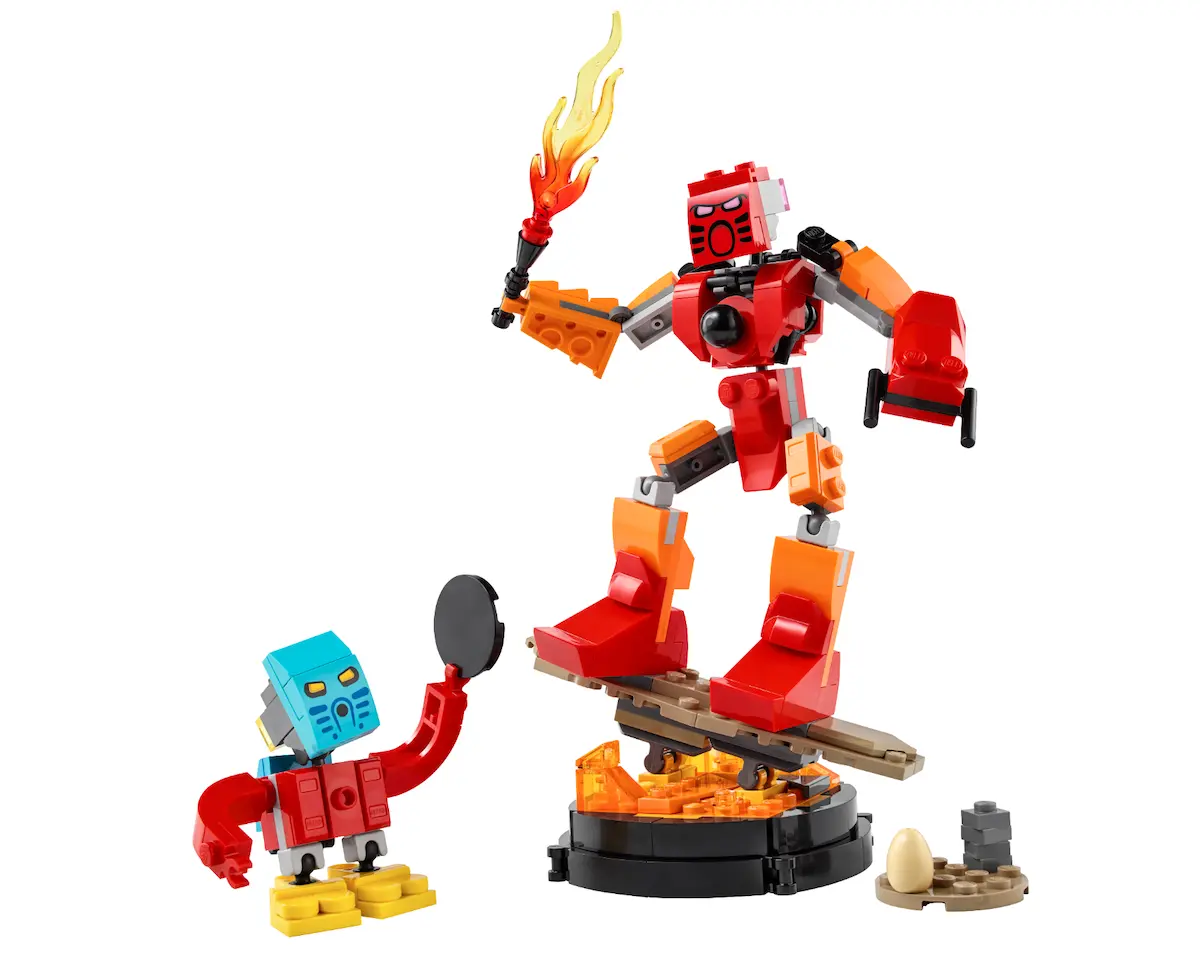 One of the all time cult of LEGO favorite series was Bionicle. Sadly it was only available from 2001-2016 with some years having lots of sets and others not so much. Since then, everyone has been wondering: Is LEGO Bringing Bionicle Back? The answer may be YES!
If you aren't active in the LEGO community on Instagram, you should be. Especially if you want the absolute latest information on sets. In my opinion there are better pics, a better community, and is just more active.
For instance, if you were following @BrickClicker, you would see that they predicted a new Biocicle set way back in October 2022. They were even close on the set number. Predicted was 40580 and the actual Bionicle GWP set is 40581. He called it the Buildable TAHU promo set, and honestly that is 100% correct.
Set Details for LEGO 40581 BIONICLE® Tahu and Takua
Set – 40581
Pieces – 219
Release date – 2023
Age – 18+
Minifigures – 0
Original US Price – Gift with Purchase (valued at $16.99)
This set will only be available from Jan 27 to Feb 9. You have been warned!
What is LEGO Bionicle?
One of the biggest hits the LEGO group ever had was the Bionicle series. LEGO fans were mixed on the sets however. They used LEGO elements, but not the traditional "bricks", but more on that below.
There were 2 waves to the Bionicle sets – The first ran from 2009-2011. Then in 2012 a new story line was introduced and this series ran until 2016.
Bionicle was actually started as an alternative to Star Wars. The LEGO group wanted their own space themed story line. Imagine a Technics theme but instead of cars or machines it was people and robots. At least that's how LEGO desinger Christian Faber describes it.
These humanoid creatures had ball and socket joints that allowed for humanoid poses. Since "normal" LEGO bricks don't lend themselves to organic shapes, new pieces were developed and used. Many of them still are being produced today, but in different colors and uses.
LEGO is offering a Bioncle set as a Gift with Purchase
Starting on Jan 27, 2023 LEGO is giving away a free Bionicle set when you spend $100 either at a LEGO store, or on LEGO.com.
But not just any purchase will qualify.
It needs to be one of these 7 themes:
Looking at this list, I notice that the LEGO group might be trying to get rid of some excess inventory. For instance, we all know that the DOTS theme is being discontinued. Plus in 2023 there are a lot of new sets in several of these themes. Also all these theme are LEGO created – not licensed themes like Star Wars, Marvel, or Disney.
Details of the BIONICLE Tahu & Takua GWP
There are some key differences between this new Bionicle set and the older ones. Traditional Bionicle sets would use technic pieces to articulate the moveable joints. Instead more common hinge brick elements are incorporated into this build.
There is the expected mask – which can be removed to show the face. But they are simply flat printed masks, not the molded ones we have seen with sets in the past.
Finally there is a great little stand for the main Tahu model to stand on.
Final Thoughts
There are quite a few different sets from the themes listed above that I am interested in. If you are like me, you can easily find 3 or 4 that will add up to $100 or more to qualify.
Will you open this set and build it? Or will you save it on the shelf. I'd love to hear your thoughts in the comments.