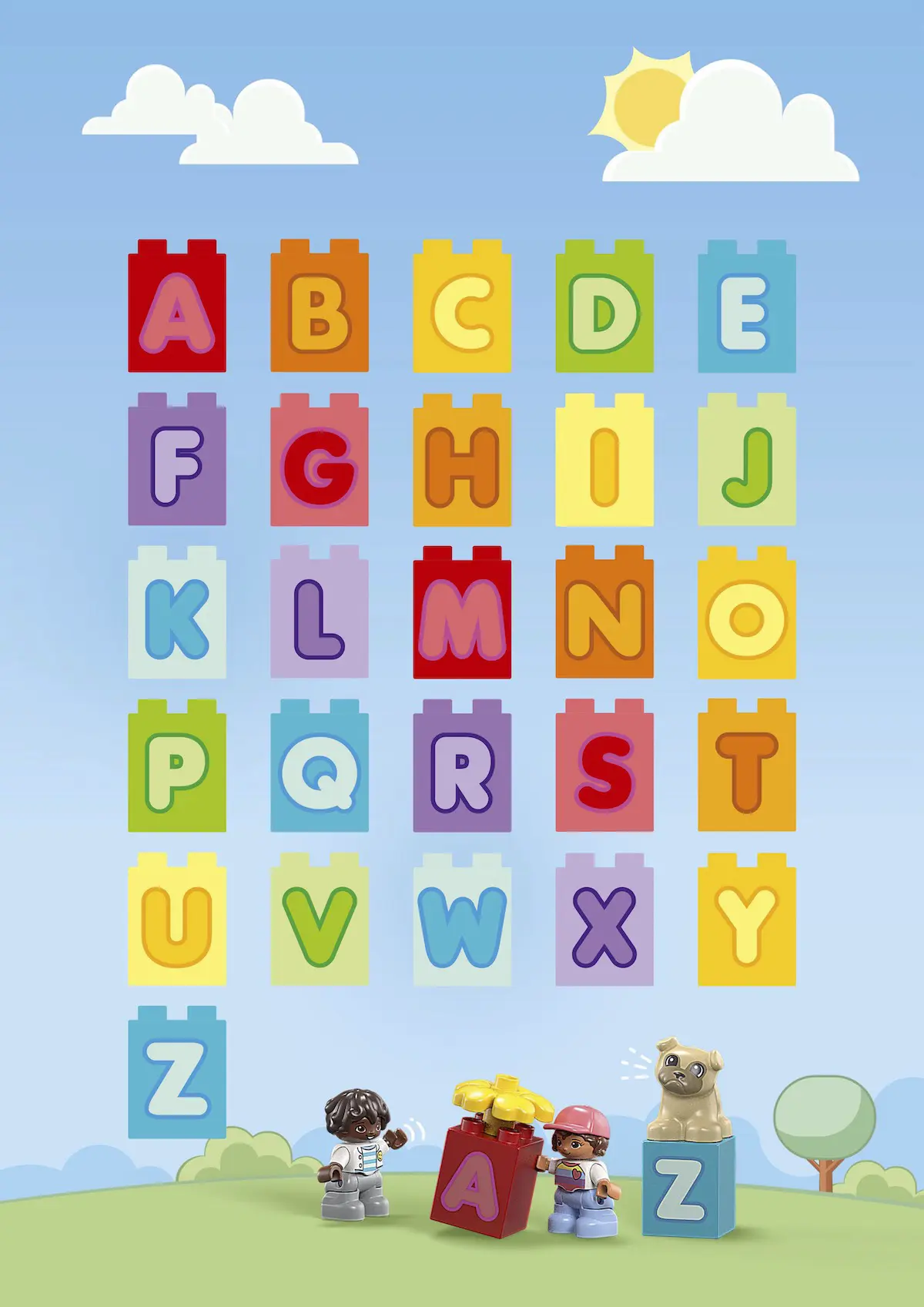 Are you looking for a great LEGO set for your baby/toddler? The LEGO alphabet town is the perfect starter set for kids age 1 1/2 and over. The brightly colored bricks are large and don't have any sharp edges which are a perfect manipulative for growth!
These make for a great birthday present for a 1 or 2 -year old and make for fun filled creative play.
It's more than an educational toddlers toy. In addition to helping preschoolers build self expression, this is a gateway set to a lifelong relationship with the number 1 kids toy of all time.
Set Details for LEGO 10935 Alphabet Town
Set – 10935
Pieces – 87
Release date – 2023
Age – 1.5 +
Duplo Figures – 2
Original US Price – $49.95
LEGO Alphabet Town
Are you trying to find the greatest toy to teach young children their letters? For hours of imaginative play, the LEGO® DUPLO® Classic Alphabet Town (10935) learning toy includes all the letters of the alphabet, a driveable car, girl, boy, and pug figurines. With this excellent starter LEGO kit, young children may construct and recreate an endless number of vibrant, enjoyable structures.
Make school fun.
There are countless opportunities for learning. Toddlers will be able to explore new and exciting shapes in addition to learning the alphabet and colors. With so many bricks available, they will enjoy building the tallest skyscraper they can, which they will then enjoy demolishing before rebuilding.
Duplo Classic Alphabet Town
While there are instructions demonstrating all the different steps to make the models shown on the box, there is so much more to this set. It inspires creative play while teaching the ABCs.
In addition to the standard duplo bricks, plates and windows, there are Bright letter bricks that can be stacked with any other Duplo, and even regular LEGO bricks.
There are also flower pieces, arches and even 2 duplo figs.
The building instructions are a little bit different than the usual LEGO instructions. Instead of showing how pieces are added step-by-step, these are more of a general guideline.
There are more than 15 different easy to build models showcased. From Cars to Houses, Bridges, Trees, and More!
One creative idea I suggest is to build things that use a single starting letter. For instance for the letter "A" try to build an Apple tree, or an Animal, or even an Angel. After that is built, take it apart and move on to the letter "B". This is a great way to play with your toddler and teach at the same time!
LEGO Duplo Classic Alphabet
There are 26 color duplo blocks each with a different printed letter on them.
A – Bright Red
B – Bright Orange
C – Bright Yellow
D – Bright Yellowish Green
E – Medium Azure
F – Medium Lavender
G – Vibrant Coral
H – Flame Yellow Orange
I – Cool Yellow
J – Spring Yellowish Green
K – Aqua
L – Lavender
M- Bright Red
N – Bright Orange
O – Bright Yellow
P – Bright Yellowish Green
Q – Medium Azure
R – Medium Lavender
S – Vibrant Coral
T – Flame Yellow Orange
U – Bright Yellowish Green
V – Spring Yellowish Green
W – Aqua
X – Lavender
Y – Bright Yellow
Z – Medium Azure
LEGO Duplo Toy Playsets
What makes Duplo so awesome? Not only is Duplo the introduction to the LEGO world of imagination, but it exposes younger kids to new and interesting shapes. It lets toddlers explore shapes and learn how things fit together.
The brightly colored brick sare more that educational toddlers toys. This educational toy lets kids learn letters and the beginning steps of the Alphabet.
The Duplo Alphabet town lets toddlers create new and interesting shapes, and provides for unlimited fun.
After playing with the Duplo classic alphabet town, I wouldn't be surprised if toddlers recognize their letters, colorful buildings, and more!
Final Thoughts
The Duplo classic alphabet town 10935 set allows your toddler to recreate unlimited fun. It's more than a building toy. Although the easy to handle bricks are fun to build with, this set also has all the letters, and makes for an amazing learning toy! Your little ones will be able to explor their own creativity while having limitless fun with the LEGO Duplo classic alphabet.