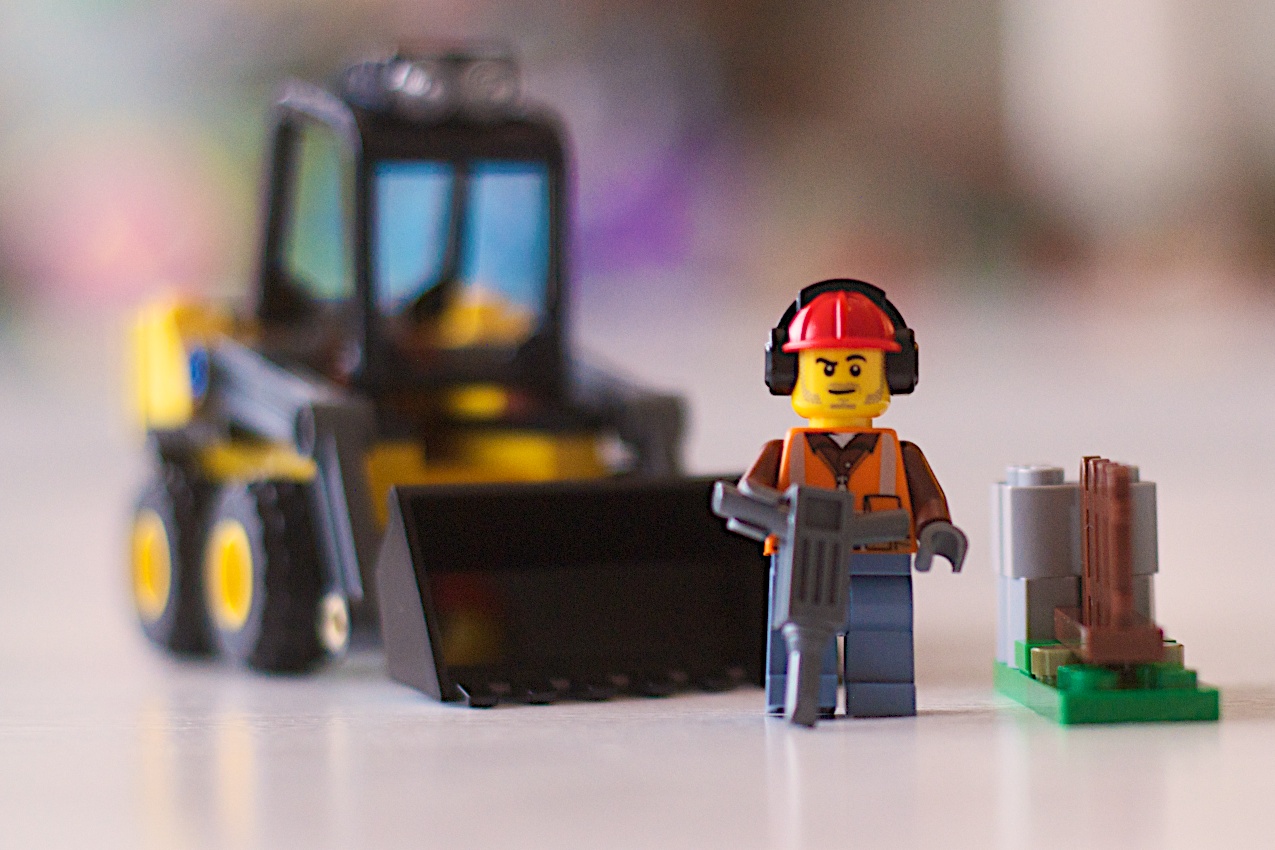 I don't know about you, but when I only have ten dollars to spend on LEGO, I usually reach for a construction set. The 2019 LEGO City Construction Loader has all the things needed to keep me (or a kid) entertained for hours.

Lego 60219 Construction Loader is a new 2019 set that was released in January of 2019. It has 88 pieces and is labeled for ages 5 and up.
LEGO 60219 Pieces & Minifigure
There are 88 pieces in this set, including 1 minifigure, a front end loader, and a small construction scene. There is also a little LEGO jackhammer the minifig can hold.
There are 2 bags in this set, plus an instruction manual that when dumped out and put together make the front end loader, the Minifigure, and the little scene.
LEGO 60219 Review
This year, LEGO has quite a few affordable little sets in the City theme, and this Construction loader is my favorite. Mostly because I prefer construction and building sets to Police, or fire, or boat or airplane themes.

As with most sets, the first thing that gets built is the Minifigure. Complee with Blue pants, a safety orange vest over a brown work shirt and a helmet with molded ear protection. There is a grey LEGO jack-hammer that fits perfectly in the claw hands.
Next you build the Digger. It's a fun build that goes together easily and simply, and has a few techinc pieces that make the bucket in the front go up and down.
Finally, you put together the little fence scene with 4 grey 1×2 bricks that resemble concrete blocks. Stack them together, let the worker break them apart and then scoop them up and start all over again.
All in all these are great little sets. They are affordable at under $10, and very collectible. Even though you don't get a lot of minifigures for the price, you do get a little set that is very play-able

If you want to see when I open the set and build it in real time, follow me on Instagram where I frequently do live feeds and Lego Instagram Stories of new sets.
LEGO 60219 Release Date
This set was released  in January of 2019 on the New Year's Day. I bought this set with my own money at my local Target store, the week after it came out.
One of my other favorite minifigures by the way is from CMF -21 the Airplane Girl.