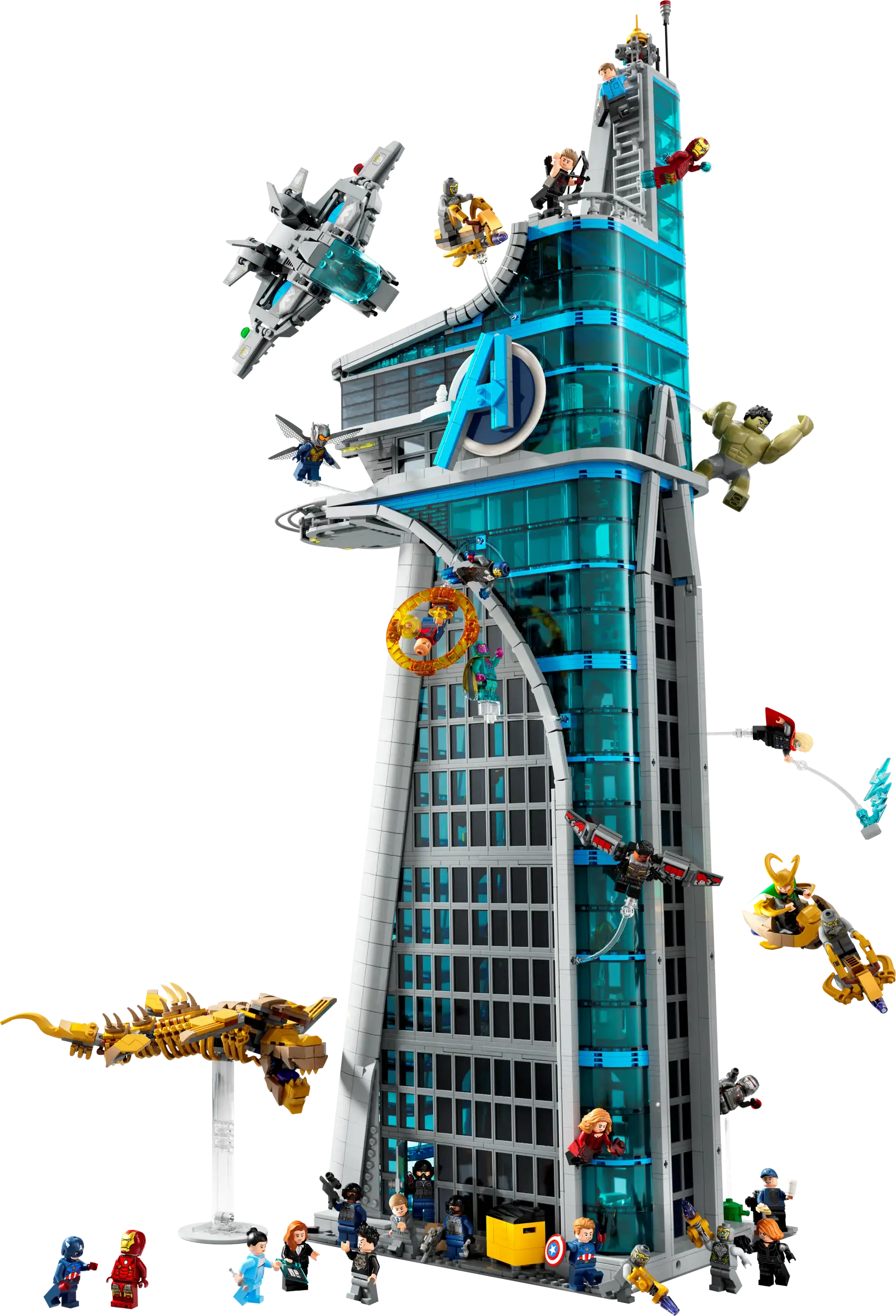 Today LEGO announced the largest ever Marvel Set, and it has over 5200 pieces and more minifigures than any other set, EVER (31)! Introducing the 2023 Avengers Tower, a Modular that has all the features from the MCU you would expect. If you want all the details, I've got them, including videos from the two creators.
Although this isn't an official modular, Be sure to check out the complete list of all the LEGO Modular Buildings – which ones are you missing?
When is the LEGO Avengers Tower Released
Right now as I write this, the set has just been announced. The official release date for the largest marvel set ever made is November 24, 2023.
This is quite a set, with several significant ones coming out that I'm interested in, including the Natural History Museum modular, Ninjago City Markets, and a ton of other smaller ones to add to my collection. But this is one I will pick up probably around the first of the year. I might miss out on the initial GWP (gift with purchase), but more on that below.
After November, you will be able to get this set on LEGO.com, at LEGO stores, and perhaps even some select stores like Target or Barnes & Noble.
How many pieces are in the LEGO 2023 Avengers Tower Museum?
This is the largest Marvel set ever with Five Thousand two hundred and one pieces (5201).
It's tall, too. Really tall. Coming in at 90 cm – that's 36 inches – 3-FEET tall, it is not as tall as the Eiffel Tower (5 feet) but still 3 inches taller than the Daily Bugle.
Going up from the bottom each floor has its own purpose, and then, near the top there is a landing pad for a QuinJet, and even a few more levels above that.
How big is the 2023 LEGO Avengers Tower
As for the physical size of the LEGO Avengers Tower set it's dimensions are:
H: 36″ (90cm)
W: 14″ (34cm)
D: 10″ (25cm)
What does the Box for the New Avengers Tower Look Like?
Here are the box images:
The box for the AVengers Tower looks big. It's in the ICONs style that LEGO has been using for the past few years. Mostly black with a colorful image of the set on the front, but doesn't have any Icons markeings on it – just the LEGO and Marvel Logos.
There is a bottom white band with the set details including piece count, and age range etc.
On one side of the box is a list of all the minifigures. It is quite impressive.
Minifigures in the LEGO Avengers Tower 2023
There are a whopping total of 31 minifigures in this set. That's the most to date.
The complete list of Minifigures in the new 2023 Avengers Tower are:
Tony Stark
Iron Man MK7
Iron Man MK6 (damaged)
Captain America
Captain Americas Ass
Thor
Black Widow
Ant-Man (a nanofigure)
Hawkeye
Wanda Maximoff
Falcon
Vision
War Machine
Pepper Potts
Wong
Nick Fury
Dr. Cho
Hulk (a big fig)
Dum-E
Erik Selvig
Tony Stark SHIELD Agent
SHIELD Agent 1
SHIELD Agent 2
Alexander Pierce
Chitauri 1
Chitauri 2
Chitauri 3
Chitauri 4
Loki
Ultron
Kevin Feige
My favorite is that there is a Kevin Feige Minifigure – he's there, both on the box, and 2nd from the right in the photo below. Funny, I didn't see him in the movies (unlike Stan Lee who doesn't even have his own minifig).
Now, I do have one complaint about the minifigures – ther's one that is buick built – #19 is Dum-E. Does taht really make it a minifugre? Let me know your thoughts int he comments ok?
Is the NEW LEGO Avengers Tower a Modular?
At the beginning of this blog post I mentioned the word modular and this marvel set in the same sentence. Although this isn't a true modular set, it has many features that make it feel and resemble a modular. Much like the Sanctum Sanctorum set
There are technic pieces that accept the black technic pins, in the same locations that the LEGO modulars have. This would allow the set to fit into a LEGO city or other such design.
It also has removable panels to allow access to the interior portions (see below). This. is like the way the different floors or levels lift off LEGO modulars.
While it is large, it does not come on a 32×32 baseplate like the other LEGO Modular Sets.
What are the different levels to the 2023 Avengers Tower?
Going from the bottom to the top:
Ground floor – this is the reception level with some tables and chairs. There's also a desk and what looks like. abrick built vending machine. There. isa 1×1 trans blue brick that. is supposed to be the Tesseract from the Endgame movie scene.
2nd Floor – Captain America 1 looking at Captain America's Ass Scene
3rd Floor – Vision vs Ultron Scene in Dr. Chos lab
4th Floor – Iron man Mark 6 damaged suit with Dum-E working on it. Apparently there are a few Easter Eggs at the back of this level.
5th Floor – has the Jail cell on it. the designers said that the inspiration came from the Helicarrier's Jail, but why not add it to the tower as well.
6th Floor – The landing pad for the QuinJet is on this level, and in side in the back is the lounge where the Avengers hang out and party in. This ma be my favorite level as you can clearly see Mjölnir sitting on the table – (are you worthy?)
7th floor – Has one of. my favorite scenes re-created – This is where the Hulk grabbed Loki by the ankle and smashed him side to side exclaiming "Puny God" when he was done. The floor is a tile that has a sticker print with a minifigure indentation (mimicking the hole Loki left in the floor when he was smashed).
8th Floor – is another lab with the septer in in.
I cant think of any other LEGO buildings with 8 floors can you?
What else comes in this set?
There are a few additional things in this set (like it needs anythin else.
There is a microfighter scale QuinJet that can land othe 7th floor plus the golden color Leviathan from. the Chiturri. I also see a flying chariot that is included in this set.
There is also a new piece that Im super excited about. We all know about the Bar 12L with 1 x 2 Plate End Solid Studs and 1 x 1 Round Plate End, that is so often used for posing minifigures, but my understanding is that there is a curved version coming in this set.
Videos about the 2023 Avengers Tower
Here are some videos from the designers about the new Avenger Tower
Final Thoughts on the 2023 Avengers Tower
This set is massive and what I really love about it is that you can re-create so many diffferent scenes from the MCY (Marvel Cinematic Universe). Some of my favorite scenes are the Hulk smashing Loki, and the ability to re0create the lifting of Thor's hammer scene where the ultimate Marvel spoiler happens.
The tower won't fit in well with most LEGO cities. It's just too big. Plus the average theme with LEOG modulars and cities is more of an old world theme. This modern tower with it's angles and blue glass. But that won't stop most AFOLs. I' know of at least one LEGO YouTuber who has made space for this tower in his city already!
My only other issue is that I would have loved a nod to Mr Stan Lee. He has made. a cameo in every Movie, even many posthumously and while it is cool to get a Kevin Feige mnifig, I would have loved the honor to also go to Stan Lee.