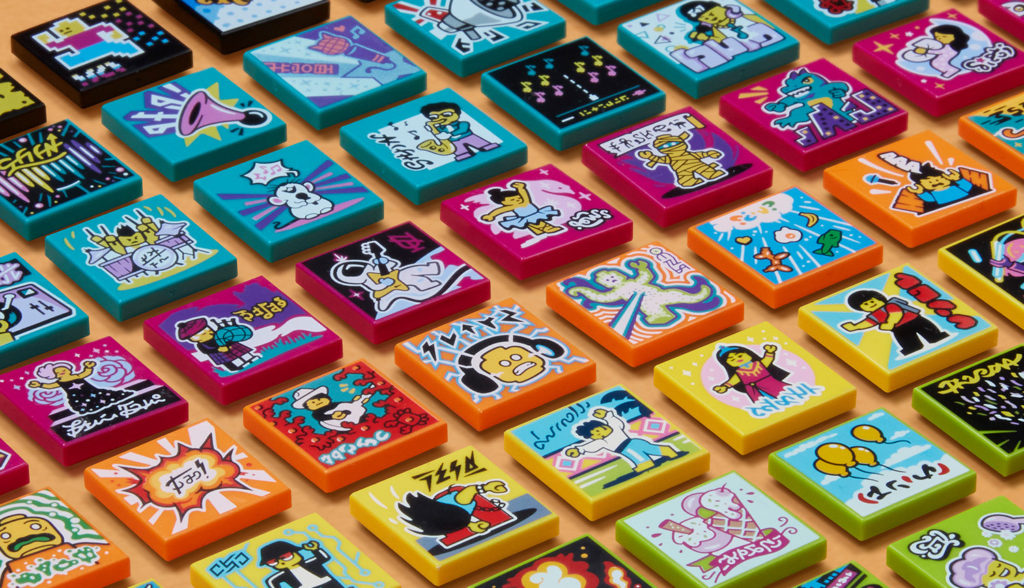 I've been collecting LEGO for some time now, and I'm in love with the new BeatBits that come in the LEGO VIDIYO sets. These little 2×2 printed tiles come in the different Beat Boxes & Bandmates sets, and are colorful, collectable, and have a special feature.
LEGO BeatBits
Buy BeatBit Tiles HERE  - Complete your Collection!
In the first series of the VIDIYO system released on March 1 2021, there are a total of 104 Different Beat Bits. I have a complete list below of the name of each one, what group they are in, their color, and what they do in the VIDIYO app.
Overall there are 6 different categories of Beat Bits –
Dance
Music
Funny
Scene
Video
Each of the different categories causes a different action or effect in the LEGO Video App. Of course you can collect and display the tiles, but they really come to life when you download the app on your phone or tablet and scan them in.
How to use Beat Bits
While it is fun to open the packages and see what you get inside, these little 2×2 printed tiles really come to life when you scan and upload them into the VIDIYO app. Each set comes with one standard beat bit, and depending on if you get the Beat Boxes or Bandmates you will get 3 total or 16 with the larger bandmates sets.
The only way I have found to scan in the tiles so far is to use the little stands that come in the sets. for the beat boxes it is 3 across (with a minifigure on top), and for the bandmates it is all 16 (8 on either side of the Minifig.
Once you scan them in, they will appear in your inventory in the app, an you can use them when you create your videos to do different things to the characters, music, background, or effects. Then you upload and share!
Complete list of Beat Bits
| Beat Bit Category | Color | Beat Bit Name | Beat Bit Description |
| --- | --- | --- | --- |
| Dress Up | Pink | Chicken Suit | Dress your Bandmates up as chickens and make them cluck the words of the song |
| Dress Up | Pink | Diver Suit | Dress your Bandmates up with deep sea diver suits and have them blowing bubbles as if performing on the sea floor |
| Dress Up | Pink | Ballerina | Dress your Bandmates as ballet dancers with ballet shoes and tutu skirts |
| Dress Up | Pink | Space Suit | Turn your Bandmates into astronauts with full space suits and walky-talky sound effects |
| Dress Up | Pink | Pajama Party | Dress your Bandmates in their pajamas ready for bed and have their teddies bounce around the stage to the beat |
| Dress Up | Pink | Lizard Suit | Turn your Bandmate into a giant lizard, stomping and roaring on stage |
| Dress Up | Pink | Mummy | Turn your bandmates into scary mummies, risen from their tombs to dance the night away |
| Dress Up | Pink | Pandamonium | Dress your bandmates like Giant Pandas and have a ton of toy pandas thrown all over the stage |
| Dress Up | Pink | Bagpiper | Dress your bandmates in a traditional outfit form the Scottish Highlands and give them some bagpipes to play |
| Dress Up | Pink | Glam Dress | Have your Bandmate perform while wearing a glamorous ball gown |
| Dance | Yellow | Trendy Dance | Have your Bandmates perform the most popular dance move of the decade |
| Dance | Yellow | Breakdance | Switch up the music with an electro beat and get your Bandmates Breakdancing |
| Dance | Yellow | Rhythm Dance | Make your Bandmates run on the spot along to the beat of the song |
| Dance | Yellow | Robot Dance | Make your Bandmates perform some classic robot dance moves |
| Dance | Yellow | Martial Arts | Have your Bandmates show off their best karate moves, Hiyah! |
| Dance | Yellow | Charleston Dance | Have your Bandmates perform some Charleston dance moves that were popular in the 1920s |
| Dance | Yellow | Latin Dance | Have your Bandmates perform some sizzling hot Latin dance moves. Viva la Vidoyo. |
| Dance | Yellow | Rock Poses | Have your Bandmates pose like rock Superstars |
| Dance | Yellow | Party Poppers | Get the party started with some disco moves straight out of the wild west. |
| Dance | Yellow | Groovy Dance | Get your Bandmates in the groove and dancing some classic moves from the swinging 60s |
| Dance | Yellow | Rock Out | Make your Bandmates headband like they are listening to heavy metal music |
| Dance | Yellow | Vogue Dance | Have your Bandmates move like they are dancing down a fashion show catwalk. |
| Dance | Yellow | Ballet Dance | Have your Bandmates perform a lovely ballet dance routine |
| Dance | Yellow | Glow Stick Dance | Give your Bandmates some cool glow sticks that leave traits as they dance. Party on! |
| Dance | Yellow | Glam Poses | Make your Bandmates pose like glamorous superstars. |
| Dance | Yellow | Bollywood Dance | Have your Bandmates perform some dance move made famous by the Bollywood movies of India. |
| Dance | Yellow | Capoeira Dance | Get your Bandmates pulling some cool Brazilian capoeira moves. |
| Dance | Yellow | Street Dance | Get your Bandmates performing some cool street dance steps. |
| Dance | Yellow | Cheerleader Dance | Give your Bandmates some pom-poms and have them pump up the crowd with a fun cheerleading routine. |
| Music | Teal | Rock Guitar Solo | Play an epic rock guitar solo over the music of the song |
| Music | Teal | Police Siren | Add the sound of loud sirens along with flashing red and blue lights |
| Music | Teal | Retro Game Style | Make your video game sound like an old video game |
| Music | Teal | Kazoo | Switch out the words of the song with the sound of a kazoo. |
| Music | Teal | Acapella Solo | Shine a spotlight on your Bandmate as the sing along with the music. |
| Music | Teal | Rock Style | Change the music to sound like it is being played by a heavy rock band |
| Music | Teal | Future Style | Change the music to sound like an urban futuristic style. |
| Music | Teal | Gong | Hit a huge gong and make the whole stage shake |
| Music | Teal | Touch Synth | Create a ball of light that you can move with your finger and play it like a cool musical instrument over the song |
| Music | Teal | Touch Filter | Create a ball of light that you can move with your finger to change how the music sounds when it plays |
| Music | Teal | Touch Harmony | Create a ball of light that you can move with your finger to create cool new harmonies with the song vocals |
| Music | Teal | Pirate Voice | Make your Bandmate suddenly shout like a pirate |
| Music | Teal | Samba Style | Give your Bandmates some maracas and switch up the music style to sound like a samba played at a tropical carnival |
| Music | Teal | Sax Solo | Make the song your own by playing an epic saxophone solo over it. |
| Music | Teal | Theater Style | Change the music to sound like it is part of a fun musical theater show |
| Music | Teal | Horn Blast | Sound a loud blast from an airhorn to shake things up |
| Music | Teal | Mouse Voice | Sing the words of the song in a super high-pitched mouse voice |
| Music | Teal | Synth Pop Style | Add a special effect to make the song sound super cute |
| Music | Teal | Scratch Solo | Perform an amazing record-scratching solo over the music like a superstar DJ |
| Music | Teal | Drum Solo | Add your own rhythm to the music by piecing to gather an epic drum solo |
| Music | Teal | Steel Drums Style | Transform the song into a tropical tune with the sound of steel drums |
| Music | Teal | Beatboxer | Turn your Bandmate into a world-class beatboxer and transforms he beat of the song |
| Music | Teal | Keytar | Add another dimension to any song by playing a little bit of keytar here and there |
| Funny | Orange | Custard Pie | Splatter your bandmates wit some well aimed custard pies. |
| Funny | Orange | ZZZZap | Make your Bandmate jump with a funny electric shock and see their skeleton lights up |
| Funny | Orange | Trap Door | Make your Bandmate drop through a trap door that suddenly appears on the stage under their feet. |
| Funny | Orange | Tomatoes | Throw Tomatoes at your band and see them split all over the place. Yuk! |
| Funny | Orange | Seagull Poo | Make Seagulls appear and swoop over your Bandmates, driving dollops of poo all over the stage. Splat! |
| Funny | Orange | Portal | See your Bandmate get sucked into, thrown between and spat out of portals from another dimension. |
| Funny | Orange | Bucking Bull | Make your Bandmate ride a bucking rodeo bull. Yeehaw! |
| Funny | Orange | Random Rain | Make a bunch of random objects rain down from the sky and onto the stage around your bandmates. |
| Funny | Orange | Super Cats | Make cats appear and fly across the stage, leaving magical glitter rainbow trails behind them |
| Funny | Orange | Crab Attack | Make a bunch of crabs appear and latch on to your Bandmate with their claws. Oouch! |
| Funny | Orange | Mutate Ray | Zap your Bandmate and see them butte into something truly alien… just for a while. |
| Funny | Orange | Buuurp | Make your bandmate burp along to the song |
| Funny | Orange | Kaboom | Set off a Hughe explosion on stage while your Bandmates carry on as if everything is totally normal. |
| Scene | Green | Fire Burst | Trigger huge bursts of flames that shoot out form special points in the stage |
| Scene | Green | Baloons | Make colorful balloons appear and fall down around your bandmates before going POP! |
| Scene | Green | Windy Day | Cause a strong wind to blow a variety of funny things across the stage and nearly knocking your bandmates off their feet. |
| Scene | Green | Flower Shower | Shower the stage with colorful flower petals. |
| Scene | Green | Confetti Cannon | Shoot fireworks at the stage and see them explode with a shower of colorful confetti |
| Scene | Green | Rainy Day | Make it suddenly start raining on the stage, soaking your Bandmates as they perform. |
| Scene | Green | Blooming Flowers | Make bunches of flowers spring up all over the stage to look like a wild meadow. |
| Scene | Green | Popcorn | Make popcorn suddenly erupt from the stage, popping to the beat of the song. |
| Scene | Green | Bouncy Balls | Make giant colorful beach balls appear and bounce around the stage |
| Scene | Green | Snow | Make a flurry of fluffy snowflakes float down over the stage and make your Bandmates shiver |
| Scene | Green | Cupcake Snow | Make sweet cupcakes float down from the sky to the stage. |
| Scene | Green | Rainbow World | Change the stage into a magical scene full of rainbows and castles floating on clouds. |
| Scene | Green | Electricity | Make some electricity towers appear and spark with electricity in time with the music |
| Scene | Green | Neon City | Give your stage a futuristic city feel with big neon sign shat flicker and glow |
| Scene | Green | Tropical Plants | Fill your stage with colorful plants to make it look like a tropical rainforest |
| Scene | Green | Ice Cream World | Cover the stage with enormous dollops of ice cream and other sweet treats. Yummy! |
| Scene | Green | Rainbows Galore | Make lots of colorful rainbows appear on stage foray super happy scene! |
| Scene | Green | Butterflies | Release a flurry of colorful butterflies on stage and watch them flutter around your performing bandmates. |
| Scene | Green | Exploding Hearts | Make heart-shaped clouds appear, floating and growing until they finally go POP! |
| Scene | Green | Rainbow Stripes | Set off huge columns of sparkling rainbow trails shooting hight into the air. |
| Scene | Green | Spark Shower | Make bright sparks rain down all over the stage around your bandmates |
| Scene | Green | Weightless | Turn off gravity to make your bandmates slowly float up into the air. Then watch them come crashing down when gravity comes back. |
| Video | Black | Glitch Filter | Make your video glitch as if your camera is broken – giving it a fantastic look. |
| Video | Black | Bling Filter | Turn your video background black and white but your bandmates a shiny and sparkling gold. |
| Video | Black | Vintage Filter | Make your video look and sound like a really old movie |
| Video | Black | Slow Down | Make everything go in slow motion for a short time |
| Video | Black | Gothic Filter | Add a lady black border to your video and turn your bandmates black and white |
| Video | Black | Grunge Filter | Give your video a dirty and scratched look to seem extra punk! |
| Video | Black | Whiteout | Fade your video to a bright white light and back again. Great for covering up a change of location. |
| Video | Black | Color Filter | Add a tint of color to your video that change all the time |
| Video | Black | Pixel Filter | Make your video look like an old video game |
| Video | Black | Retro Future Filter | Give your video the look of a 1980s vision of the far future |
| Video | Black | X-Ray Filter | Make your video look like your camera has x-ray vision. |
| Video | Black | Sunny Day Filter | Turn up the brightness and feel the hear on stage with a sunny color filter |
| Video | Black | Spooky Filter | Make your video look like a CCTV camera capturing ghosts appearing on stage with your bandmates |
| Video | Black | Light Speed | Change the background of your video to look like you band are flying through space faster than the speed of light. |
| Video | Black | Mirror Filter | Use your camera to add a crazy kaleidoscope effect as your video background. |
| Video | Black | Crazy Commercial | Make your video super quirky by quickly switching your background for something crazy! |
| Video | Black | Sparkle Filter | Make your video twinkle like a diamond with sparkles everywhere. |
| | | | |