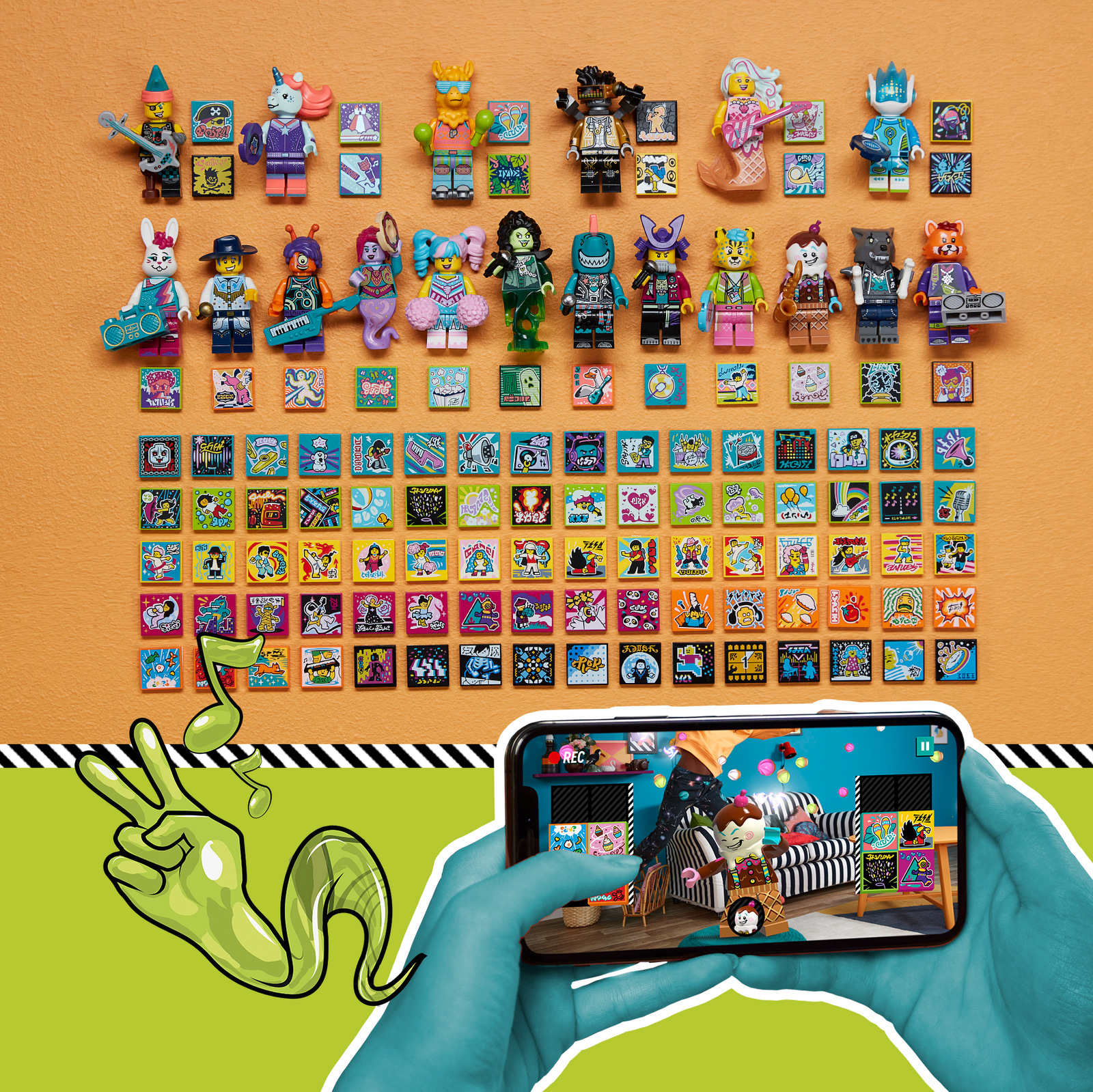 Lately LEGO has been trying to combine technology and bricks. The first attempts were with the LEGO Dimensions, the Hidden Side Series, and more recently with the Super Mario sets. Now they are trying again, with the VIDIYO line. Each time, I think they are getting closer and closer to a hit, and I'm really hoping that these VIDIYO sets will do the trick. They have a lot of cool things going for them.
LEGO VIDIYO Release Date
The LEGO VIDIYO series has 3 components, mini figures, tiles, and the app. These will come as 2 different styles of sets (Beat Boxes & Bandmates), plus the app which is a free download. And within each set are new cool mini figures, and special 2×2 printed tiles called beat bits. They are on the LEGO site as of this morning, and the first series wasreleased on March 1 2021.
We all know that mini figures are extremely fun to collect and play with, but I have a strong feeling that the Beat Block Tiles (brat bits) will be the real collectables in this series.
LEGO VIDIYO Minifigures
All in all there are 18 different minifigures in the initial release of the Video series. They come in two different styles of sets – the Bandmates, and the Beat Boxes. With the Bandmates you know what you are getting, but with the Beat Boxes they are sealed, and you don't know which one you will be getting.
There are 6 different mini figures that come 1 each to the Bandmates. They are:
43102 'Candy Pop' in the Candy Mermaid BeatBox (Pop)
43103 'Pirate Punk' in the Punk Pirate Beatbox (Punk)
43104 'Alien DJ' in the Extra Terrestrial Dance Music BeatBox (ETDM)
43105 'Party Llama' in the Party Llama BeatBox (Tropicon)
43106 'Unicorn DJ' in the Unicorn DJ BeatBox (K-pawp)
43107 'Robot Break-dancer' in the HipHop Robot BeatBox (HipHop)
EachBandmate set is priced at 19.95, which at first seems high, but it comes with LEGO bricks of course, a cool carrying case (similar to the Ninjago Arcade Capsules or Friends Boxes) PLUS 16 of the very collectable Beat Bits tiles
There is also a separate Bandmates series (43101) of blind boxes which has another 12 different mini figures. These are very similar to the CMF series that comes in blind bags, except these are in more eco-friendly boxes. I prefer the recyclable boxes to the bags, but it will make "feeling" for specific mini figures impossible. But that's why I do what I do – and sell minifigures individually.
These come with 3 beat bits – one specific to the minifigure and 2 random 2×2 tiles.
The 12 different LEGO Bandmates minifigures are
The Bandmates blind boxes will retail for 4.99 which is the same price as the new CMF series, but these also come with 3 of the BeatBits tiles. PLUS each of the minifies has an accessory (like a microphone or instrument) to hold in their claw hand.
LEGO VIDOYO Beat Blocks / BeatBits
Right now there are 104 different BeatBits. I have a strong feeling these will be the most collectable parts of the new series.
Each tile allows the minifigure to come to life in the App – allowing them to do different dance moves, or other cool features in the VR world.
I can see people collecting these and then using them as decorative features in MOCS. Personally, I'll be displaying them on a plate on my minifigure wall. As I collect them, I'll also be cataloging each one and showing what they do on my instagram account.
LEGO VIDIYO App
The app is the component that brings all these bits of plastic to life. It connects to a new social media platform designed to be kid safe (not just friendly). In collaboration with Universal Music Group, we will be able to pick out cool songs from great artists like Katy Parry, scan and bring the minifigs to life using the tiles, in a VR world right in our own homes.
Right now I can only download the app, but because I don't have any of the sets, I'm limitied in what I can do. Of course I'll write more as I get the sets.
Overall the way the app works is you
Pick your Beat – find hits from popular artists
Scan LEGO Beatbits & customize your videos
Style Minifigures – with cool outfits and accessories
Socialize & Share in a kid fafe feed
Create a Band & design fun performances
Fun Challenges – unlock outfits & more
Discover Videos –be inspired to perform