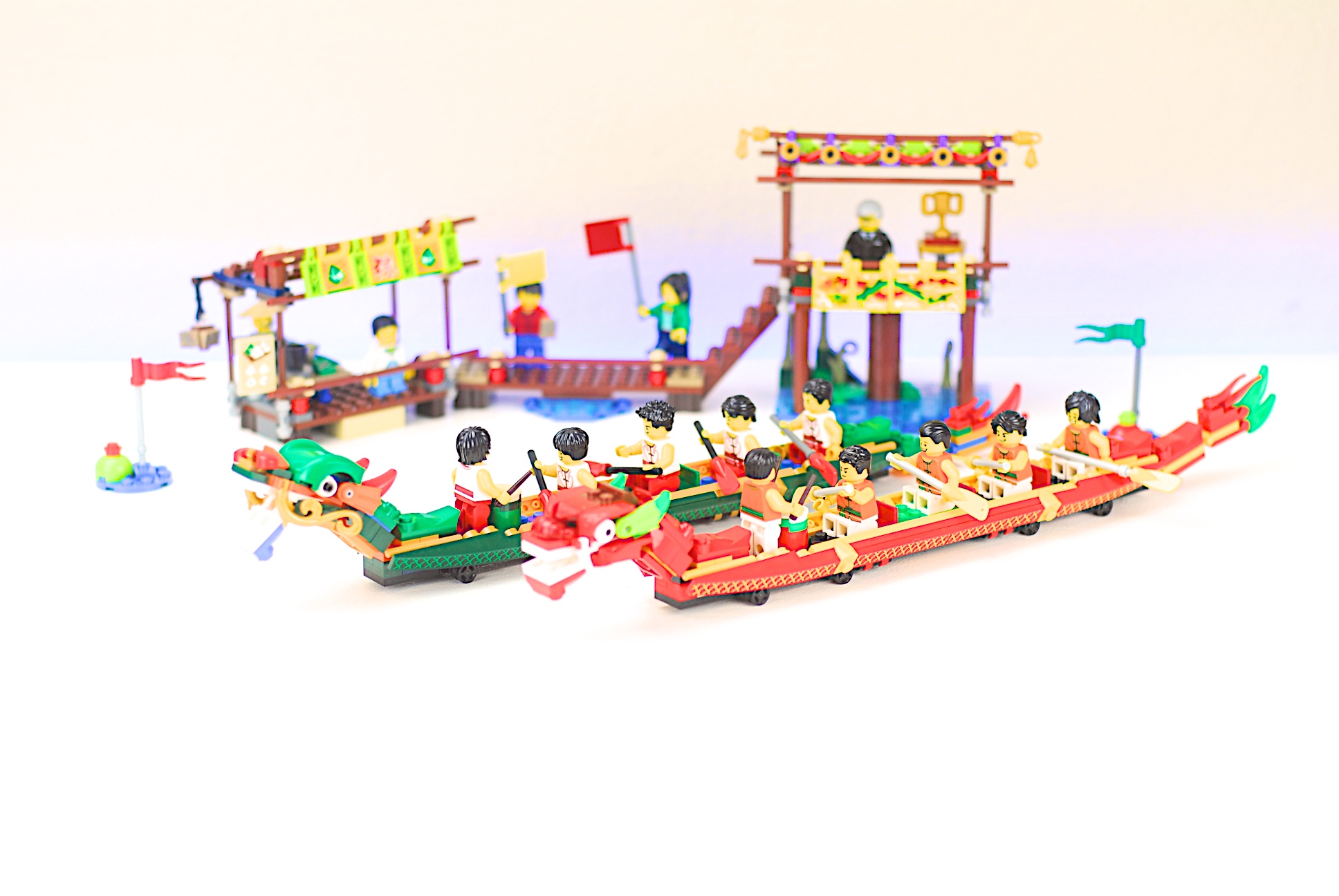 When I heard that LEGO was releasing 2 Chinese themed sets I was so EXCITED! Then I learned that they would only be available in Asia, and I was Sad. But when LEGO announced that the Dragon Boat Race would be released at LEGO stores in the USA – Rejoice! This set, with it's 15 minifigures, 2 dragon boats, and docks with Sushi stand is one of my must have sets for 2019. Originally priced at $79, this set has so many minifigs!
LEGO 80103 Chinese Dragon Boat Race Release Date
As I mentioned in my introduction to this set, the LEGO Dragon Boat was first released in Asia. It came out on May 1 2020 and there was a lot of commotion here in the states because it was not immediately available to purchase, unless you wanted to pay for an overpriced set on Ebay, or had a friend who could buy it and then ship it to you.
Thankfully LEGO group reconsidered the approach, and realized they were upsetting their fan base in the Americas and Europe and decided to release it worldwide after 3 to 6 months. I don't recall the exact date, but I did pick up my copy of the set about 6 months later in my Local LEGO store. Minifigures
These sets always have a lot of minifigures, which as you know I absolutely love. This particular one has some of the most released in a set this year – there are a total of 15 minifigs! 5 guys on the red boat team, 5 guys on the green boat, and 5 additional characters on the docks
Some of the minifigures have dual faces, and many are quite expressive.
Each member of the team has the same uniform, which means the torso and pants are the same, but the heads and the hair pieces are quite different. As for the regular characters, there is a Sushi Chef Minifigure, a Race Director, a Mom, Dad, and a kid.
LEGO 80103 Chinese Dragon Boat Race piece count
Priced at $79.00 (originally) this set comes with 643 pieces. There are some neat elements like the gold tassel pieces, or the printed sushi 1×1 cheese wedges, but there are also a lot of stickers. Overall, I get a set like this because of the minifigures.
LEGO 80103 Chinese Dragon Boat Race Review
This set has 3 major builds – the Red Dragon Boat, the Green Dragon Boat, and the docks – which has 3 sections as well. There are also 2 buoy type builds.
Both of the dragon boats are built the same way, only using different colored pieces. The dragon heads are slightly different, but still easily identifiable as dragons. Obviousy the boats don't float, but the do have wheels on the bottom so the roll very easily over a smooth surface like a table. At the front is a dragon head with a mouth that opens, eyes, and lots of decorative elements. It is on an articulating neck that allows for some minor adjustment. Then there is the drummer with a tom tom drum made out of 2×2 round bricks and tiles. The boat seats 4 rowers each who has an oar. The guy at the back has a bigger paddle, and then the tail of the boat has more decoration.
As for the docks, the have 3 sections – a sushi stand, an walking deck, and an observation area with a gold trophy.
The sushi stand has lots of tiles with stickers. I don't think they are in Chinese, but I could be wrong. If you read this, and can read the stickers, please let me know what they say in the comments below. It appears the stand is made out of bamboo, or some other light weight wood, as the brown elements that hold it up seem to be flimsy, but does a good job keeping everything together.
A small walkway has room for several minifigs, and then has steps leading up to the judges area.
Overall it took just a couple of hours one evening for me to put this set together. The first boat took the longest, and the second went together much quicker because it is pretty much the same. The docks also didn't take too long. I had the most fun looking at all the minifigs of course.
Be sure to follow me on Instagram and Pinterest and if you want to be updated when I review this set subscribe to my site.