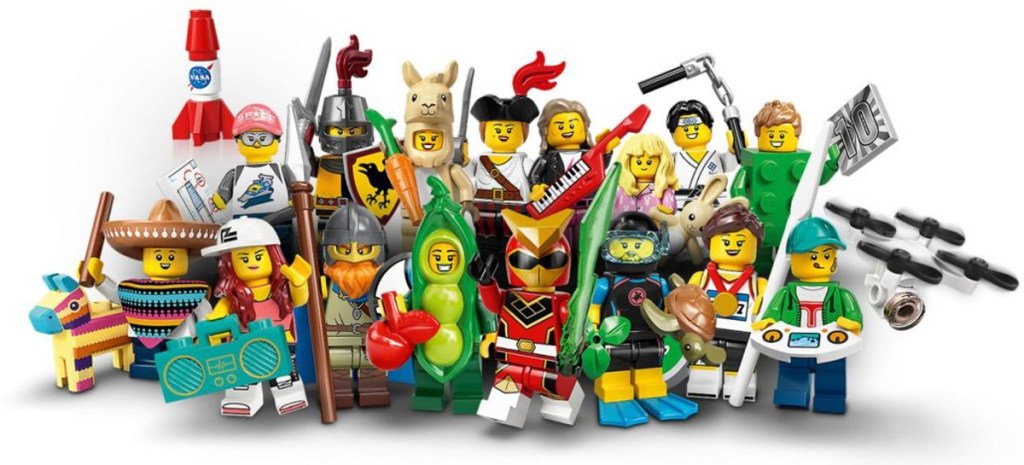 Are you looking for one of the new LEGO CMF Series 20 MInifigures? Lego just announced CMF series 20 at the New York Toy Fair and said they will be released world wide on April 19th, 2020. Like other releases, this will have 16 different characters, each with their own accessories in a sealed blind bag. This is sure to be a special series because it is 10th year since the first series came out.
Pre-Order yours TODAY!
As always you can pre-order each one or all of them, and I will be sending them out to you on the release day. Order yours today and be sure to get the one you want or collect the the entire series.
These are authentic LEGO Verified 100% original LEGO, and available for pre-order now! We will sell these at cost $4.95 US, however the priced DO go up once the series is released and we learn which minifigures are rare, or popular.
This set follows the extremely popular LEGO DC Minifigures 71026 There were some people that subscribed to the site to be notified when the series was released and they were able to get their minifigures a few days before release by pre-ordering.
Order the LEGO 71027 Series 20 Minifigures
Once the series has dropped, we will ship them to you immediately. These blind bags will be opened to verify contents, but you will receive the minifigure you request, as well as any accessories, inserts, or extra pieces. Ordering early locks in the lowest price, and guarantees delivery of the exact minifigure you want without having to search, feel, and guess the contents of each bag.
List of all the LEGO 71027 Series 20 Minifigures
LEGO 71027 Series 20 Minifigures Leaks
Which one(s) are your favorite? I really like how it seems there is almost an equal mix of men and WOMEN minifigures. It's about time the fairer sex was better represented. Please let us know your thoughts in the comments below!