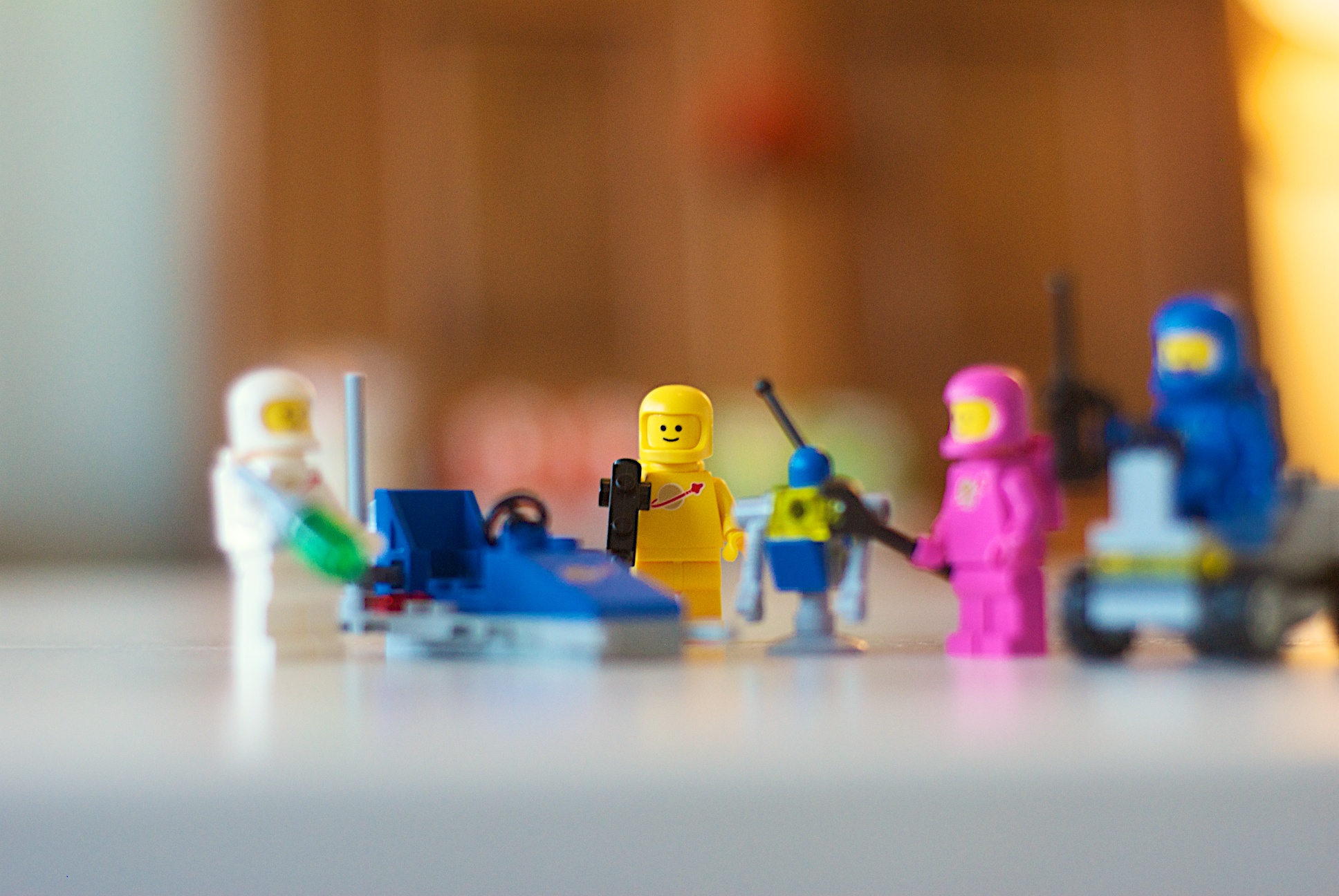 Four space minifigs for ten bucks?  Yes Please!  Especially when one is Benny from the LEGO Movie 2.  You know the one, the over-enthusiastic spaceman who just wants to build a Spaceship!  But in this set you get him, and 3 of his friends in alternatively colored suits.  Plus a little bit more in this Lego 70841 Benny's Space Squad.
Lego 70841 Benny's Space Squad is a new 2019 set that was released in December of 2018. It has 68 pieces and is labeled for ages 5 and up.
LEGO 70824 Pieces & Minifigures
There are 68 pieces in this set, including 4 minifigures. Not only do you get the Blue space Man Benny, but also the Yellow Space Man Kenny, the Pink Spaceman Lenny, and the White spaceman (woman) Jenny. Plus there are enough other pieces to make a little robot, a car, and a SPACESHIP!
By the way have you seen the the LEGO Brown Astronaut and Spacebaby Minifigure, as part of the CMF 23 series. Have you tried collecting all the different space minifigure colors?
In this set there are 2 numbered bags, and one instruction book
LEGO 70824 Review
I'd definitely categorize this as an Easy build. There are only 2 small bags and no complicated pieces or connections. What is so awesome is that you get 4 LEGO minifigures. That's a lot. Normally you get 1 or 2 in a set this price, and never anyone as popular as Benny. It would be like getting a Ninjago Set with Cole, Lloyd, Zane and Kai or a Friends Set with Stephanie, Mia, Andrea, Emma or Olivia.
Additionally, each Minifig comes with a handheld accessory – a scanner, laser gun, walkie-talkie or wrench. Plus there is a little brick built robot, a car and a mini spaceship with a printed tile!
The Robot is less than 10 pieces, and uses some pretty tiny elements. It's not the most sturdy build but sometimes you sacrifice stability for play-ability.
The car, is based in the classic space theme. It uses the grey bricks, has little off-road tires, and has a couple of clips in the back to hold the tools. There is room for 1 minifigure as the driver. If I were to improve on the build of this car, I would have incorporated a little box in the back that opens up.
The spaceship is also based on the classic space theme with blue and grey elements. There's room for 1 minifigure to fly it. What I like best is the printed slope tile with the classic LEGO space logo on it.
If you want to see when I open the set and build it in real time, follow me on Instagram where I frequently do live feeds and Lego Instagram Stories of new sets: https://www.instagram.com/thebrickland/
LEGO 70824 Release Date
This set was released on new Year's day 2019. Initially I went to my local LEGO store to buy it, but by mid morning it had sold out. My Target stores didn't have any on the shelves either. So I looked at Amazon, and they too were sold out! I decided to order it from Target with my RED card so I'd get the 5% discount. I got the sets on Jan 6th.