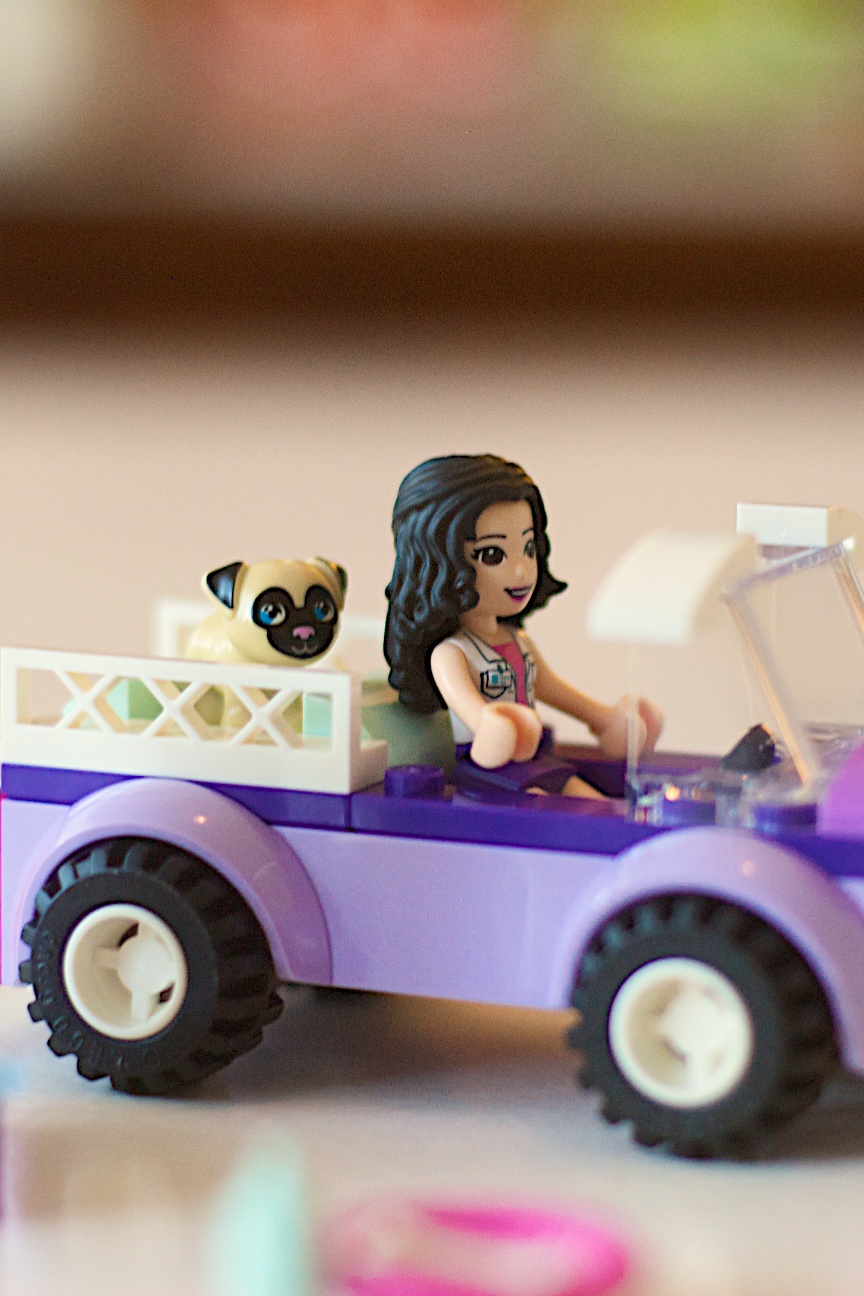 What a wonderful starter Friends LEGO set! Emma is one of the LEGO Friends characters and she loves pets! In this set, she takes care of a little LEGO dog, using her mobile Vet Clinic. The car is super easy to build as the base is pre-molded and designed for first time and younger builders.
Lego 41360 Friends Emma's Mobile Veterinary Clinic is a new 2019 set that was released in January of 2019. It has 50 pieces and is labeled for ages 4 and up.
LEGO 41360 Pieces & Minidoll
LEGO Friends Emma
There are 50 pieces in this set, including 1 minidoll (Emma from the LEGO Friends Series), and a little LEGO dog that looks like a PUG. What is amazing about the sets in this series is they usually come with a lot of accessories, and this set is no different. You get a brush, syringe, dog bone, plate and a feeding bottle, all of which can fit in the hand of the minidoll minifigure.
In this set there are 2 numbered bags, one car chassis and one instruction book. There are no stickers, and a printed x-ray piece (which I love).
LEGO 41360 Review
This is a great starter set. Designed for ages 4+ it is an easy build and a great way to introduce kids to the LEGO world.
First you assemble the Emma minidoll together, which snaps together quite easily. Then you start to build the car which also is quite easy to build as it is built on a purple chasis. What is cool about this build is that the car has a place for the Minidoll to sit, as well as for the LEGO PUG dog, and the front of the car actually looks like a dog.
The last part of the build is the little clinic which is only a few pieces. One of which is a printed tile that has an x-ray of the dog. It's a pretty cool little set-up.
If you want to see when I open the set and build it in real time, follow me on Instagram where I frequently do live feeds and Lego Instagram Stories of new sets.
LEGO 41360 Release Date
This set was released in January of 2019 on the New Year's Day. I bought this set with at my local LEGO store, on the day it came out.