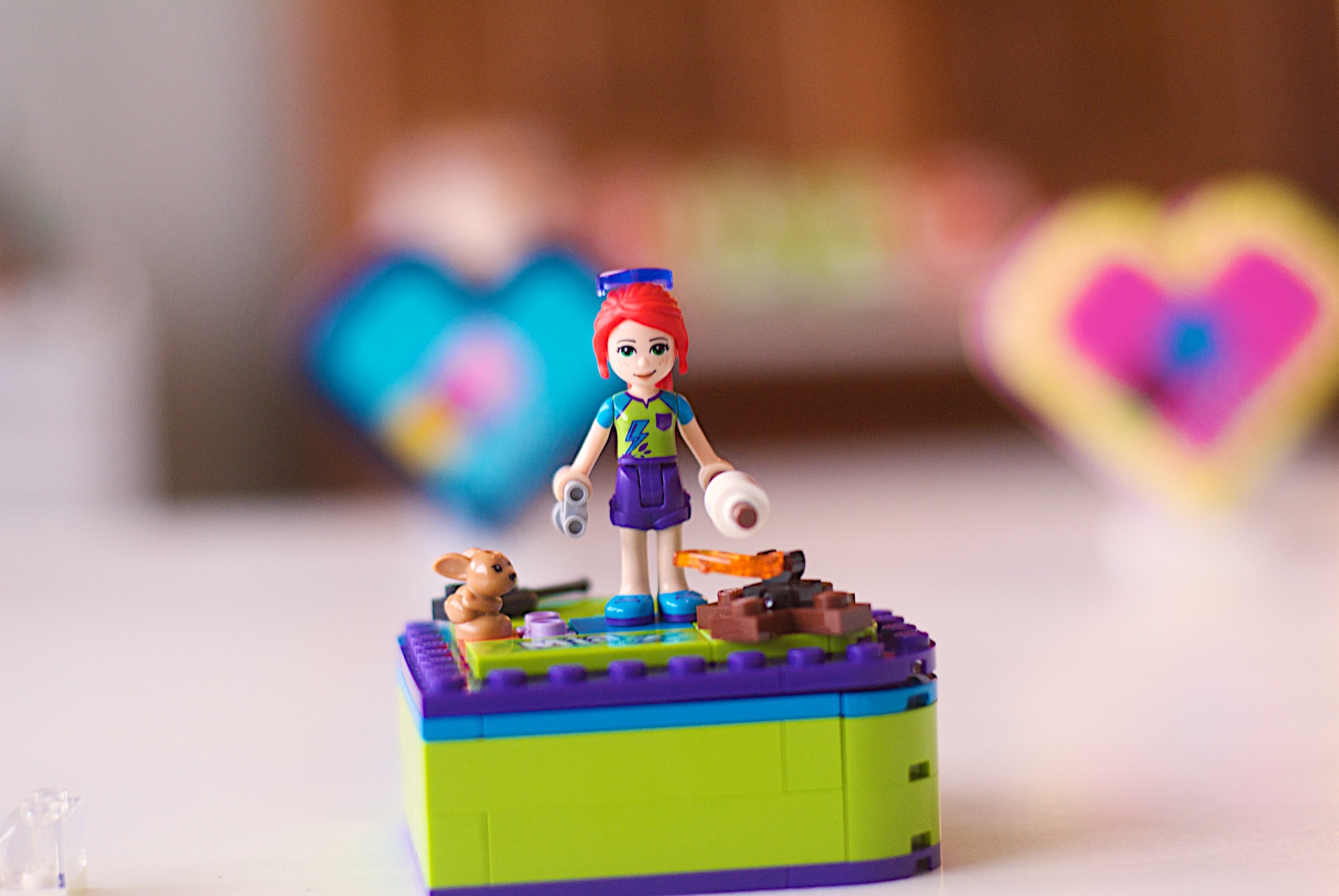 Each of the 5 girls in the LEGO friends series has a unique personality. Mia, the one with the red hair loves animals. She also loves helping people and the outdoors. All of these traits are featured in this new 2019 LEGO set, Mia's Heart Box.

Lego 41358 Mia's Heart Box is a new 2019 set that was released in January of 2019. It has 83 pieces and is labeled for ages 6 and up.

LEGO 41358 Pieces & Minidoll
There are 83 pieces in this set, including 1 minidoll, the Mia friends Minidoll. She is part of a series of 5 similar Heart boxes, one for each character in the Friends Lego series: Mia, Stephanie, Emma, Andrea, and of course Olivia.

This set also comes with a heart shaped box that is made out of bricks in Mia's colors – blue and green. There is a little brown rabbit LEGO Animal, a brick built campfire, and marshmallow on a stick for roasting, a pair of grey binoculars, and a walkie talkie. Plus there is a 2×4 printed tile with the name Olivia on it.

LEGO 41358 Review
This is one in a series of 5. Each LEGO friends character Mia, Stephanie, Emma, Andrea, and of course Olivia comes with their own little brick built box. The box has a removable lid that can be a sage or a platform for her to stand on, plus more. Including some little flowers and a 2×4 LEGO tile with the name Mia printed on it.

The lid fits perfectly on the box, and each box for each character is stackable, making you want to collect them all.

Inside the box, is Mia, a brown LEGO rabbit animal, a pair of binoculars, a LEGO walkike-talkie, and a brick built campfire with a marshmallow on a stick
All in all these are great little sets. They are affordable at under $10, and very collectable. Even though you don't get a lot of minifigures or minidolls for the price, you do get a lot of accessories that are related to the series.
Putting together a minidoll is very easy – it's just like a minifigure. Connect the body part to the legs part. Put on the head. Add hair. The minidolls don't have 2 faces as their heads are shaped differently, and are not compatable with regular minifigures. In fact, no part of a minidoll can connect to a minifig. They are completely different. But for me, they work quite nicely in my LEGO city, as they do resemble Disney Princesses. They are like minifigs in costume if you ask me.

If you want to see when I open the set and build it in real time, follow me on Instagram where I frequently do live feeds and Lego Instagram Stories of new sets.
LEGO 41358 Release Date
This set was released in January of 2019 on the New Year's Day. I bought this set with my own money at my local Target store, the week after it came out.