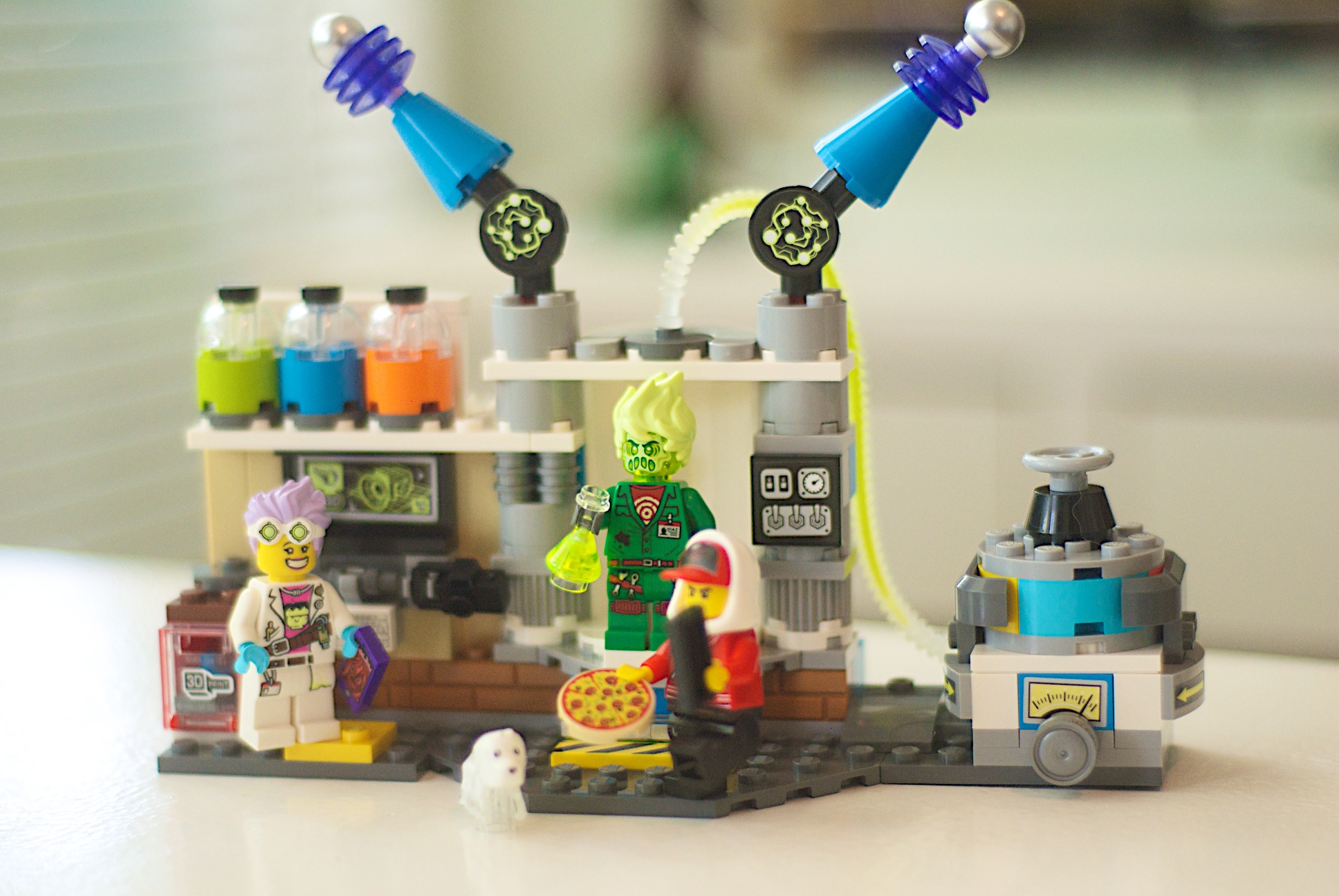 As a former scientist, I always love it when LEGO releases a laboratory set. This set, 70418 Hidden Side J.B.'s Ghost Lab LEGO 70418 from the new Hidden Side Series, takes the standard lab, and shakes it up into something different, but very cool!
Although there are some standard things in this set that make it look like a normal lab, things like Erlenmeyer flasks, there are also other things like a 3D printer, a large electrical apparatus resembling something from Dr. Frankenstein, and a few other control panels for unidentifiable, but very cool equipment.
LEGO 70418 Hidden Side J.B.'s Ghost Lab release date.
The Hidden Side Graveyard Mystery LEGO set is scheduled to be released on August 1, 2019. This is not a VIP only release. I expect this series of sets to be available at both the official LEGO store, as well as 3rd party retailers like Amazon, Target, and Walmart.
I generally only buy my LEGO sets at the LEGO store (so I can get the VIP points), at Amazon, using affiliate links to support fellow bloggers, or at Target with my RED card so I can get a 5% discount.
LEGO 70418 Pieces & Minifigures
There are 174 pieces in this set, including 3 minifigures: Jack Davids, J.B. and Douglas Elton, plus Davids's ghost dog, Spencer.
The size of the assembled Graveyard Mystery set is over 5" (13cm) high, 7" (18cm) wide and 3" (9cm) deep.
All of he Hidden Side sets are focused around the town of Newberry, where strange things happen. You can't see them without the use of an iPhone, or iPad app, however. From the LEGO website:
Using the LEGO® Hidden Side™ app is like looking through a window to a cool and spooky Hidden Side filled with challenging mysteries to solve, ghosts to defeat and unique ghost bosses, like Mamali, to overcome in each set.
LEGO 70418 Hidden Side J.B.'s Ghost Lab Price
This set is priced at $29.99 US and will be on sale starting August 1, 2019.
LEGO Hidden Side Information
From the LEGO website:
Solve the mysteries haunting the town of Newbury before it's too late. Forget what you know – you've never experienced LEGO® play like this before. Your phone opens the door to a virtual hidden world where your LEGO sets come alive in an unfolding ghostly adventure.
It seems these LEGO sets will use your phone to do some kind of Augmented Reality. LEGO tried this before with the Dimensions sets (which were sort of a flop, and now only collected by hard core fans). This seems different though. Not only do you get a set where you can build something and play with it , but when you point your phone at it it comes alive or something and you get an additional experience.
If you want to see when I open the set and build it in real time, follow me on Instagram where I frequently do live feeds and Lego Instagram Stories of new sets.