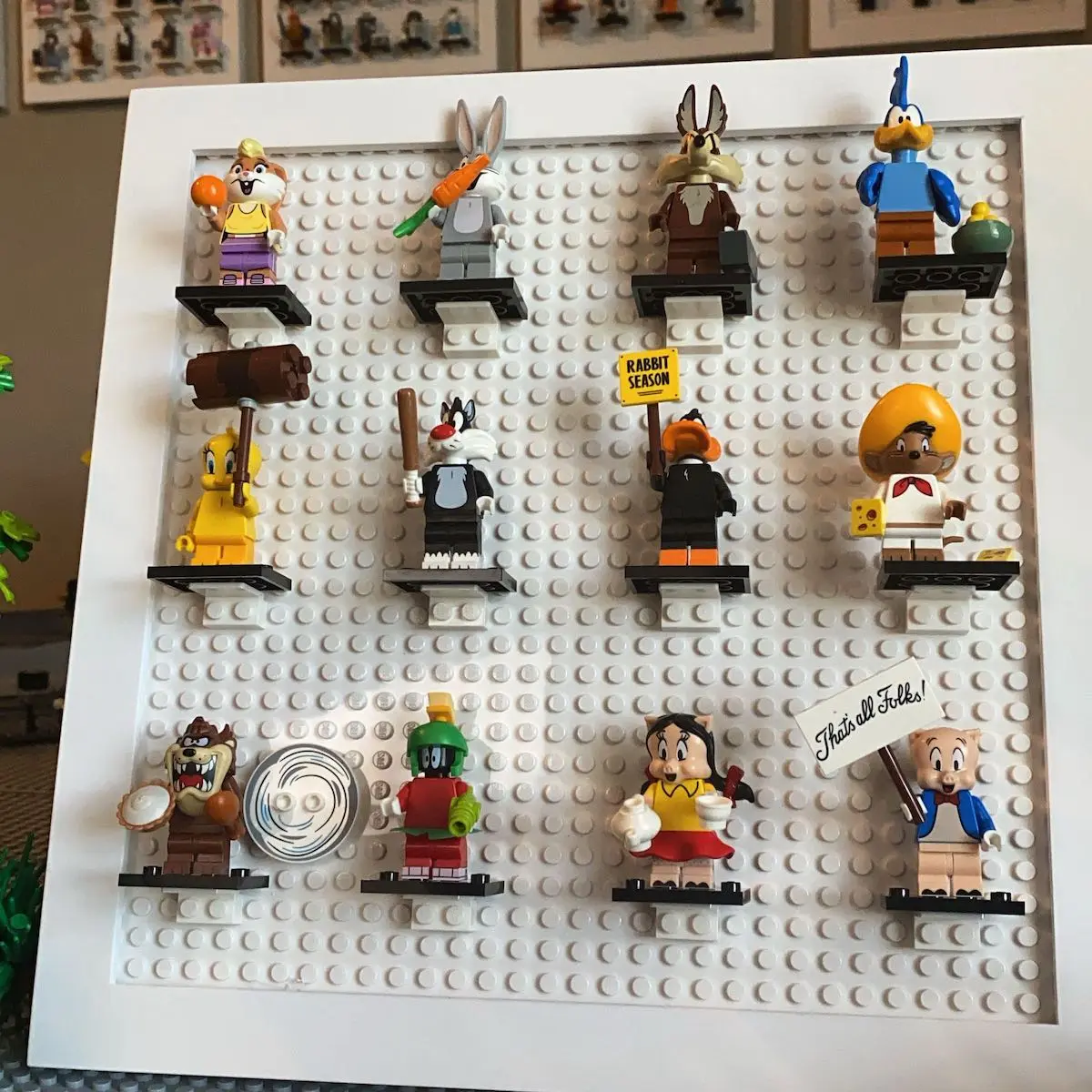 Are you looking for an easy to make, and affordable frame to display your LEGO Minifigures/
Perhaps you want to make a Minifigure Wall and don't know where to start? Are the store-bought display options too expensive? I've got your answers right here for the ultimate Minifigure Frame.
One of the defining features of my LEGO room is my Minifigure display wall. I have a frame for each of the 30 or so different CMF series that have been made. Another cool feature everyone talks about is how organized my LEGO collection is. I can find any piece in a few seconds.
I was inspired by two different AFOLs – Jangbricks and Heathersbricks. Each of them uses a colored frame to showcase the 12+ minifigures that come in each collection.
The way this looks is just so cool.
But I wanted to make the minifigures stand out even more! I took their ideas, and slightly changed them to suit my style and make each minifigure stand out!
How to Display Your Lego Minifigures
There are a number of ways that people display their LEGO Minifigures. Some use store-bought display cases, while others build their own custom displays.
When I was first buying and building LEGO sets, my LEGO storage was pretty basic. I would build the sets and then try to display them (while keeping the model as put together as I could).
But as I would play with them, or friends would come over, the sets would come apart.
Sometimes I would take them apart to modify them and build my own new LEGO creation.
By this time, it would be hard to keep the sets together, so they would just end up in a bin.
This LEGO bin would have loose pieces, partially built sets, and of course Minifigures.
Sometimes, I would want to display all the minifigs I had.
My first attempts were to build little stands with the LEGO bricks I already had.
The most basic was putting all the minifigs in a single line.
As I would get more and more, the single line would become two rows. And in order to see the ones in back I would build the back row a little higher. Sort of like a stair, or bleacher.
The issue with this was twofold:
The Minifigures would get dusty and dirty
They weren't protected, and people could pick them up and play with them.
It was easy to dust them (I like to use Swiffer products). The harder part was keeping my friends from playing with them and taking them apart to create new LEGO Minifigures.
I needed a new solution.
After looking at a lot of different options (official LEGO Minifigure Storage, 3rd party LEGO Minfigure boxes, and even craft storage boxes with compartments, I came up with my frame solution.
If you're looking for an easy and affordable way to display your Minifigs, try using one of my frames!
DIY LEGO Minifigure Frames
To make your own DIY LEGO Minifigure Frames, you will need a few different things –
And of course Minifigures
I like to buy each of these different items in quantity so I have enough for all the different series of Minifigures.
The 10×10 frames I have linked above come with glass and a picture mat, but I don't use those. I just use the frame by itself. I recycle the glass and paper appropriately and don't worry about saving them or reusing them. It's not terribly expensive.
Then I take the Strickly Bricks Baseplates and fit them where the picture Mat and glass would go. It usually fits just perfectly.If it doesn't I take a very sharp utility knife and carefully cut (using a straightedge) just a little bit of the side of the frame off. It takes a couple of passes but is really easy to do.
Then, using the clips that came with the frame, I hold the baseplate in position.
Finally I use the brackets and plates to hold up the minifigures. You can use the holes on the back of the minifigure legs to attach them to the baseplate, but I prefer to have them upright on a little stand.
I like to arrange the figures with even spacing to fill the frame. I usually have 3-5 rows of 4-6 minifigures in each row. Just play around with the arrangement and find something you like!
For me, I always use white frames and baseplates, but you can use colors in any combination you like!
Ikea Frames
A quick google search will reveal lots of different IKEA Minifigure frames and storage ideas. I have a few issues with this.
Ikea frames have a modern look and are easy to get. Plus they are relatively inexpensive.
While it is relatively easy to get IKEA frames (the Ribba is the most common), It is hard to get a baseplate to fit perfectly inside the frame.
You would think it would be easy. But it is not. I know, I've tried.
How to Store Lego Minifigures
Dislpaying your LEGO Minifigures in frames is a great way to store them.
I have a collection of over different 1000 minifigs, and use a variety of different storage solutions to store LEGO Minifigures.
LEGO Storage Drawers for minifigure storage.
One way is to use the Akro-Mills Drawers for Minifigure storage. I like the 64 drawer unit. Each drawer can hold 5-6 minifigures easily, which means you can get over 300 minifigures organized easily.
3-D printer for LEGO Storage
Lately, I have been using my 3-D printer to make custom bins to hold my Minifigs.
I found this guy on YouTube who makes storage bins for his workshop.
I adapted his design to fit into Ikea kitchen drawers, which I then use to hold up the tables in my LEGO room.
For me, this is the ultimate way to store LEGO. It is super inexpensive, and easy to expand, as I get more pieces and sets.
The drawback is that it takes a lot of time. Making just 1 bin takes about an hour. But I can set my 3-D printer to run automatically and make up to 5 bins at a time.
LEGO Minifigure Frames
I hope you have found a way to show off your LEGO Minifigures. From my DIY Lego figure display frame, to 3-D Printed LEGO storage, I have tried (and used) just about everything out there.
You aren't limited to using frames for CMF minifigures, either. You could have a Lego Figure Display Frame of all the Batman Minifigs, or one for all the different versions of Lloyd from Ninjago. How about one for all the Star Wars Droids.