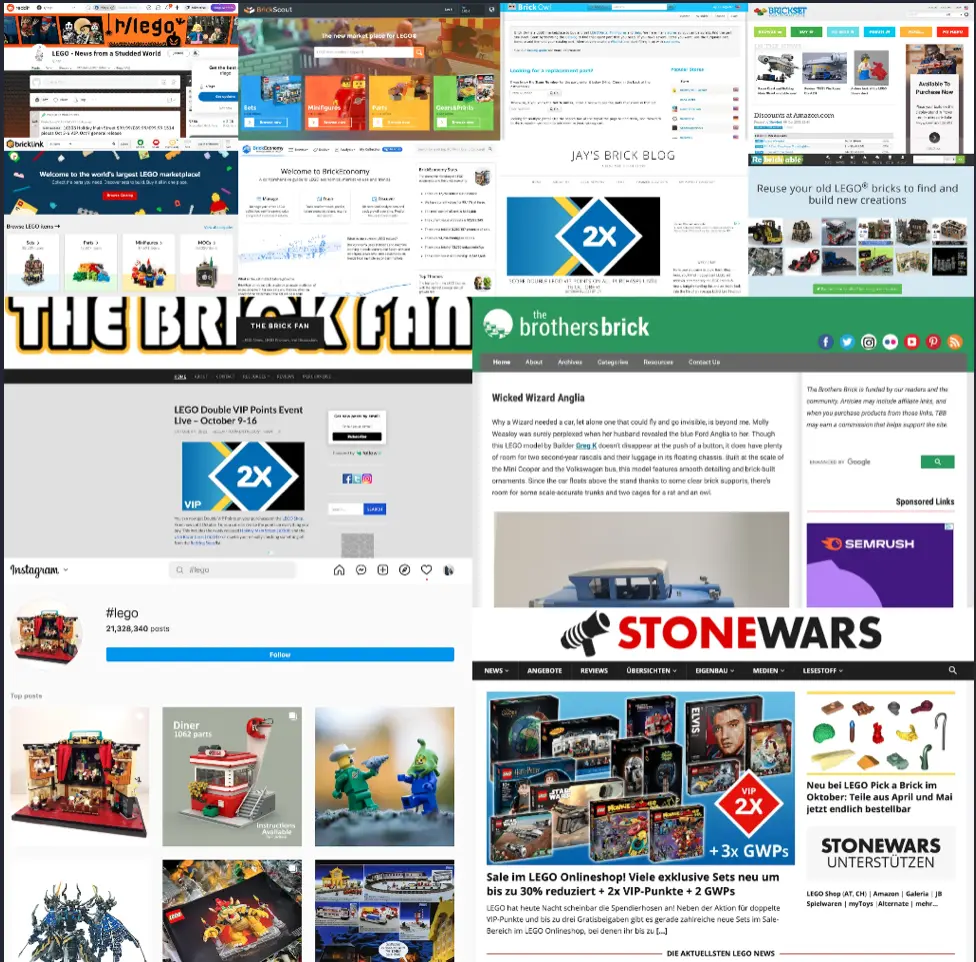 There are a lot of LEGO websites out there, and it can be tough to figure out which one is the best for you. Let's take a look at some of the pros and cons of using these websites, and then we'll decide which one is the best.
Of course the one everyone knows about is LEGO.com. But this post is designed to find things outside the official LEGO Group.
On the plus side, LEGO websites are a great way to find complete sets, as well as individual bricks. You can also buy accessories and other themed items on these websites. Plus, they're a great resource for building instructions and ideas.
The downside to these websites is that they can be expensive. Some of them charge shipping fees, and the prices of the sets and bricks can add up quickly. So it's important to do your research before you buy anything.
That said, I think LEGO website is a great resource for all LEGO fans. My personal favorite is BrickLink, but you might prefer another website depending on what you're looking for. So check out a few of them and see which one is the best for you!
Of course, LEGO.com is what everyone thinks of, but there is a very large group of LEGO enthusiasts who write and publish brick content online. Here are a few of my favorite popular LEGO blogs and Websites
What are Some Good Alternative LEGO websites?
Brickset
Brickset is the world's most popular and authoritative website for LEGO set information. They have been keeping track of LEGO sets since 1997 and have built up a wealth of data that is invaluable to LEGO fans all over the world. The site has detailed information on every set ever released, including pictures, product codes, prices and reviews.
They are constantly expanding their coverage and now have pages for brands such as Technic, Creator and Nexo Knights as well as top themes such as Star Wars and Harry Potter. In addition to the comprehensive set information, we also publish news, reviews and feature articles on all aspects of LEGO building.
To get the most features you need to create an account and log in. Then you can upload your collection and search for just about anything.
The Brothers Brick
The Brothers Brick is the ultimate destination for adult LEGO fans. Their blog showcases the best LEGO builds from all over the world, including popular themes like Star Wars, steampunk, and mecha.
You can also find the latest LEGO news, reviews, and opinions on our website. With a community of over 1 million builders the are a great resource online for Lego Fans of every age.
StoneWars.de
StoneWars is a website that covers all the latest LEGO news. They provide critical and independent information, so you won't miss a beat when it comes to new LEGO releases. The site is written in German, but I use Google Translate to help me read and understand the content.
StoneWars is also a great site to go to if you want the very latest information about new releases. They seem to have an edge that gets them LEGO leaks first, and I always find them very accurate.
Rebrickable
Rebrickable is another amazing LEGO building resource. Using user generated content they show you which LEGO sets you can build from the sets and parts you already own, as well as suggesting sets to buy that will get you the pieces you need. With over 2 million MOCs (My Own Creations) submitted by thousands of designers, there's something for everyone on Rebrickable.
The Brick Fan
The Brick Fan is an incredible source for LEGO news, reviews, and discussions. Two guys started the site in 2012 because I they LEGO and wanted to share the photos of sets they bought.
Since then the site has evolved into a news and review site, and it's my hope that they can continue to grow the community of LEGO fans.
Jay's Brick Blog
Jay's Brick Blog is a LEGO blog with a distinctive Aussie flavour that primarily focuses on high quality editorial content and perspectives from an average guy with an above average love of LEGO.
The blog is written to help LEGO fans of all levels make better purchasing decisions, whether they're just starting out or are experienced collectors/builders. Jay's Brick Blog aims to provide informative and entertaining LEGO content for everyone to enjoy.
Bricklink
BrickLink is the world's largest online LEGO marketplace. They are a branch of the official LEGO group.
With nearly 1.2 million members, BrickLink provides a vibrant environment for buying and selling LEGO parts, sets, and minifigs. Their mission is to help AFOL (Adult Fan of LEGO) communities thrive by providing them with the tools they need to connect and collaborate.
You can learn more about the history and vision on their website – it's a great read.
More about Bricklink
Is BrickLink official LEGO?
Yes and No. Bricklink is owned by LEGO and only features original Authentic LEGO bricks and minifigures.
Originally Bricklink was not a branch of the LEGO group, but now they are. TLG does not sell directly on Bricklink. They provide the platform so resellers can buy and sell everything from individual bricks to retired and rare sets.
Is BrickLink com a trustworthy website?
Bricklink IS a trustworthy site, but sometimes some of the resellers there are not. I personally have been using Bricklink for years to get individual pieces to complete my sets or for MOCs for my LEGO city. Look at the number of sales and the reviews and you will get a good idea of the best resellers.
Brickscout
Brickscout is another incredible online marketplace for LEGO products.
They offer an extensive selection of LEGO parts and sets at cheap prices, making it easy for LEGO fans of all ages to find what they're looking for.
Whether you're a collector looking for that hard-to-find piece or a parent assembling a new set with your kids, Brickscout has you covered. Plus, our sellers offer bulk discounts on LEGO bricks and pieces, so you can get as many as you need without breaking the bank.
BrickEconomy
BrickEconomy is the leading site for LEGO collectors and investor who are interested in knowing the value of their collection. They use Machine Learning technology which allows them to track the secondary LEGO markets and determine the current and expected values of sets and minifigures.
This information is invaluable for anyone looking to invest in LEGO products. The economists are BrickEconomy committed to providing our users with the most accurate data so they can make informed decisions about their investments.
BrickOwl
Brick Owl is the other big player in the secondary marketplace for Lego. Their mission is to make it easy for people all over the world to buy and sell Lego. The two Adult Fans of Lego (AFOLs) who first started out selling parts back in 2008, then realized that there was much more demand for parts than they were able to supply ourselves. They then decided to create a marketplace that would allow other sellers to have a full storefront.
They are passionate about making it easy for everyone to buy and sell Lego, so whether you're a collector looking for that one elusive piece, or a seller wanting to start your own business, Brick Owl is the place for you!
I like to use BrickOwl to find Minifigs at a great price. I also use them to get bricks for my LEGO world in my basement.
Minifigs.ME
Minifigs.ME is the world's leading custom minifigure printing company. They started off small in 2012, and have now grown to more than a dozen employees who love bringing your imaginations to life!
Our mission is to provide high-quality, custom minifigures that are fun and easy to order – directly to your door. Whether you're a collector, gamer, or just want a cool souvenir from your favorite movie or TV show, we've got you covered!
We're always striving to make the best products possible and are constantly expanding our selection of licenses and figure types. So whatever it is you're looking for, Minifigs.ME is the place to find it!
LEGO on Reddit
The LEGO subreddit is a community of AFOLs (Adult Fans of LEGO) who discuss everything LEGO – from new releases to whether a set is worth it. With almost a million members, the subreddit is an active and informative place where fans can share pictures, videos, and news about all things LEGO.
LEGO on Instagram
Did you know there is a huge LEGO community on Instagram? Yes, lately it seems like everyone wants to show off their MOC, haul, city or building technique.
To find LEGO related influencers and people just search using some of these hashtags:
#legostagram #legocitylife #legofan #legomoc #legocity #legoideas #legos #afol #tfol #legolife #Legophotography #minifigures.
Then you will find posts, reels, and stories that are all LEGO related.
My favorite posts are the LEGO collection users as well as the ones who organize everything.
What are good websites to buy LEGO?
In addition to the official LEGO site, I have mentioned several other places you can buy LEGO online.
Of course, I like to use Amazon for all my new sets. I also use Target. When I need a specific piece I use the Bricklink, BrickOwl, or BrickScout sites.
For all my minifigures I use the Brickland. They are the only site that focuses only on selling minifigures.
Final Thoughts
Anyone who's ever been bitten by the LEGO bug knows that there are few things in this world as satisfying as building something with those little plastic bricks. And for fans of the brick, there are few things better than finding new and interesting ways to use them.
Fortunately for LEGO enthusiasts, the internet is packed with websites catering to every conceivable need. Whether you're looking for a place to buy complete sets, or just want to find some individual bricks to add to your collection, you'll be able to find it online.
Of course, with so many options available, it can be tough to know which site is right for you. That's why we've put together a list of our favorite LEGO Websites, so you can start building today!